The space above your television often remains vacant, becoming a blank canvas begging for attention.
While the TV is the star of the show, this doesn't mean the area surrounding it should be ignored.
In fact, the correct utilization of this space can drastically improve the aesthetics of your living room, making it more inviting and intriguing.
This article delves into 20 unique and engaging decor ideas for the often overlooked space above your TV, with each idea aiming to enhance your overall viewing experience, enrich your room's personality, and transform the blank canvas into a masterpiece.
20. Showcase Your Treasures with Floating Shelves
An interesting way to utilize the space above your TV is to install floating shelves and use them to display your favorite items.
From cherished family photos to unique souvenirs collected from travels, and from precious artifacts to a showcase of your hobbies like a stack of books or music records, the options are plentiful.
These shelves not only fill up the space but also add a touch of your personality to the living room. Remember, the key is to keep it balanced.
Don't overstuff the shelves; instead, opt for a few significant items that speak volumes about your taste.
19. Make a Bold Statement with Art
The empty wall above your TV is like a blank canvas awaiting a masterpiece.
Consider hanging a powerful piece of art that reflects your style and complements the overall theme of your room.
A single, large painting or a thoughtful photograph can make a big impact, transforming the space from dull to dramatic.
Keep in mind, though, that the artwork shouldn't be too distracting; rather, it should enhance your viewing experience by blending well with the surroundings.
18. Mirror Mosaic for Light and Space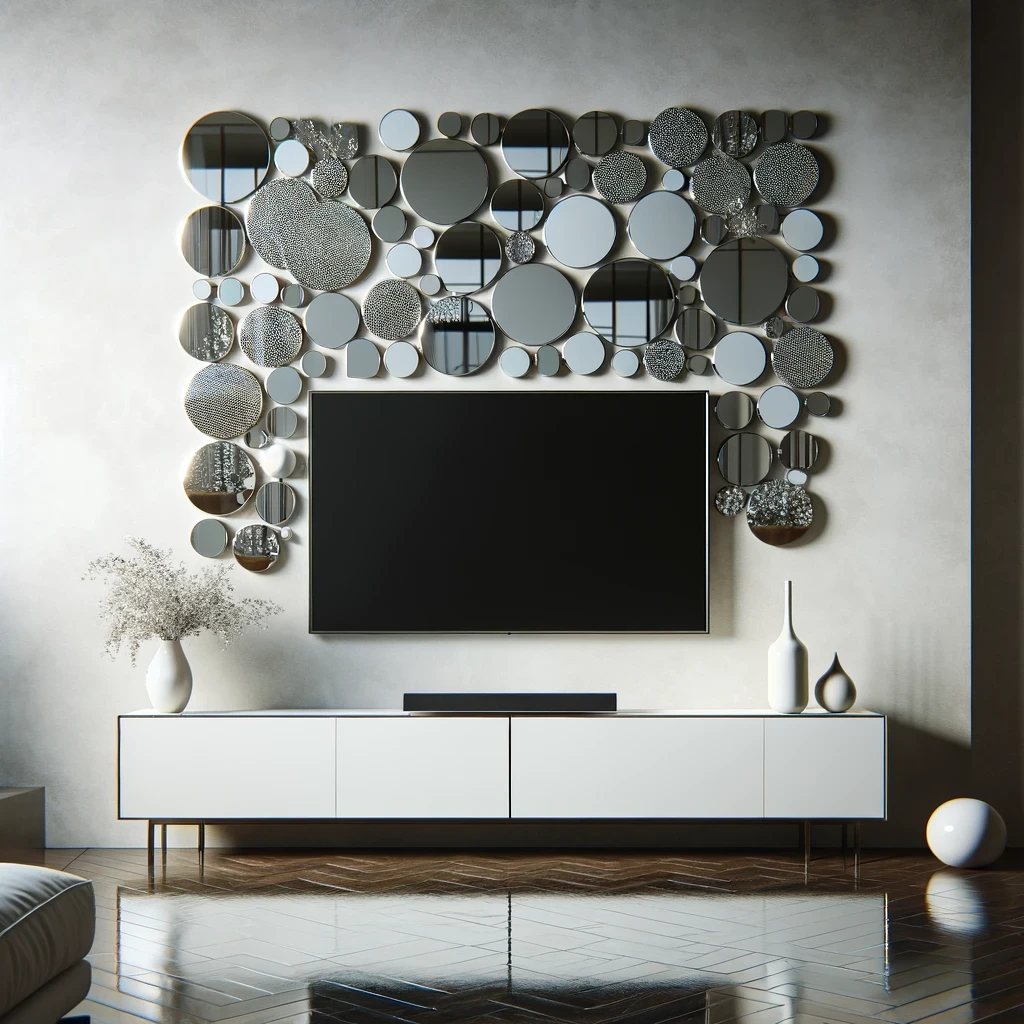 If you're looking to add some depth and brightness to your room, consider creating a mosaic of mirrors above your TV.
Mirrors of different sizes, shapes, and frames can be arranged in an artful way to fill the space.
This not only creates an attractive display but also reflects light and gives the illusion of a larger, more spacious room.
A well-executed mirror arrangement can bring in a lot of character and style to your living area.
17. A Touch of Nature with Floating Plant Shelves
Nothing breathes life into a room quite like a touch of nature. Consider installing a series of floating shelves above your TV and decorate them with indoor plants.
From succulents to ferns, and from flowering plants to foliage ones, there are many options to choose from.
A wall of greenery can create a calming and soothing atmosphere, providing a pleasing contrast against the digital screen of your TV.
Plus, taking care of your little green friends can become a therapeutic hobby.
16. Creative Expressions with Wall Decals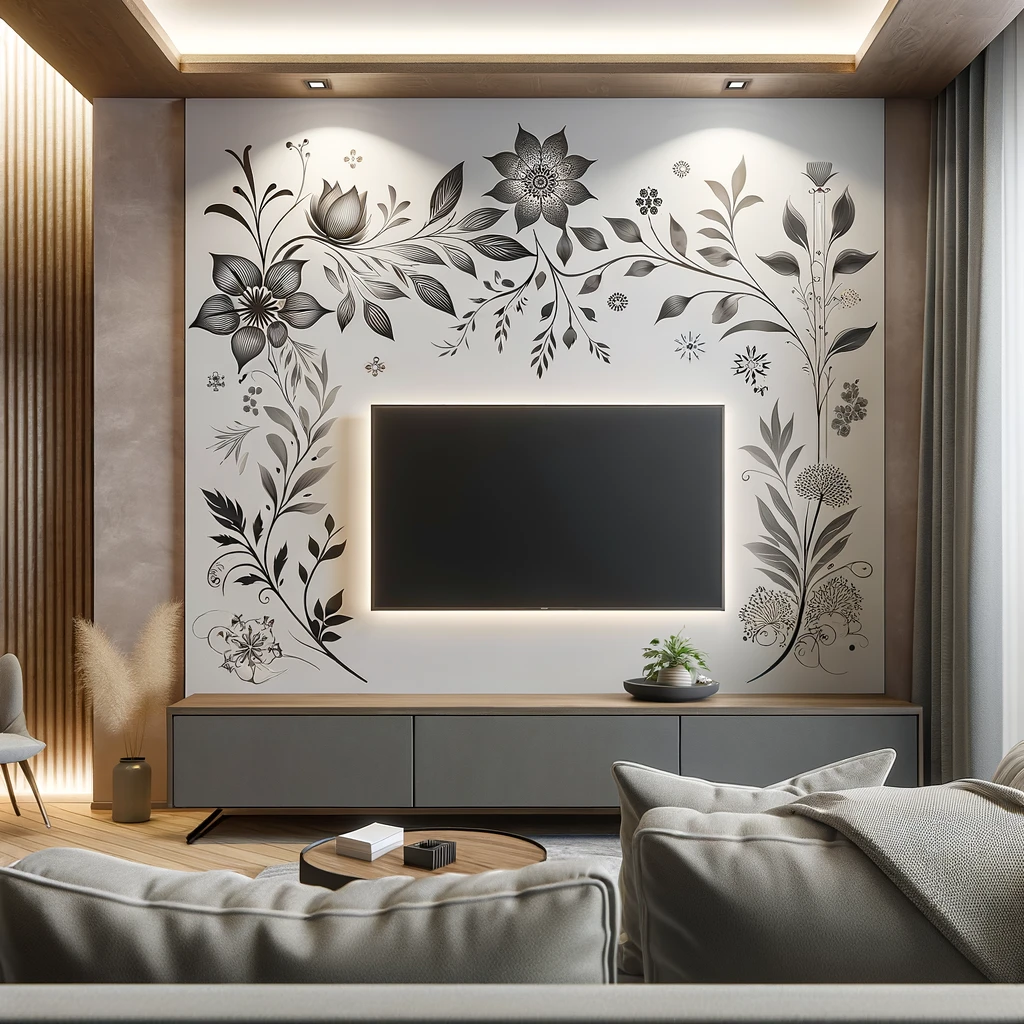 Revamp the space above your TV with wall decals – a simple yet effective way to show off your creative side.
Available in a variety of designs and themes, these decals can instantly transform your room.
Opt for something that aligns with the rest of your decor – it could be anything from intricate patterns, inspiring quotes, or nature motifs.
The beauty of wall decals lies in their versatility and ease of application. Plus, you can change them as often as you like to keep your living room fresh and engaging.
15. The Magic of Wall Sculptures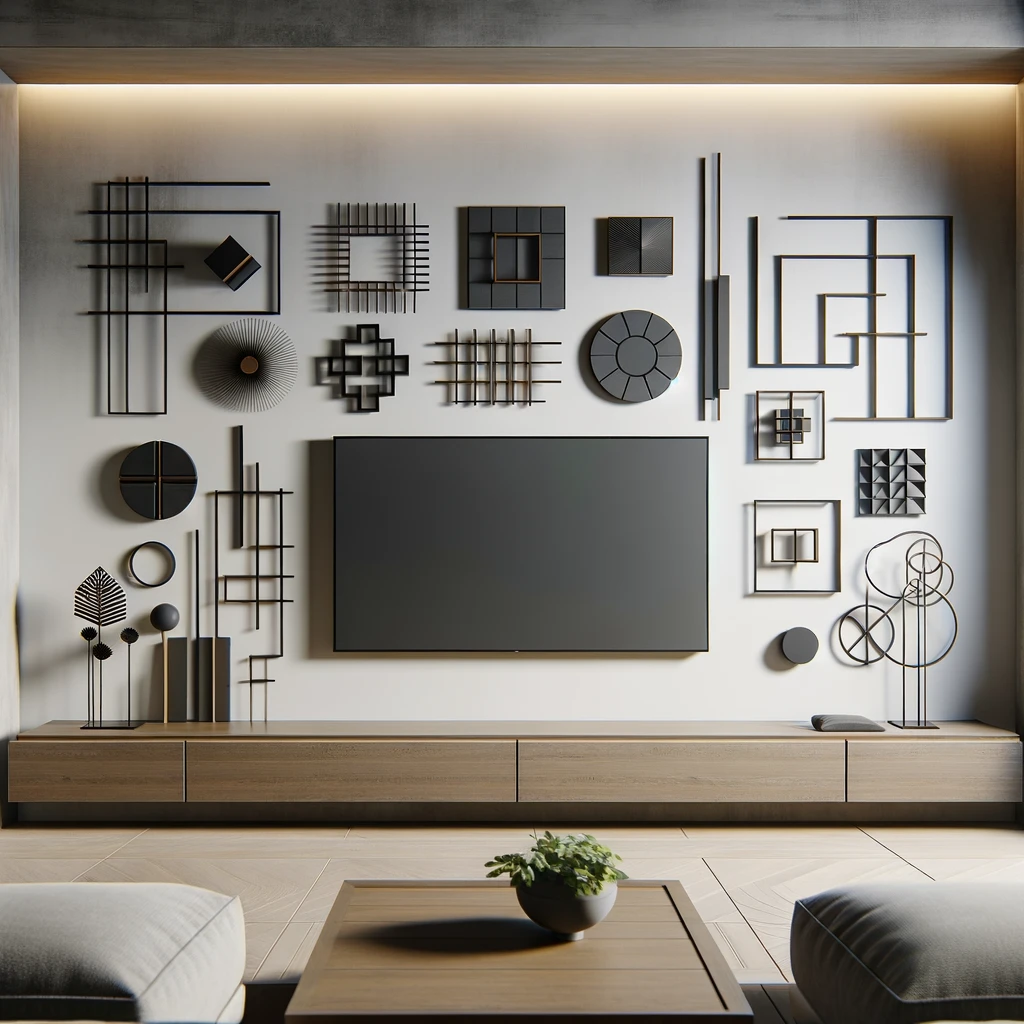 Embrace the allure of the third dimension with wall sculptures. This decor idea goes beyond the traditional flat wall hangings, adding depth and texture to the blank wall above your TV.
Depending on your taste, you could choose something abstract or go for a sculpture that tells a story.
The options are endless – metal bird formations, wooden geometric shapes, or even handmade ceramic pieces. Whichever you choose, it's guaranteed to be a conversation starter.
14. Rustic Allure with a Floating Wood Mantel
If you're a fan of the rustic charm, consider installing a floating wood mantel above your TV. It mimics the cozy look of a fireplace mantel and can be decorated in a myriad of ways.
Add a line of your favorite books, display some antique pieces, or adorn it with seasonal decorations.
You could also experiment with different finishes for the wood, from polished mahogany for a refined look to reclaimed wood for a more rugged appeal.
13. High-Tech Touch with LED Light Strips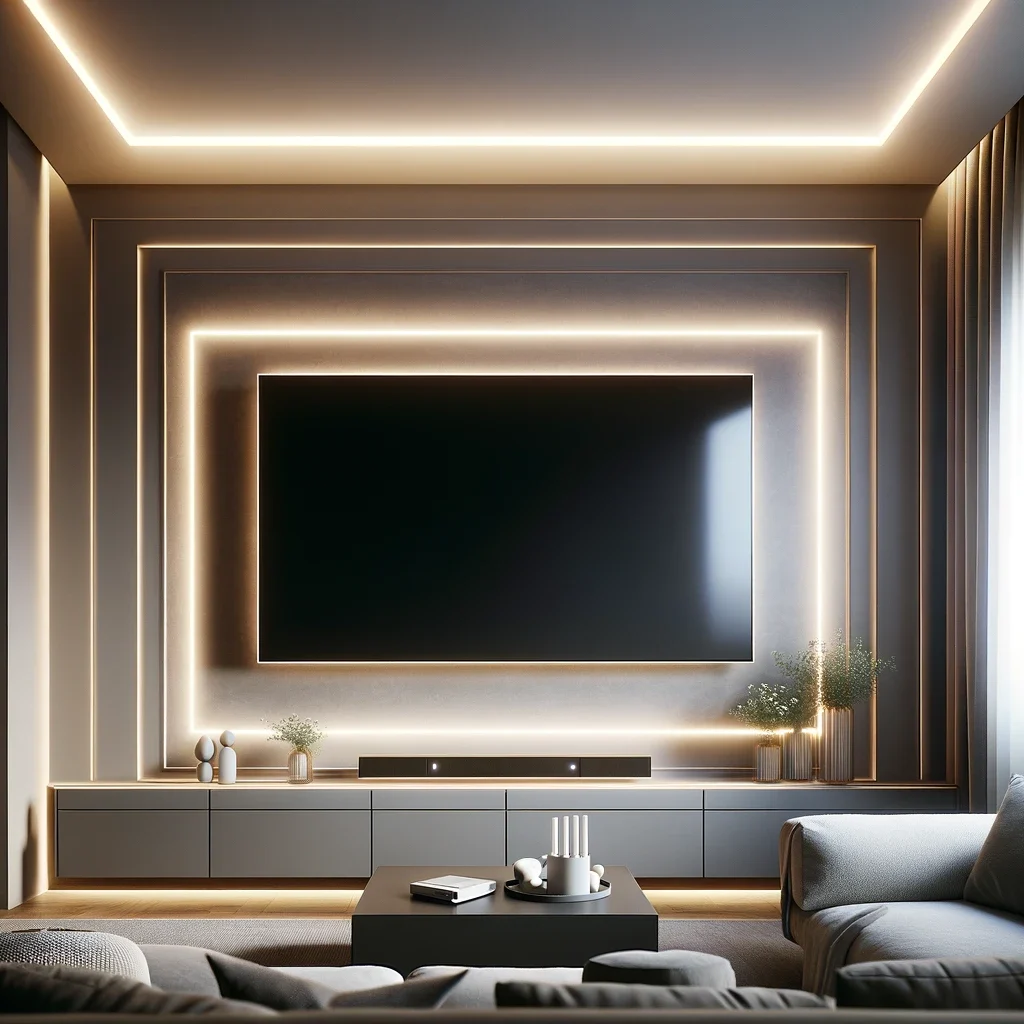 Take a leap into the future by installing LED light strips above your TV.
These strips offer a wide range of colors and can be programmed to react to the sounds and visuals coming from your TV.
This gives a more immersive experience during movie nights or gaming sessions. Plus, they're energy-efficient, ensuring your stylish upgrade is also an eco-friendly one.
12. Vintage Elegance with a Plate Collection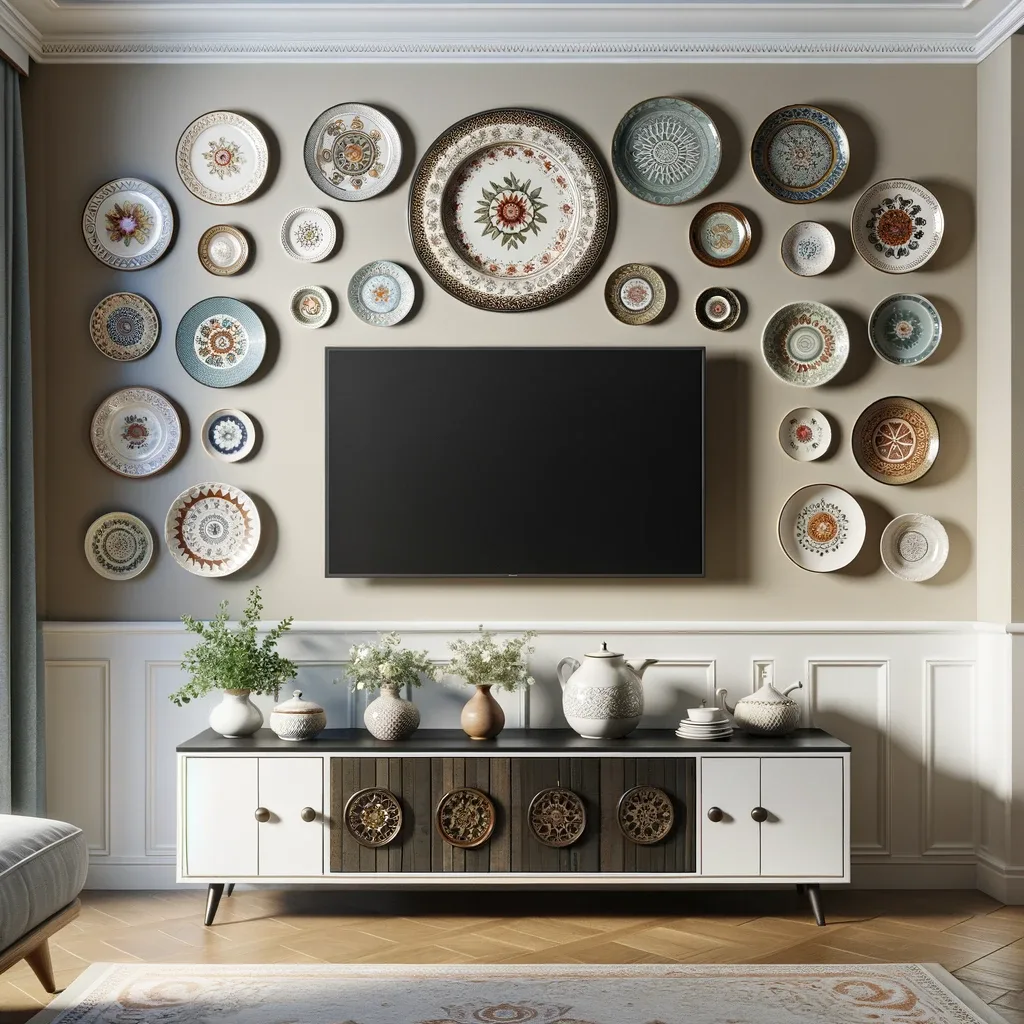 For a touch of vintage elegance, consider hanging a collection of decorative plates above your TV. You could use heirloom plates or hunt for unique pieces at thrift stores or online.
Mix and match different designs, sizes, and colors for an eclectic look, or stick to a theme for a more coordinated display.
Apart from being visually appealing, this decor idea also lets you share a piece of your personal history or travels with your guests.
11. Dynamic Decor with Abstract Metal Wall Art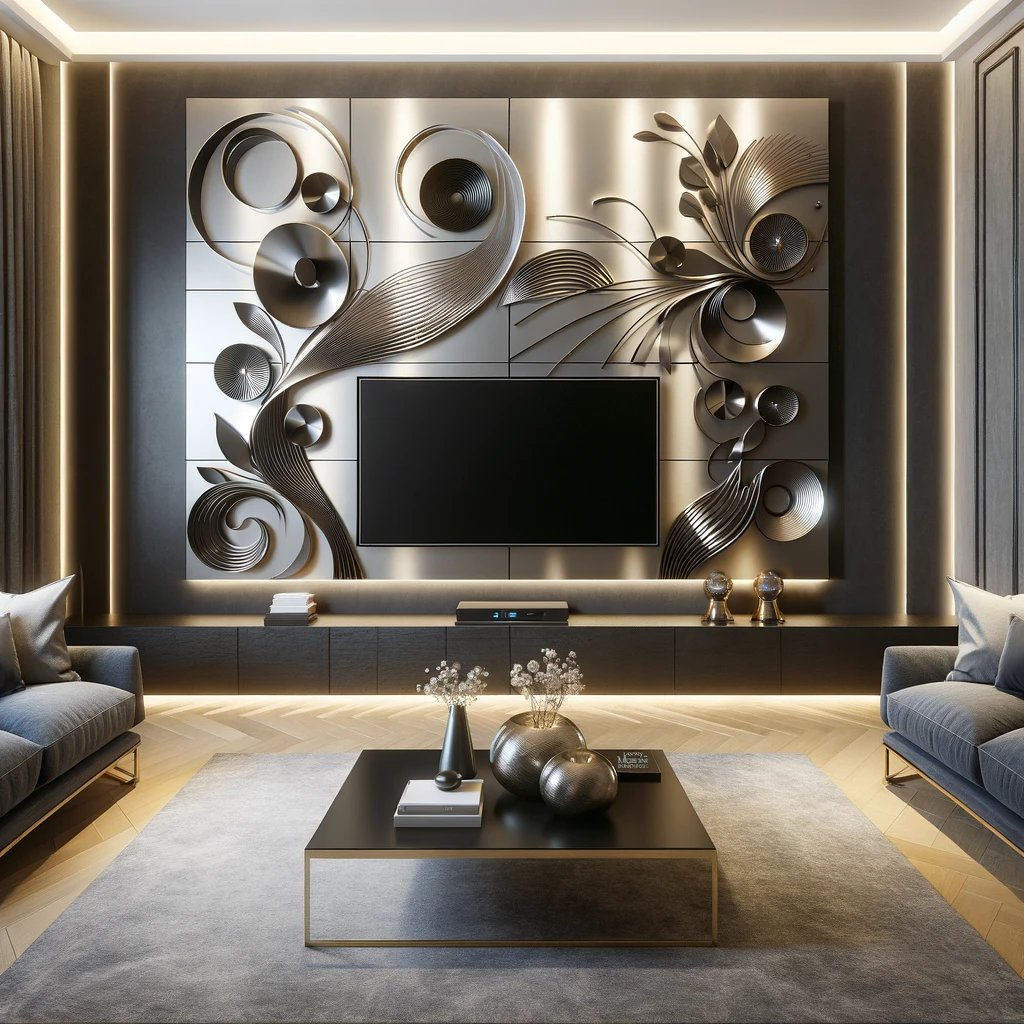 Introduce a dynamic and modernistic touch to the space above your TV with abstract metal wall art.
These contemporary pieces, with their intricate designs and metallic sheen, can add a sense of movement and depth to your room.
Opt for geometric patterns for a sleek look or flowing designs for a more organic feel.
You can even choose a piece with colored accents to tie in with the color scheme of your room.
10. Personalised Gallery Wall: A Canvas of Memories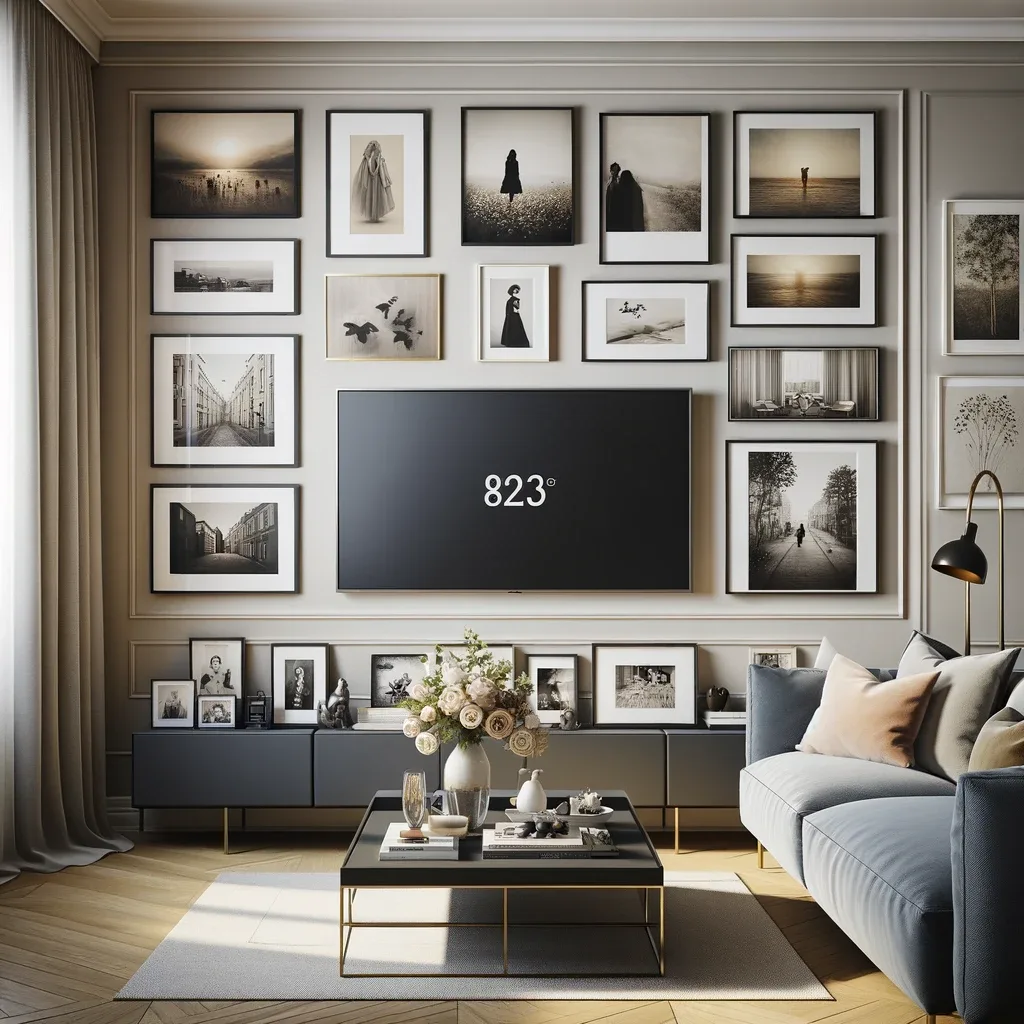 Infuse a personal touch and artistic flair to the space above your TV with a well-curated gallery wall.
This could be a compilation of your favorite artwork, cherished family photographs, or a mix of both. The key to a visually engaging gallery wall lies in diversity.
Opt for a mix of different sizes, frames, and orientations to create a sense of dynamism. You can stick to a color scheme for a cohesive look, or go bold with an eclectic mix.
A gallery wall not only fills up the space, but also serves as a reflection of your life and taste.
9. Display Your Passion: Shadow Boxes for Collectibles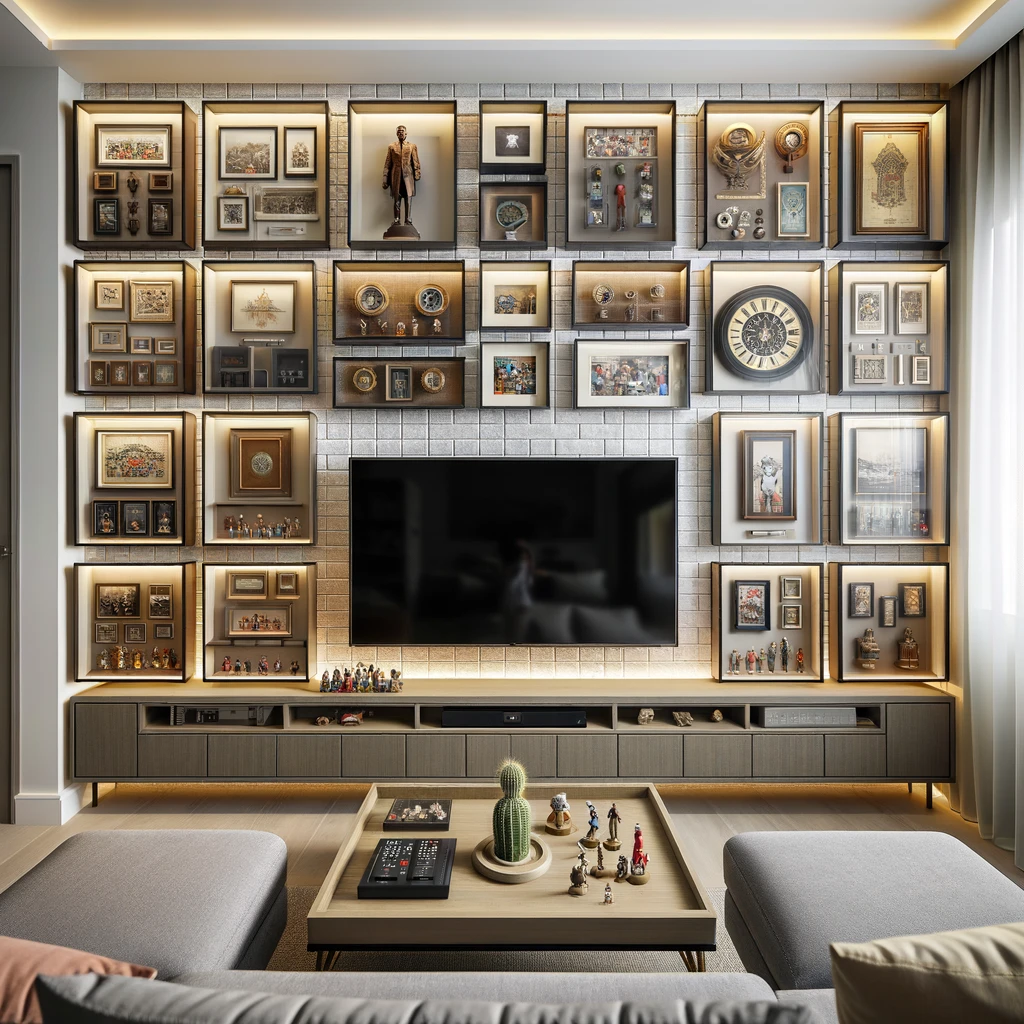 Showcase your collection and passion with creatively designed shadow boxes.
From miniature cars and vintage coins to postcards and wine corks, these boxes can transform your collection into captivating 3D wall art.
Arrange the collectibles in a way that tells a story, or opt for a more abstract approach.
Not only does this add depth and interest to your wall, but it also adds a unique personal touch to your living room decor.
8. Bohemian Rhapsody: Wall Hangings for a Burst of Color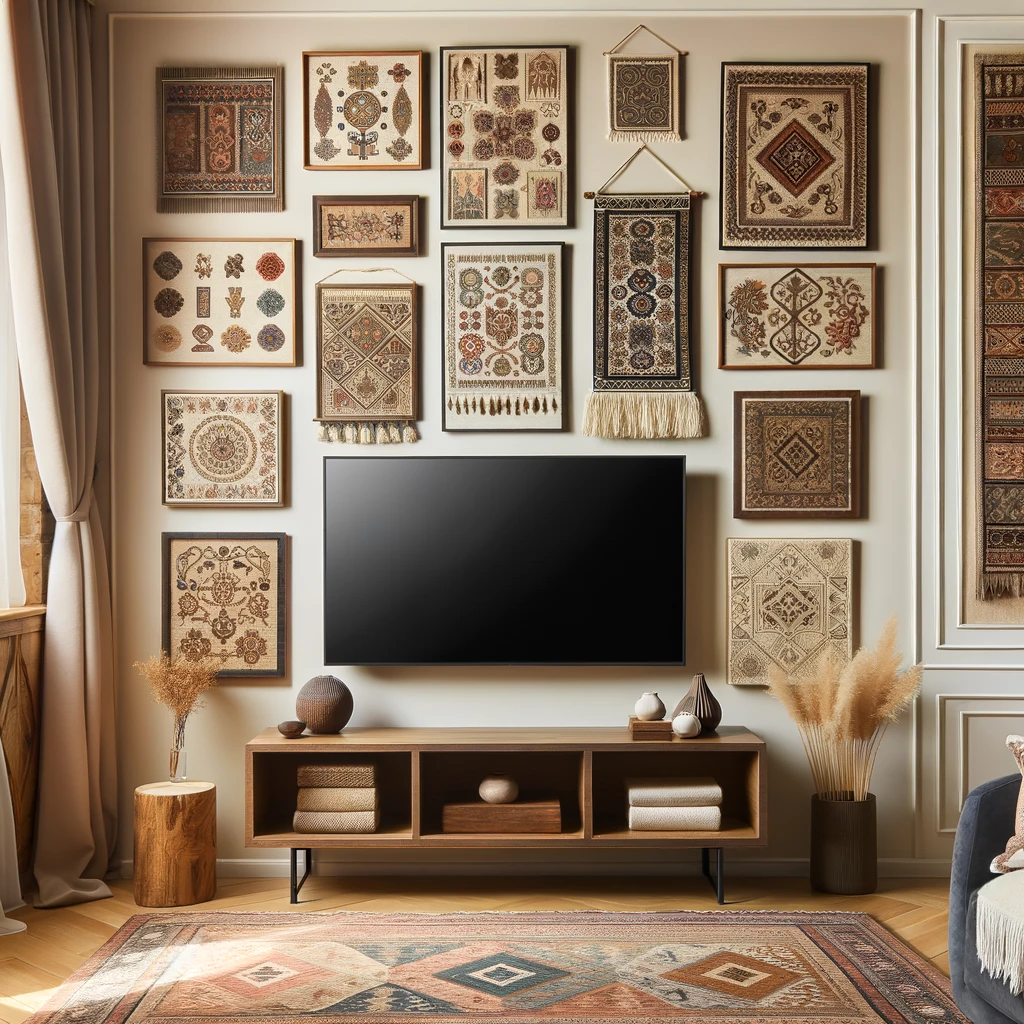 For those with an adventurous spirit and a love for vibrant colors and patterns, bohemian wall hangings could be your go-to decor idea.
A hand-woven tapestry or a beautifully crafted macramé piece can instantly add texture, warmth, and a free-spirited vibe to your room.
Choose pieces with intricate patterns and rich hues to turn the space above your TV into a fascinating visual treat.
7. Your Words on the Wall: Dynamic Decor with Letter Boards
Unleash your creativity and let your wall decor do the talking with letter boards. These versatile boards offer a unique way to express your personality, humor, or mood.
They can be used to share inspirational quotes, quirky sayings, or even important reminders.
The beauty of this decor idea is its ever-changing nature – you can refresh your display as often as you like, making it a constantly evolving element in your room.
Not only does this fill up the space above your TV, but it also brings an interactive and personal touch to your living room decor.
6. A Nod to Fashion: Displaying a Hat Collection
Turn your fashion hobby into a visual spectacle by arranging your hat collection above your TV.
This unconventional decor idea makes a chic statement, reflecting your stylish persona.
You could opt for a neat, symmetrical arrangement for a classic look or go for a more random placement for a whimsical feel.
Don't shy away from showcasing hats of different shapes, sizes, colors, or patterns. It's a visual treat that adds texture and a personal touch to your living room.
5. Vintage Maps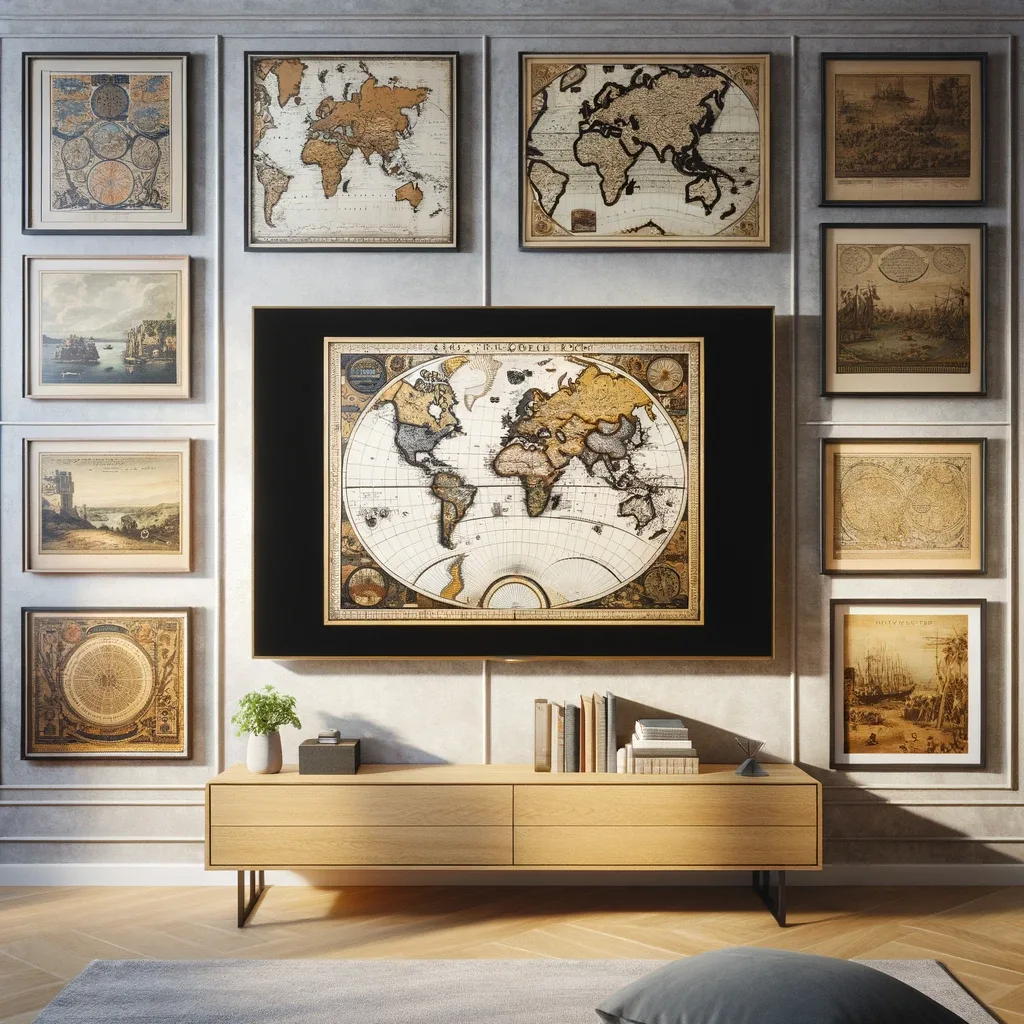 Vintage maps above the TV offer a unique and educational decor option. They bring a touch of historical charm and worldliness to the living space, creating an atmosphere of adventure and exploration.
These maps can serve as a reminder of past travels or inspire future journeys, making them a meaningful addition to any room. Their intricate details and muted tones often blend well with different decor styles, adding a sophisticated yet understated elegance.
Vintage maps can also be a great conversation starter, inviting discussions about geography, history, or personal travel experiences.
Additionally, for those interested in genealogy or world cultures, these maps can reflect personal heritage or interests, adding a deeply personal touch to the home.
4. Colorful Abstract Paintings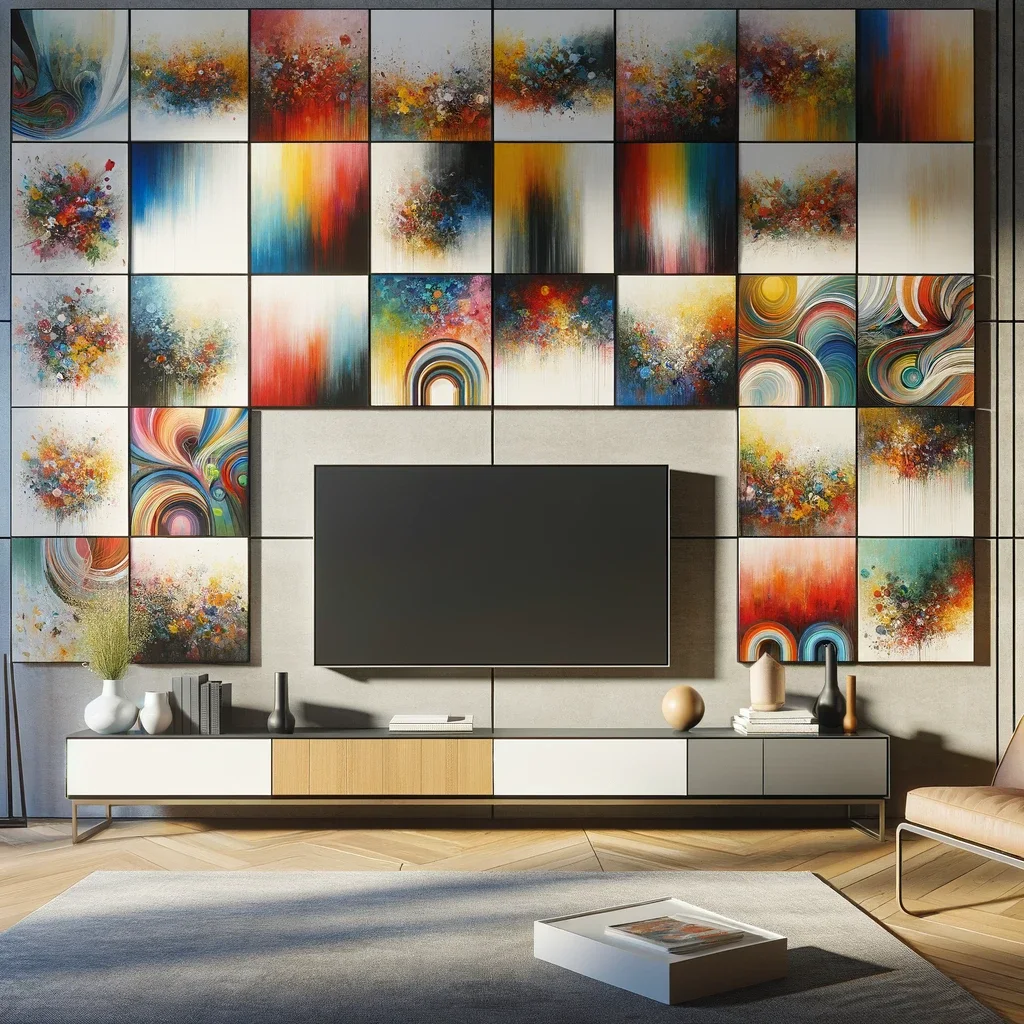 Colorful abstract paintings are an excellent choice for above-TV decor due to their ability to inject vibrancy and artistic flair into a living room.
These paintings can transform a mundane TV wall into a dynamic focal point, adding depth and visual interest.
The bold colors and varied textures in abstract art can complement or contrast the room's existing palette, making the space feel more lively and personalized.
Furthermore, abstract art is versatile and can seamlessly blend with various interior styles, from modern minimalism to eclectic.
3. Sophisticated Charm: Floating Glass Shelves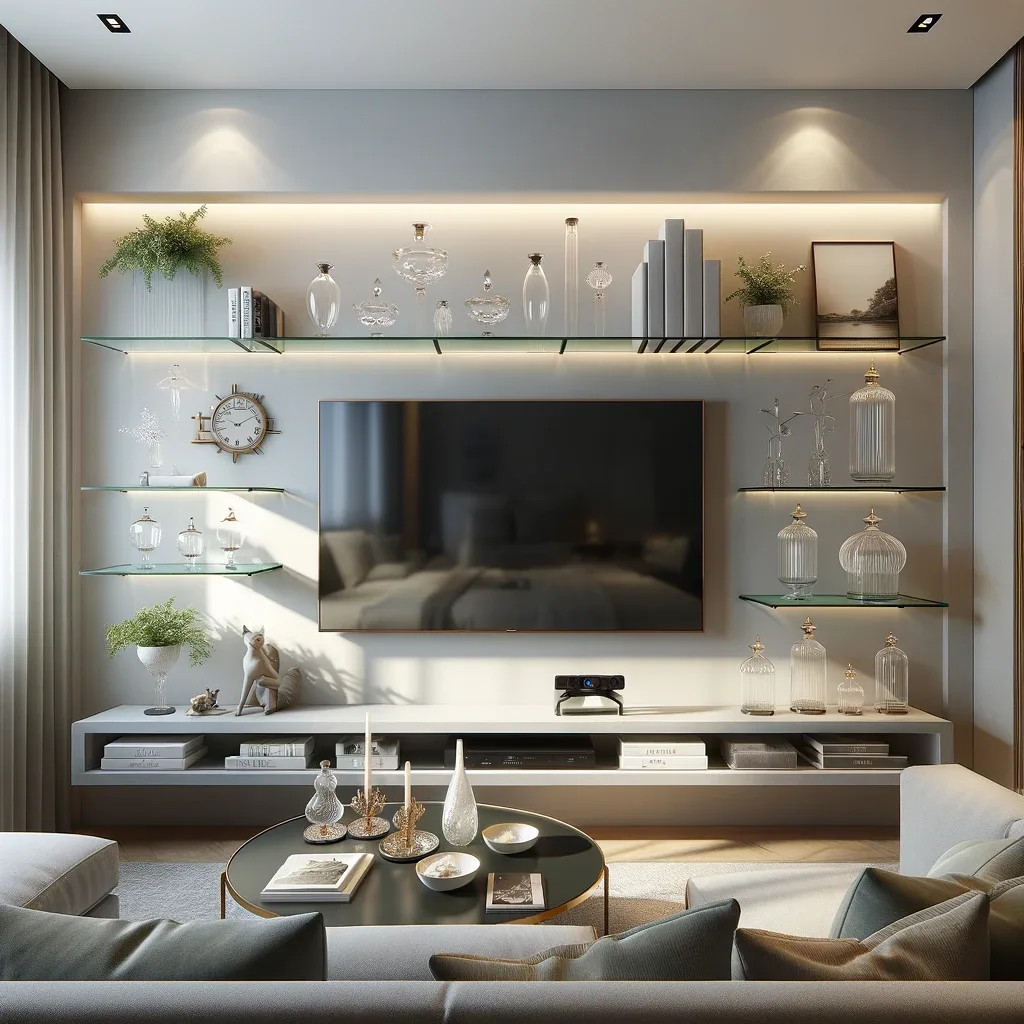 For a sleek and sophisticated touch, consider floating glass shelves. Their transparent nature allows them to blend seamlessly with any wall color or decor theme.
These shelves are perfect for displaying delicate trinkets, valuable collectibles, or an array of candles.
The reflections off the glass create an illusion of space, making your room look more spacious and airy. Plus, the clean lines of the shelves add a modern edge to your living room.
2. Illuminated Letters: Marquee Sign
Bring a theatrical flair to your living room with a lighted marquee sign.
This decor idea allows you to personalize your space by spelling out your name, a favorite quote, or a meaningful word.
The lights add a warm and cozy ambiance, making your space feel more inviting.
You could opt for vintage-style bulbs for a retro feel or go for colored LED lights for a more modern look. Either way, this playful decor idea is sure to brighten up the space above your TV.
1. Timeless Classic: Oversized Wall Clock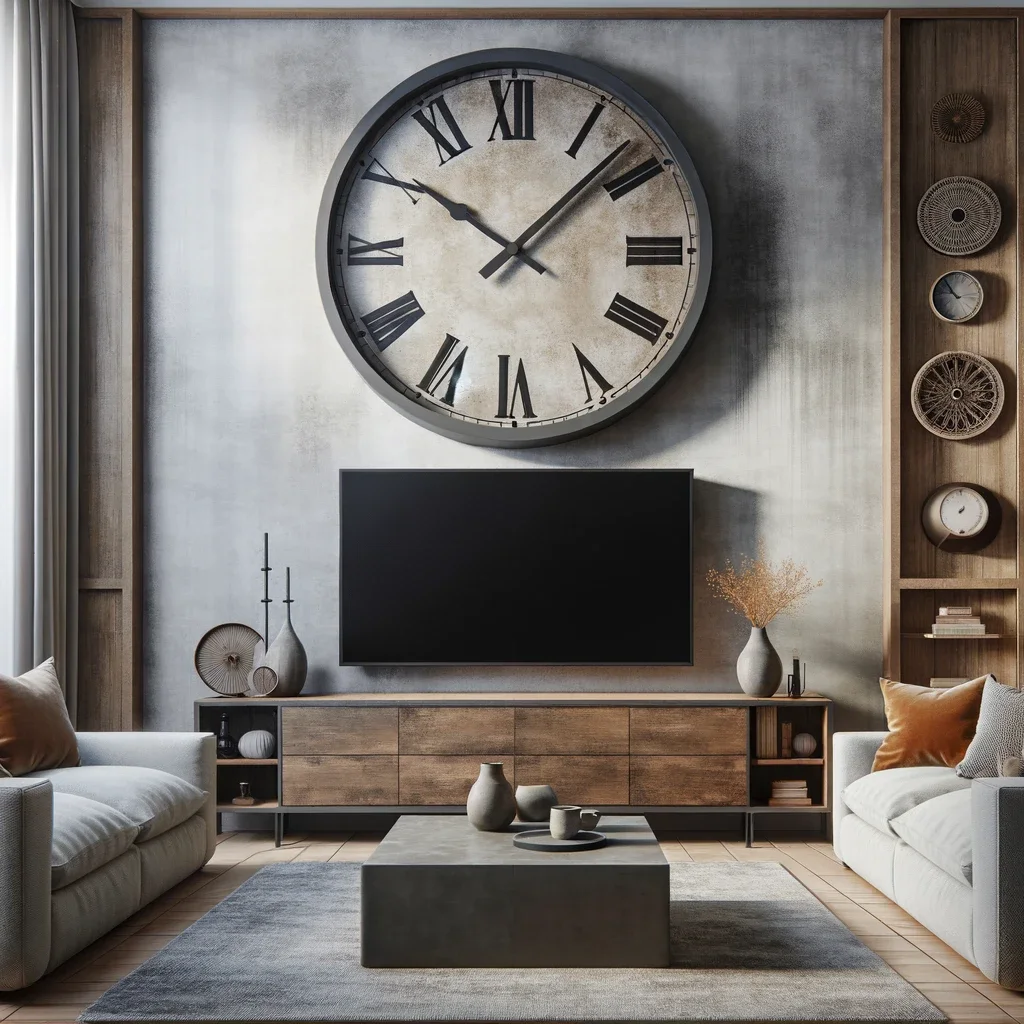 An oversized wall clock takes the top spot as it serves as a functional and stylish decor piece.
This bold statement piece is not only practical but also adds a touch of elegance to your room.
Whether you opt for a vintage, rustic design or a modern, minimalist style, an oversized clock can effortlessly become the focal point of your living room.
Remember to choose a design that complements the overall decor theme and color palette of your room to ensure aesthetic harmony.
Read more: Top 18 tv accent wall ideas