Your kitchen is a canvas, and the countertops and backsplash are where you make your master strokes.
Granite countertops, renowned for their durability and stunning natural patterns, already set a high bar in terms of beauty.
But pairing them with the right backsplash can take your kitchen from pleasing to breathtaking.
A harmonious combination can drastically enhance the aesthetic appeal of your space, elevate your mood, and increase your property's value.
For granite countertops, a mosaic tile backsplash adds texture and depth, complementing the stone's natural variations.
Glass tiles reflect light, making spaces appear larger, while a tumbled travertine backsplash exudes timeless elegance. Choose colors that accentuate the flecks in the granite for a cohesive and refined look.
Read on to explore the top 16 backsplash choices that perfectly complement granite countertops, curated to inspire you and help you make the best decision for your unique space.
16. White Ceramic Tiles
Crisp white ceramic tiles serve as a timeless choice for a backsplash, offering a clean, fresh feel that stands out wonderfully against the complex patterns of granite countertops.
Whether you choose a classic subway tile design or a more intricate pattern, white ceramic tiles provide a backdrop that allows the beauty of the granite to shine through.
They are also a breeze to clean and maintain, making them a practical choice for busy kitchens.
Quick Tip: Break up the expanse of white with colorful grout or decorative accents for a personalized touch.
15. Sea Blue Glass Mosaic
Adding a dash of color to your kitchen, a sea blue glass mosaic backsplash can be a vibrant choice, especially for neutral or cool-toned granite countertops.
The play of light on the glass tiles enhances the space's aesthetic appeal, while the intricate mosaic pattern lends a layer of engaging visual interest.
With each tile's individual reflection, it feels as if you've brought a touch of the ocean into your home.
More than just a decorative feature, a glass mosaic backsplash is also easy to clean and maintains its color over time, making it a sound investment.
14. Rustic Red Brick
Transport your kitchen to a rustic countryside setting with a brick backsplash. Its rugged texture and rustic color offer an interesting contrast to the sleek finish of granite countertops.
The brick's natural, earthy hues and old-world charm can lend a warm and inviting atmosphere to your kitchen.
Brick works particularly well in traditional, country-style, or industrial kitchens.
While brick may require a bit more maintenance, its unique aesthetic and textural impact are well worth the effort.
13. Black Marble
A black marble backsplash provides a striking visual contrast that can complement the more subdued and earthy tones of granite countertops.
The rich darkness of the marble can make the lighter speckles and unique patterns of the granite stand out, offering a sophisticated blend of textures and colors.
The sleekness of the black marble backsplash can also add depth to a kitchen's aesthetic, creating a focal point that draws the eye.
12. Off-white Beadboard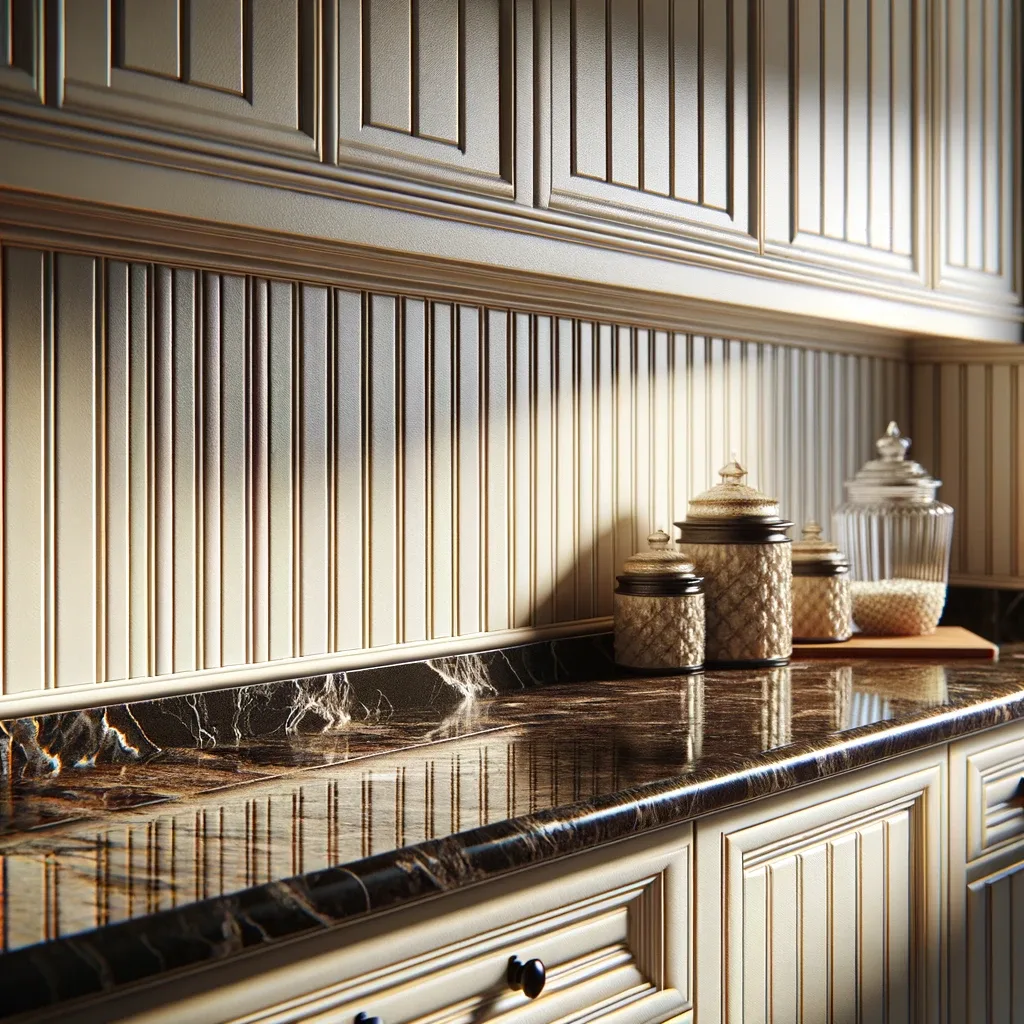 An off-white beadboard backsplash can add a significant amount of texture and depth to your kitchen, without breaking the bank.
The vintage charm of beadboard plays well against the sturdiness of granite countertops, creating an engaging contrast that's pleasing to the eye.
Despite its decorative appeal, beadboard is highly functional – with the right sealant, it can become quite resistant to water, making it an excellent option for a kitchen backsplash.
11. Textured Glass Tile
The textured glass tile backsplash in subtle green complements the granite countertops by introducing a play of light and color that enhances the natural beauty of the stone.
The translucence of the glass tiles brings a brightness that can contrast against the solid presence of granite, highlighting its rich blend of colors and organic speckles.
This interplay between the reflective glass and the matte finish of the granite creates a dynamic kitchen backdrop that is both modern and timeless.
10. Natural Oak Herringbone Wood
A herringbone pattern using natural oak-colored wood delivers a unique blend of traditional elegance and rustic charm to your kitchen.
The pattern itself adds a depth of texture, while the warm, natural oak color offers a beautiful contrast to the robust feel of granite countertops.
This backsplash choice gives your kitchen an inviting and warm atmosphere, making it a cozy space for cooking and gathering.
9. Beige Travertine
For those seeking a natural, earthy aesthetic, consider a beige travertine backsplash.
This natural stone boasts a warm and homely feel, and its understated elegance perfectly complements the complex patterns of granite countertops.
Its unique pitted surface adds texture and depth, while the beige color works harmoniously with various shades of granite.
Keep in mind that travertine is porous and requires sealing to prevent staining and maintain its beauty.
8. White and Gray Chevron Ceramic Tile
The chevron patterned ceramic tile backsplash, with its crisp white and gray hues, echoes the natural color variations found in gray granite countertops. This geometric pattern adds a contemporary touch while respecting the classic appeal of granite.
It's a harmonious blend, with the sharp lines of the chevron providing a visual counterpoint to the organic, flowing patterns within the granite, enhancing the kitchen's overall sophistication.
7. Slate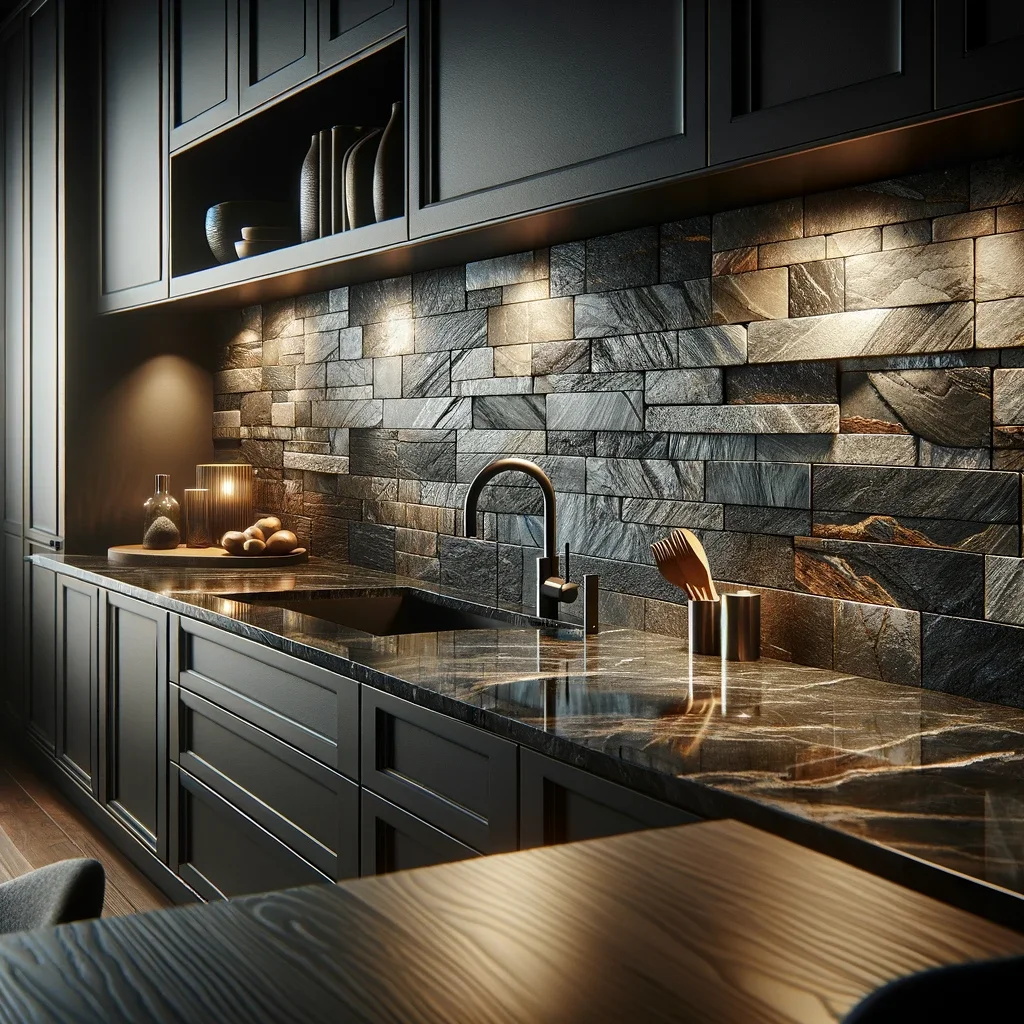 Slate, with its naturally textured surface and stunning dark gray color, is a choice that brings both sophistication and rugged charm to your kitchen.
The depth of its hue enhances the bold character of granite countertops, offering a contrast that's both intriguing and harmonious.
Slate's innate resilience to heat, water, and general wear and tear makes it a practical option for busy kitchens.
Beyond its durable nature, slate backsplashes add a rich visual layer to your space, delivering a striking backdrop that captures the eye and endures over time.
6. Marble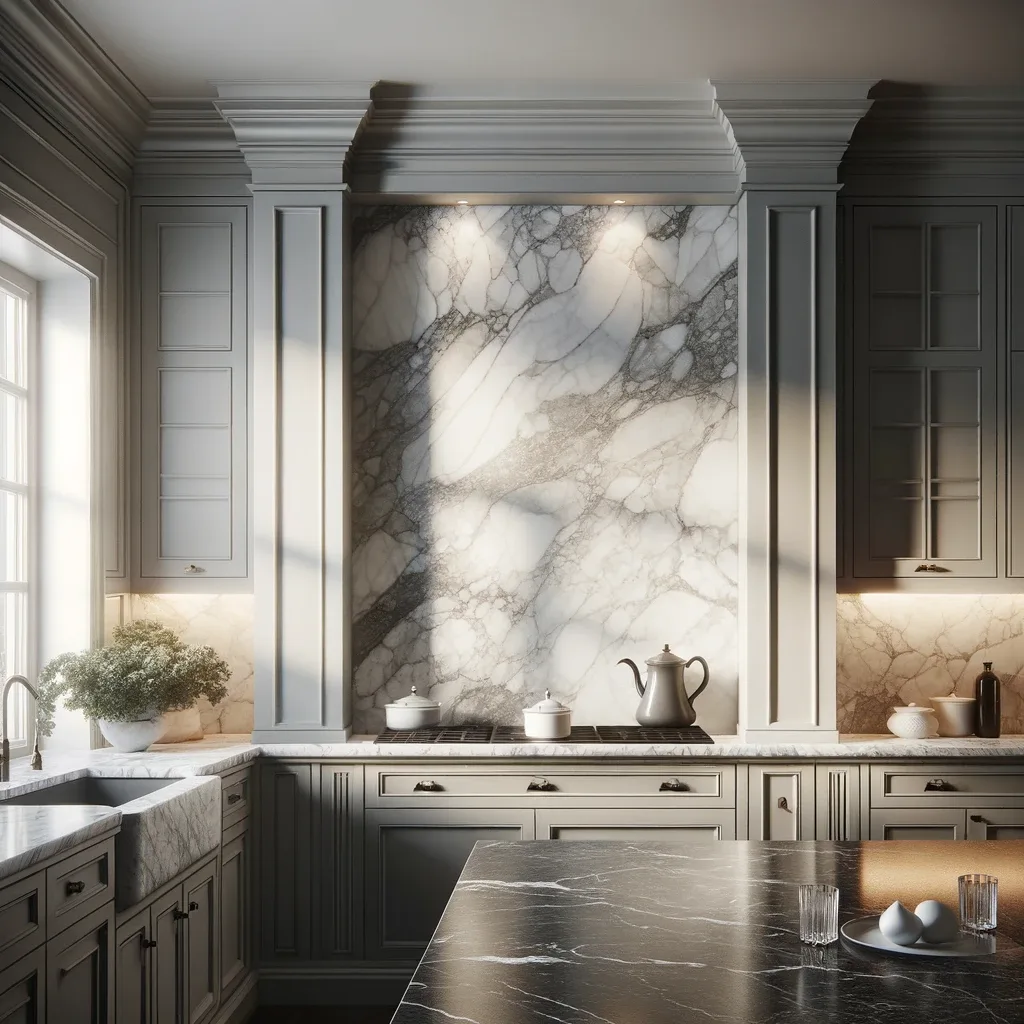 Marble backsplashes offer a timeless elegance that can elevate the appearance of granite countertops.
The smooth and veined texture of marble introduces a luxurious touch that contrasts with the rugged, granular nature of granite, creating a sophisticated interplay of textures.
The light color of marble can also brighten the space, drawing attention to the rich and complex patterns of granite.
5. Travertine Tile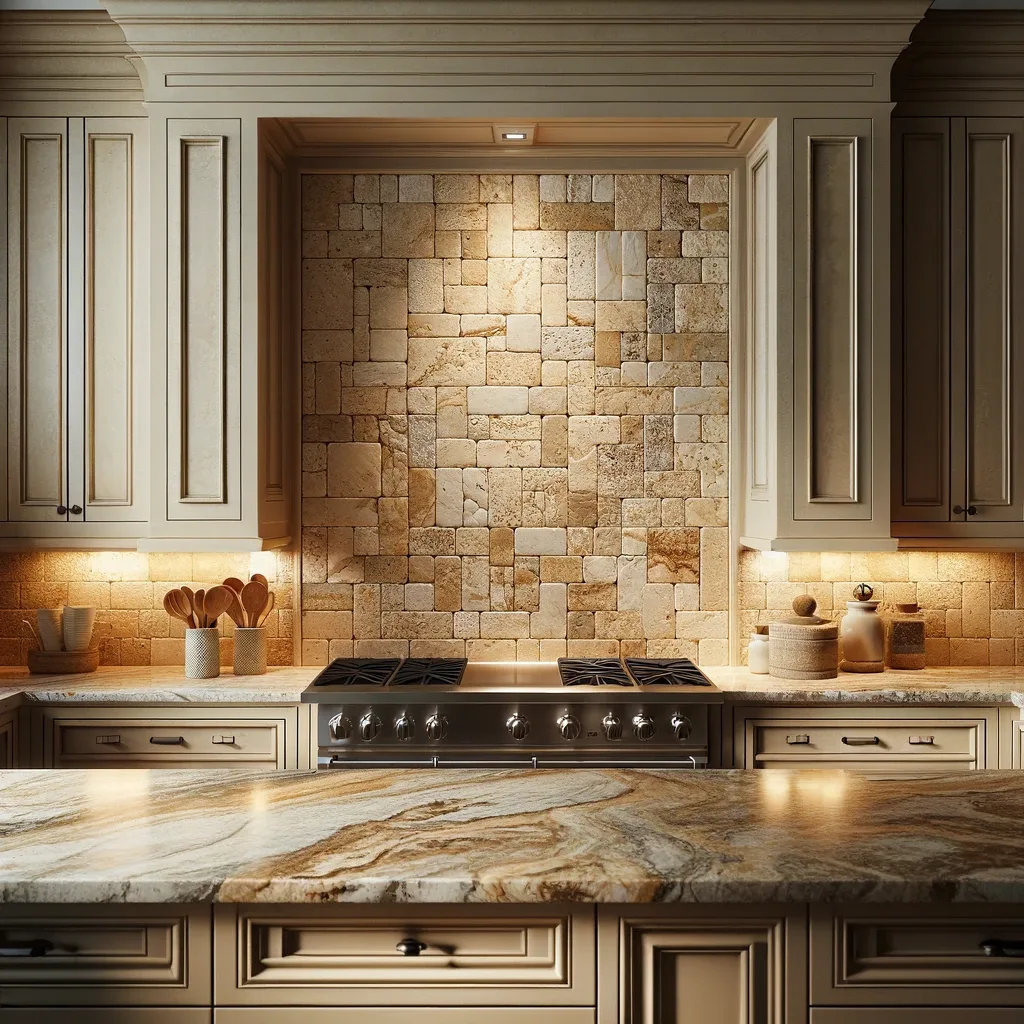 Travertine, with its warm beige tones and natural, pitted texture, offers a rustic yet elegant backdrop that pairs well with the sturdiness of granite countertops.
The subtle color variations in travertine bring out the rich palette of browns, creams, and grays in granite, emphasizing its natural beauty.
This combination not only harmonizes color and texture but also merges the timeless appeal of travertine with the durability and resilience of granite, creating a kitchen space that is both functional and inviting.
4. Beige Limestone
For a softer, more organic look, consider a limestone backsplash.
Its earthy tones and naturally occurring patterns harmonize beautifully with granite countertops, contributing to a peaceful and warm kitchen environment.
Limestone adds an undeniable charm, but it does require regular sealing to prevent damage from heat and spills.
Quick Tip: Think about your kitchen's overall style before choosing a backsplash. Traditional styles often work well with natural materials like limestone or brick, while modern kitchens may benefit from glass or metal options.
3. Powder Blue Chevron Pattern
Injecting an element of trendy design and soft color into your kitchen, a powder blue backsplash in a chevron pattern is a winning choice.
The gentle blue hue offers a calming, tranquil vibe, while the striking chevron layout adds a dynamic visual interest that enlivens your space.
This vibrant backsplash design serves as a beautiful canvas that allows the natural beauty of the granite countertops to take center stage.
Furthermore, its charming powder blue shade brings a pop of color that complements and uplifts neutral kitchen schemes.
2. Ivory Hexagonal Tiles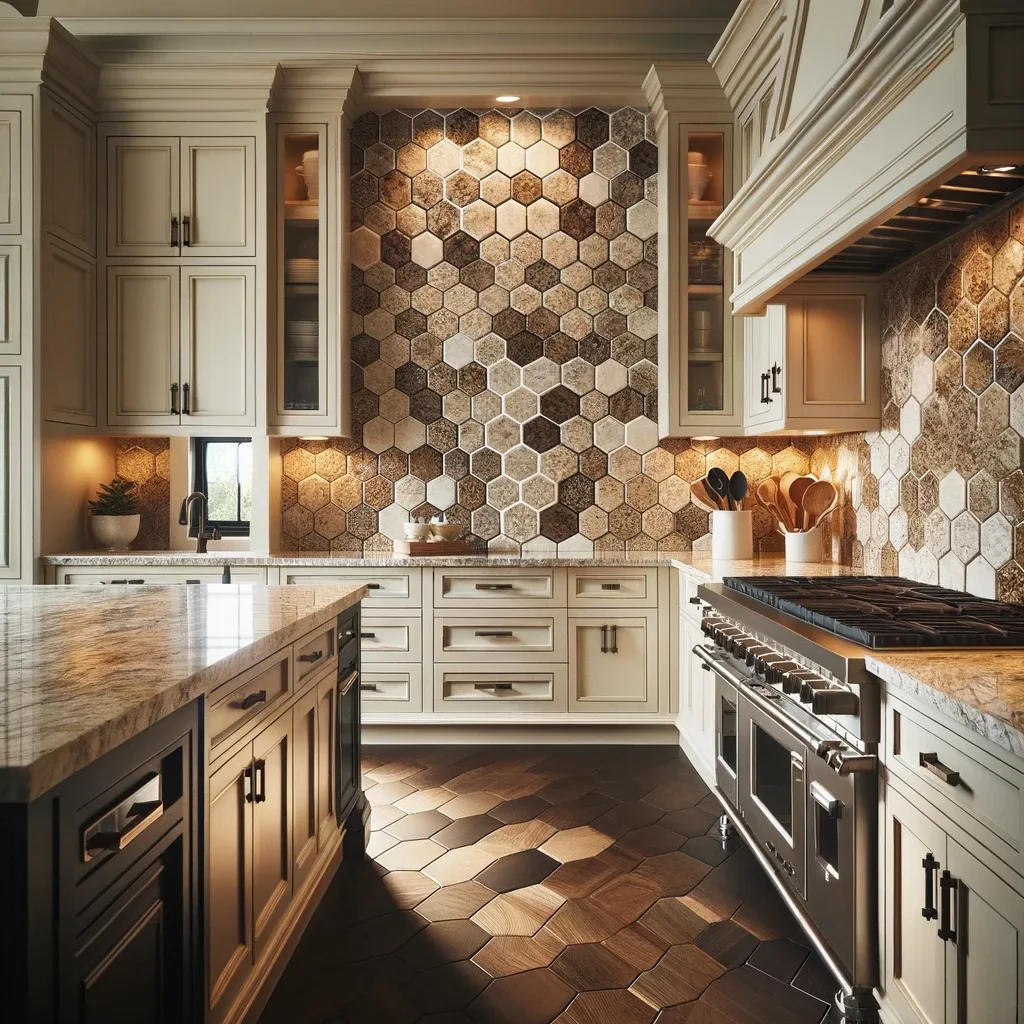 For a contemporary and distinctive look, consider ivory-colored hexagonal tiles.
These tiles, with their geometric shape, introduce an intriguing visual element that brings life and movement to your kitchen.
The subtle ivory shade provides a versatile and gentle backdrop, highlighting the beauty and color diversity of granite countertops.
This unique tile shape is a deviation from traditional squares and rectangles, adding an unexpected twist that's sure to make your kitchen stand out.
With hexagonal tiles, you can achieve a modern, attention-grabbing aesthetic without sacrificing functionality and ease of maintenance.
1. Gray Subway Tiles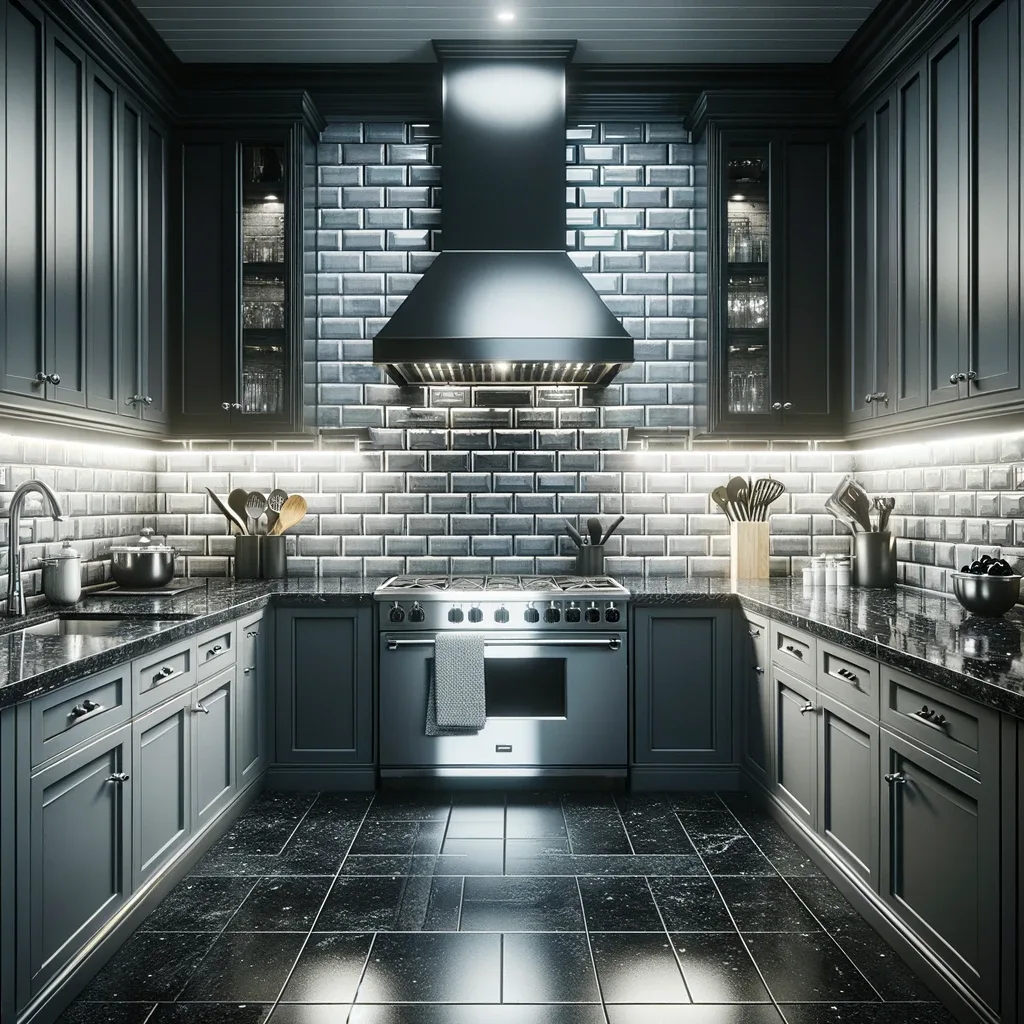 Classic gray subway tiles top our list as the best backsplash for granite countertops.
The simple yet stylish design of subway tiles makes them an ever-popular choice, while their gray color offers versatility and a contemporary feel.
This backsplash brings a clean, polished look to your kitchen, harmonizing with a wide array of granite shades.
Easy to clean and ever-stylish, subway tiles are a classic that continues to delight homeowners with their timeless appeal.
Read more: