The aesthetics of your kitchen can have a significant impact on your mood, productivity, and overall sense of satisfaction.
The fusion of functionality and design is particularly important in this space, making it more than just a utilitarian environment.
One of the most impactful elements of kitchen décor is the backsplash, especially when paired with popular gray kitchen cabinets.
White subway tiles offer a crisp contrast with gray kitchen cabinets, amplifying brightness and spaciousness. For a touch of elegance, consider marble with subtle veining.
Alternatively, geometric-patterned backsplashes in soft blues or metallics add a contemporary twist, complementing the muted charm of gray cabinets seamlessly.
To help you bring your dream kitchen to life, we've compiled a list of 15 innovative and aesthetically pleasing backsplash ideas specifically designed to complement gray cabinets.
15. Travertine Tile
Travertine backsplash is an excellent choice for gray kitchen cabinets because of its natural, neutral tones that harmonize with gray's coolness.
The varying shades of beige and light brown in travertine bring a warm balance to the sleekness of gray, providing a subtle contrast without overwhelming the space. Its pitted surface adds texture and depth, enhancing the modern yet timeless appeal of gray cabinetry.
This combination strikes a perfect balance between contemporary sophistication and classic warmth, suitable for a variety of kitchen styles.
14. Classic White Subway Tiles
A timeless option for a backsplash is the white subway tile. Its clean and crisp appearance accentuates the sophistication of gray cabinets, imbuing your kitchen with a sleek, modern appeal.
This style is especially beneficial in smaller kitchens, as the reflective surface of the tiles can amplify natural light, creating a sense of increased space.
Furthermore, these tiles are recognized for their durability and ease of maintenance, providing a practical yet fashionable solution for your kitchen.
13. Elegant Black Granite
If elegance and durability are on your list of priorities, black granite would serve as an outstanding backsplash choice.
Its polished, glossy surface exudes an air of luxury, while its stark contrast with gray cabinets can add an impressive depth to your kitchen layout.
Beyond its aesthetic appeal, black granite is heat-resistant and known for its long-lasting qualities, making it an exceptional choice for kitchens bustling with culinary activities.
12. Delicate Peach Ceramic Tiles
A peach ceramic tile backsplash pairs delightfully with gray kitchen cabinets, creating a warm and inviting contrast.
The soft, blush tones of peach bring a gentle warmth that softens the often-industrial feel of gray, infusing the kitchen with a cheerful, sunny disposition.
This color combination evokes a sense of playfulness and charm, offering a subtle, yet vibrant pop that can brighten the kitchen space.
11. Refreshing Mint Green Glass Tiles
For a pop of color that brings both freshness and tranquility, consider mint green glass tiles.
The fresh green color beautifully complements the understated elegance of gray cabinets, creating a harmonious balance in your kitchen.
The reflective properties of glass tiles can also help to brighten your kitchen space. Glass tiles are not only visually appealing, but they are also easy to clean and maintain.
Quick Tip: Adding plants to your kitchen can further amplify the fresh and natural vibe.
10. Natural Beige Stone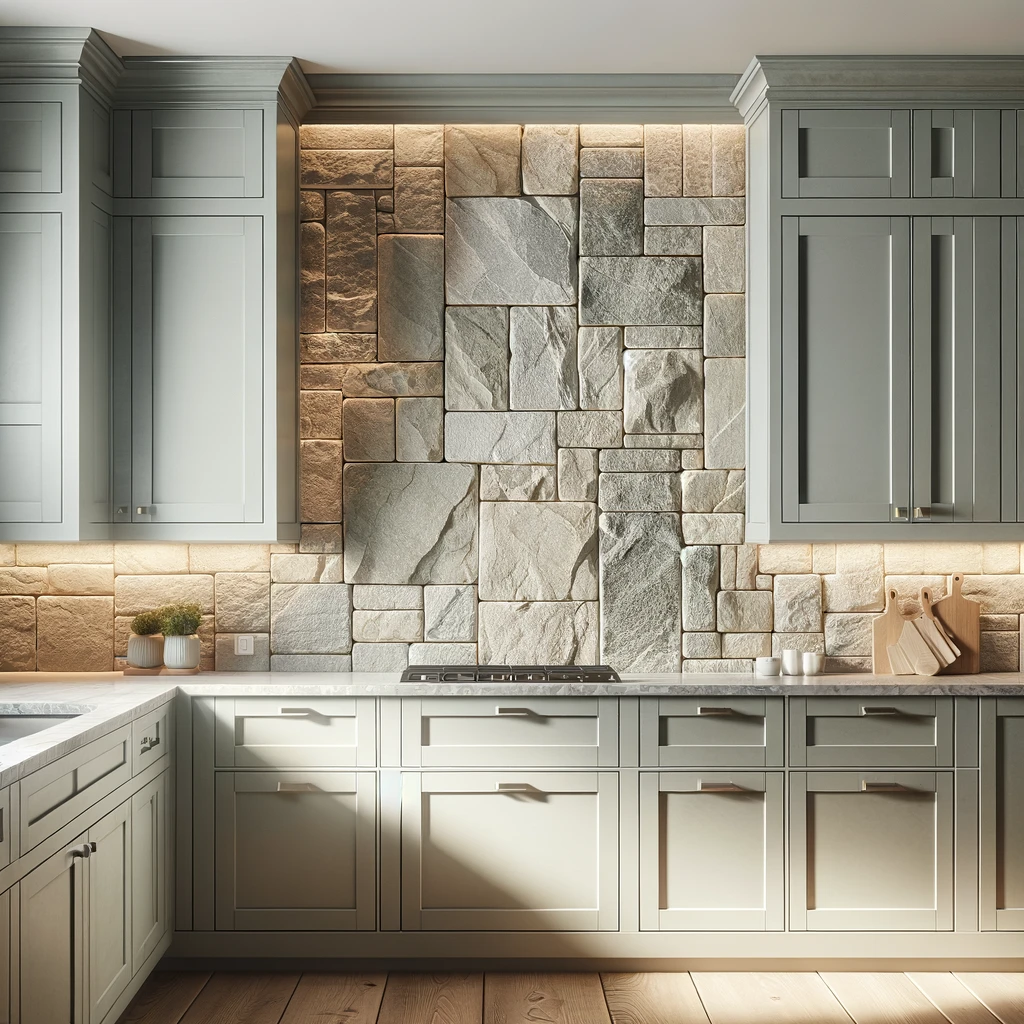 With their earthy tones and organic texture, beige stone backsplashes provide a natural contrast to the gray cabinets.
This combination not only adds a warm and rustic charm to your kitchen but also offers the durability that stone is known for.
Whether you opt for travertine or limestone, a beige stone backsplash is a delightful way to bring a piece of nature into your kitchen.
9. Vibrant Red Ceramic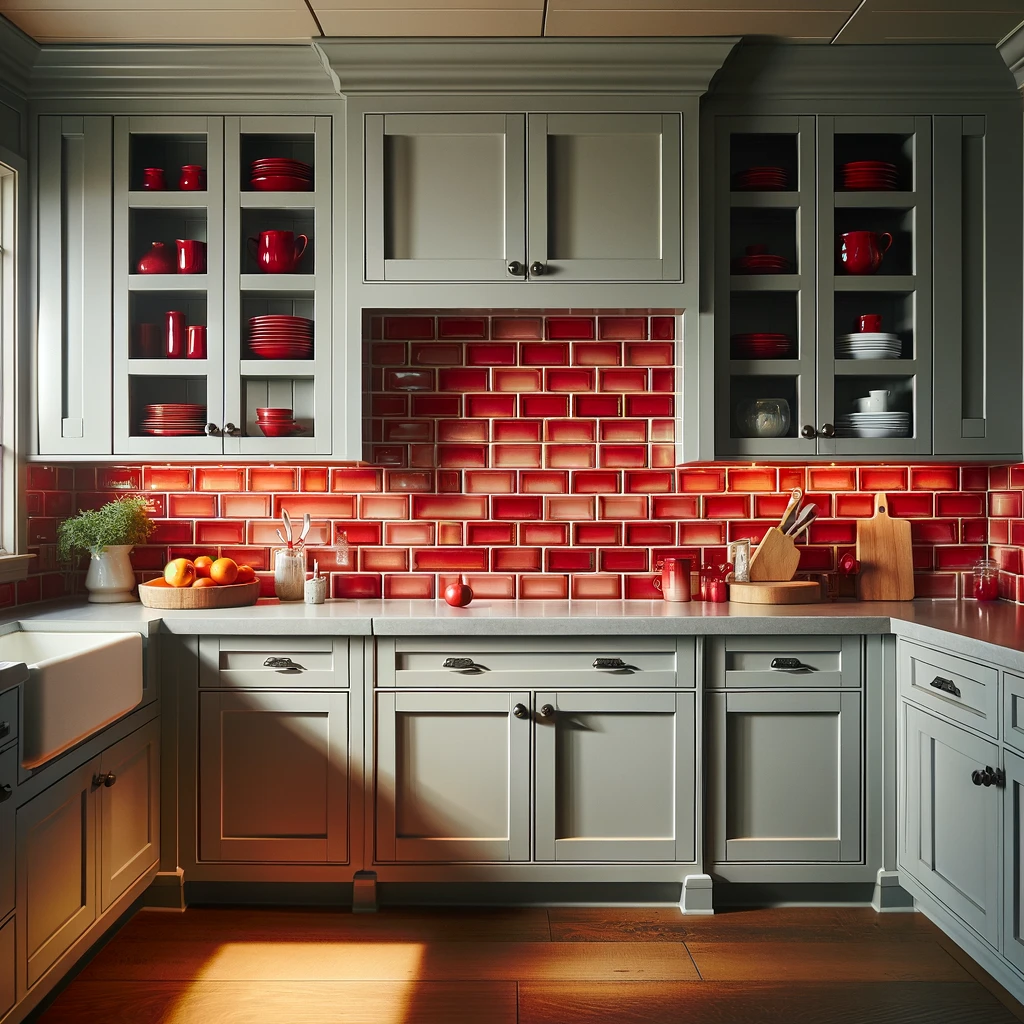 If you're not afraid to make a bold statement, a vibrant red ceramic backsplash might just be the perfect fit for your gray kitchen cabinets.
This choice adds a dramatic pop of color, creating a stimulating and energetic atmosphere. Red, as a color, stimulates appetite, making it a popular choice for kitchens.
Ceramic tiles are easy to clean and durable, making them a great practical choice as well.
Quick Tip: Pairing red with stainless steel appliances can further enhance the modern feel of your kitchen.
8. Sophisticated Marbled White
Marbled white backsplashes introduce an element of luxury into your kitchen decor.
The stunning swirls and veins running through the marble offer a unique and sophisticated contrast to gray cabinets.
Besides its aesthetic appeal, marble is also highly durable and heat resistant, making it an ideal choice for the kitchen environment.
However, keep in mind that marble requires some upkeep to maintain its pristine look.
7. Chic Chevron Wood
The earthy tones and textural warmth of chevron-patterned wood can give your gray kitchen a cozy and chic makeover.
The herringbone pattern adds an extra layer of visual interest, elevating the style quotient of your space.
Moreover, wood is a versatile material that can be easily refinished or painted, giving you the flexibility to change the look of your kitchen over time.
Quick Tip: You can enhance the rustic appeal by incorporating wrought-iron fixtures and hardware.
6. Energizing Yellow Glass Tiles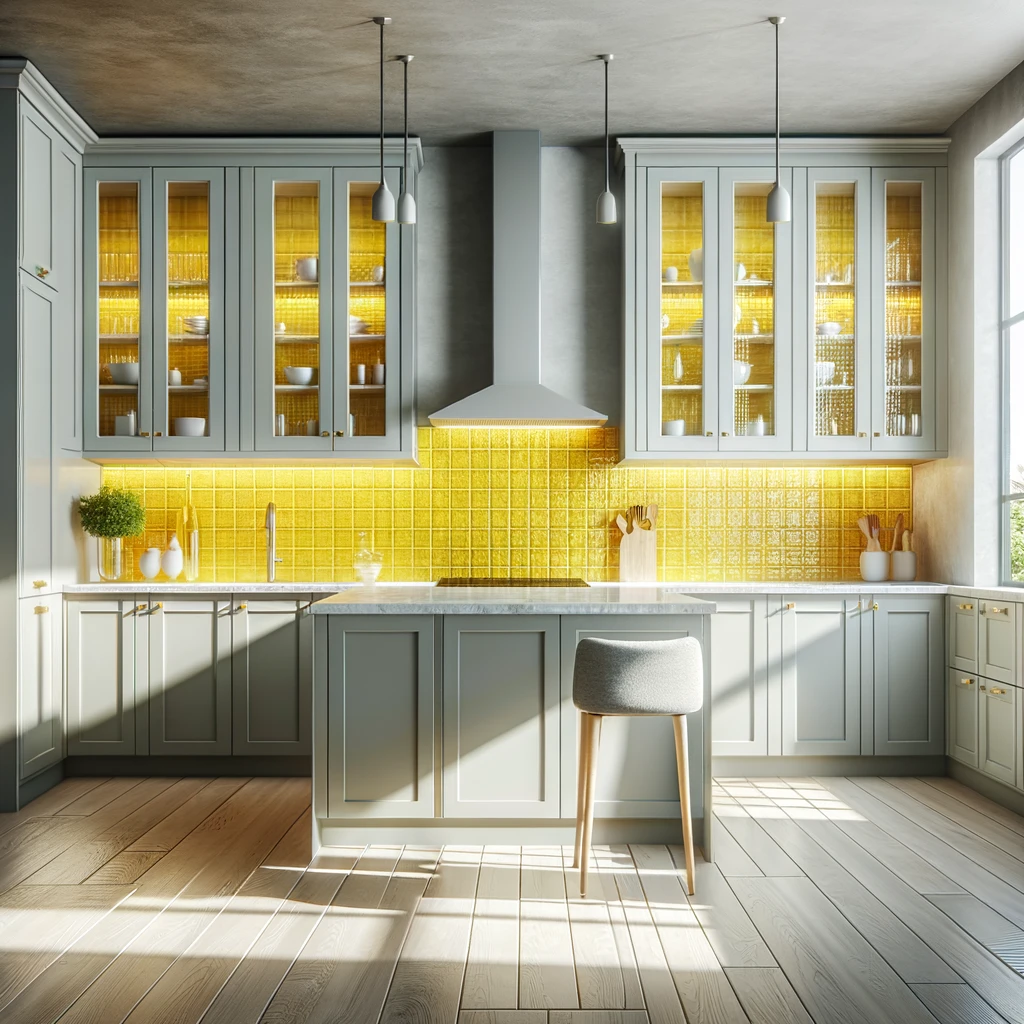 Yellow, being the color of sunshine, can inject energy and warmth into your kitchen. Yellow glass tiles as a backsplash option can create a cheerful contrast with gray cabinets.
This lively combination can help start your day on a high note, making your morning cooking routines more enjoyable.
Besides their aesthetic charm, glass tiles are easy to clean, which makes them a practical choice as well.
5. Royal Purple Porcelain Tiles
If you're looking to make a bold and regal statement, royal purple porcelain tiles could be your go-to choice.
The rich, deep hue of these tiles creates a striking contrast with gray cabinets.
Purple, being a color associated with luxury and creativity, can add a unique flair to your kitchen design. Porcelain tiles, in addition, are known for their durability and ease of maintenance.
4. Emerald Green Ceramic Tile
An emerald green ceramic tile backsplash offers a striking complement to gray kitchen cabinets, introducing a splash of color that enlivens the space.
The rich jewel tone of emerald green creates a focal point, adding depth and vibrancy to the kitchen's palette.
This combination is both bold and sophisticated, with the coolness of the gray cabinets providing a muted backdrop that allows the luster of the green tiles to shine. The contrast is both modern and timeless, imbuing the kitchen with a sense of luxury and character.
3. Cool Turquoise Glass Tiles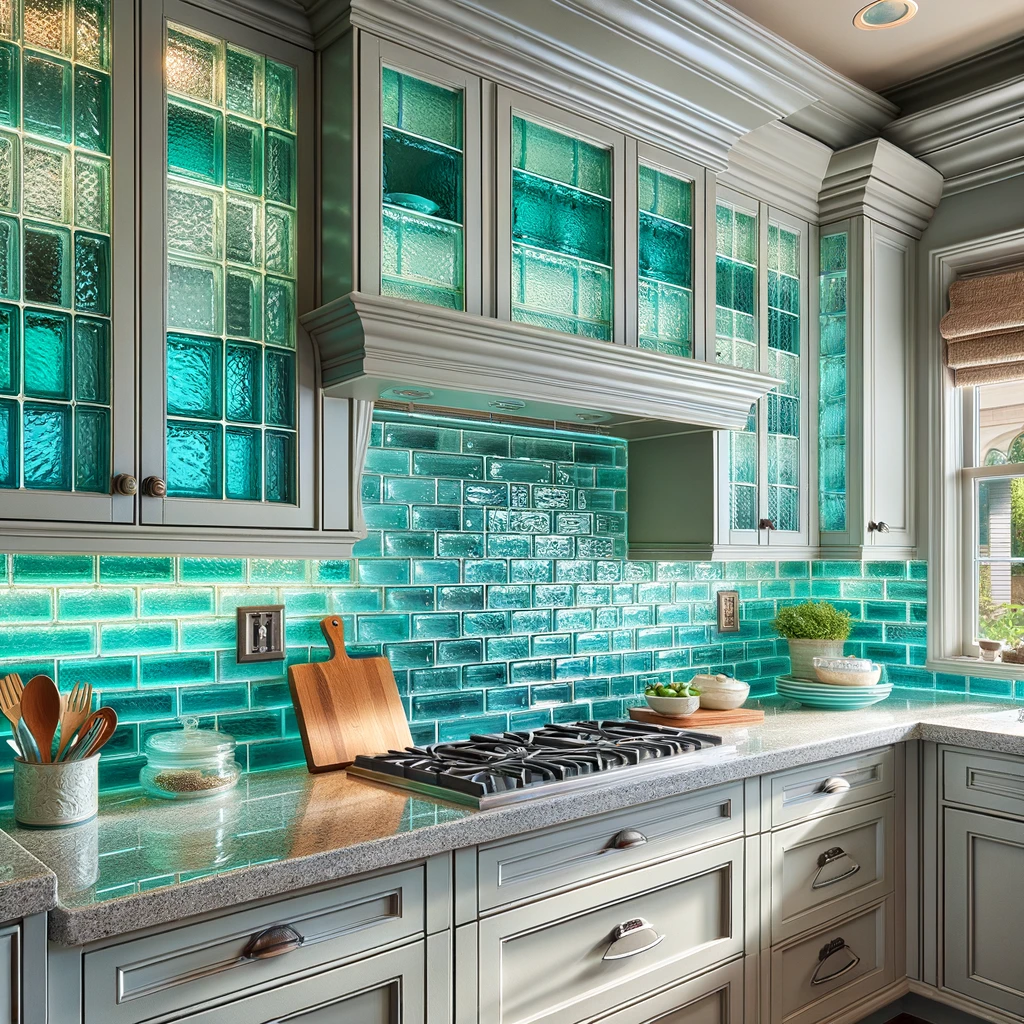 If you love the cool serenity of ocean hues, turquoise glass tiles would be a perfect choice for your backsplash.
The cool turquoise color creates a beautiful contrast with gray kitchen cabinets, evoking a sense of calm and tranquility.
Plus, the reflective properties of glass amplify light, helping to brighten up your kitchen space. Glass tiles are also easy to clean and maintain, making them a practical choice for a busy kitchen.
2. Eye-Catching Cobalt Blue Ceramic Tiles
Inject your kitchen with a wave of bold color by choosing eye-catching cobalt blue ceramic tiles for your backsplash.
This brilliant hue strikes a memorable contrast against gray cabinets, infusing the room with an energizing vibe.
In addition to their compelling visual appeal, ceramic tiles also offer practical advantages such as heat resistance and easy cleaning, making them a worthwhile choice.
1. Seamless Charcoal Gray Stone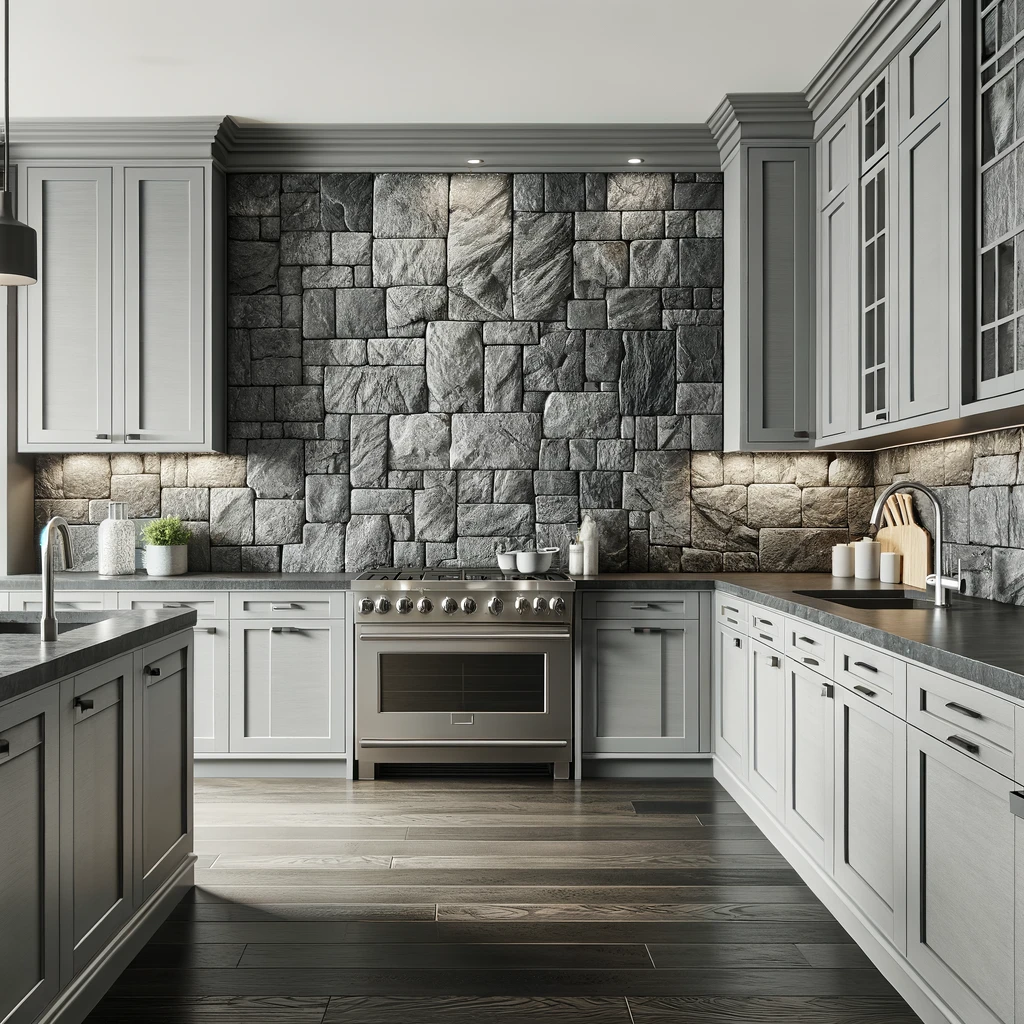 Achieve an elegant, coordinated aesthetic in your kitchen with a seamless charcoal gray stone backsplash.
The stone's rich textures and patterns add an element of interest, creating a subtle contrast with your gray cabinets. The monochrome palette brings a contemporary, minimalist charm to the space.
In addition to its visual appeal, stone is a durable material, ensuring your kitchen remains stylish and functional for years to come.
Quick Tip: Break up the monochrome look by adding pops of color with kitchen accessories, plants, or vibrant wall art.
Read more: