Honey oak kitchen cabinets are known for their timeless appeal and natural warmth, making them an ideal choice for homeowners looking to create a cozy and inviting atmosphere in their kitchens.
However, finding the perfect backsplash to complement these cabinets can be challenging, as the wrong color choice can make your kitchen appear dated or visually cluttered.
Honey oak kitchen cabinets exude warmth. A soft beige or cream backsplash complements their golden undertones. For depth, choose a mosaic tile that blends earthy tones like terracotta and sage.
Consider subtle patterns to add interest without overpowering. Always align with the kitchen's overall theme, ensuring the backsplash enhances the cabinets' natural beauty.
In this article, we will explore 17 stunning color backsplash ideas that will not only enhance the beauty of your honey oak cabinets but also breathe new life into your kitchen.
From classic to contemporary designs and various materials, let us guide you through an array of stylish options to help you create a harmonious and eye-catching kitchen space.
17. Herringbone Wood
The rich texture of a herringbone wood backsplash interplays beautifully with the grain of honey oak kitchen cabinets, creating a cohesive, organic look.
The herringbone pattern injects a dynamic movement, enhancing the kitchen's depth and complexity.
This choice is perfect for those seeking a rustic yet refined ambiance, and it's a great way to introduce a tactile element into the kitchen's design.
16. White Subway Tile
White subway tile is a timeless complement to honey oak cabinets, offering a bright and clean backdrop that allows the natural beauty of the wood to shine.
Its reflective surface adds light to the space, and the classic layout ensures design longevity.
Subway tiles also offer versatility in grout color choices, which can be selected to either blend in or contrast with the tiles for different effects.
15. Glass Tile
Glass tiles inject a modern sheen that elevates the honey oak's natural warmth, creating an inviting yet contemporary space.
Their reflective surface can open up the kitchen, making it appear larger, and the vast color options allow for personalization.
Quick tip: Use a neutral color to bridge the backsplash with the oak's honey tones for a cohesive look.
14. White Marble
The classic luxury of a white marble backsplash with its timeless veining adds an air of sophistication to honey oak cabinets.
The coolness of the marble juxtaposes the warmth of the wood, creating a kitchen space that feels both opulent and inviting.
This pairing works especially well in a space where the goal is to achieve a balance between natural warmth and upscale elegance. For maintenance, regular sealing will keep the marble pristine.
13. Black Marble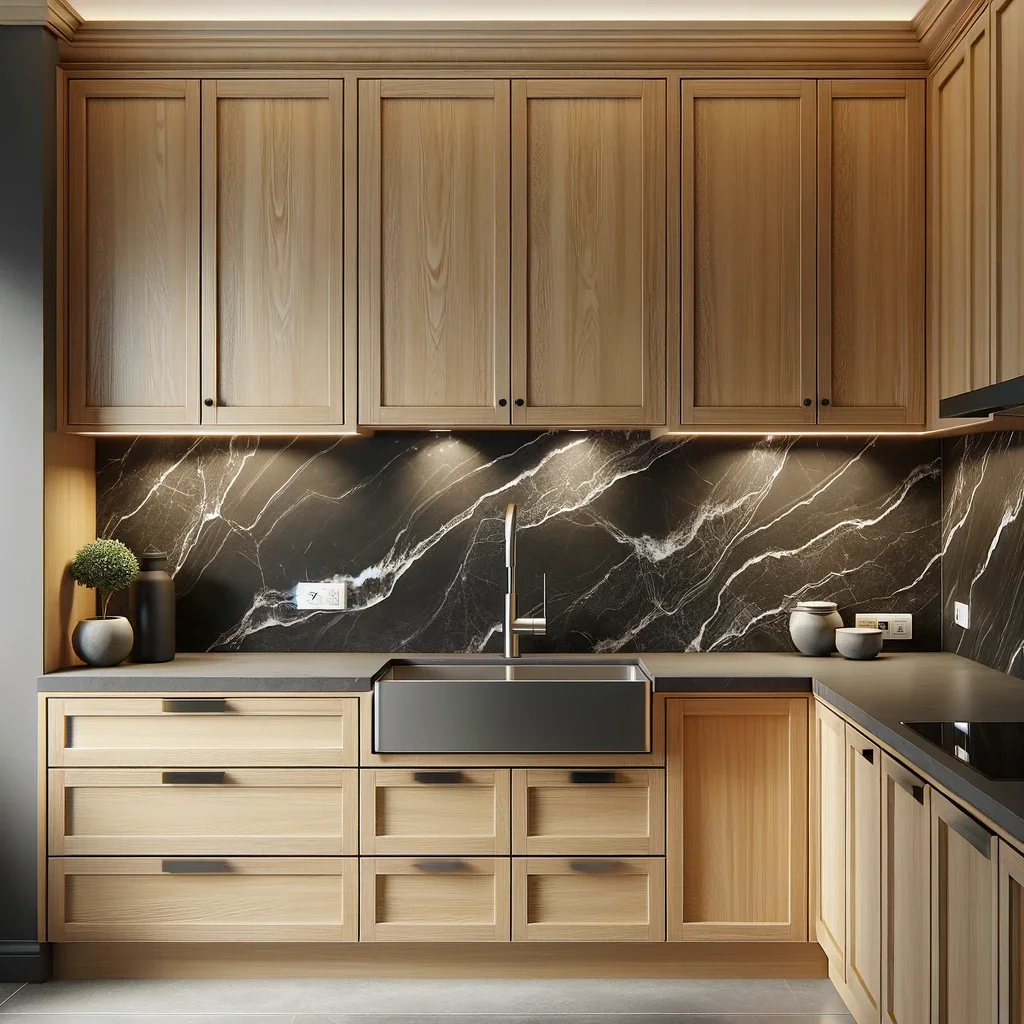 The depth of black marble with its distinctive white veining presents a striking contrast to the warmth of honey oak cabinets, creating an impactful visual statement.
This combination is for those who aren't afraid to embrace bold design moves that blend the natural charm of wood with the dramatic flair of dark stone.
Quick tip: use honed finishes to reduce the appearance of scratches and etchings.
12. Sage Green Subway Tile
Sage green subway tile offers a tranquil and earthy complement to the natural tones of honey oak cabinets. This subtle hint of color maintains the warmth of the space while adding a fresh vibrancy.
The rectangular shape of the subway tile keeps the look classic and is flexible in terms of laying pattern, allowing for a personalized touch. A glossy finish can also help reflect light, brightening the kitchen.
11. Beige Limestone
Beige limestone with its warm, neutral palette and natural stone texture is a seamless match for honey oak cabinets.
It reinforces the organic, welcoming nature of the kitchen while providing subtle visual interest through its unique veining and fossil patterns.
Limestone's porosity calls for sealing to guard against stains and etches in a kitchen environment.
10. Herringbone Pale Blue Ceramic Tile
A herringbone pattern lends a dynamic texture, while the pale blue brings a refreshing coolness that complements the warm hues of honey oak.
This tile works well to create a focal point behind the range or sink, adding a modern twist to the traditional wood cabinetry. Using pale blue also introduces a serene, sky-like element to the kitchen.
9. Chevron Light Gray Tile
Chevron patterns are inherently dynamic, and when rendered in light gray, they offer a subtle, modern edge that doesn't overpower the warm tones of honey oak cabinets.
This geometric design can act as a bridge between traditional and contemporary styles, making it a versatile choice for many kitchens. Pair with grout in a contrasting color for a more defined pattern.
8. White Ceramic Tile in Diamond Pattern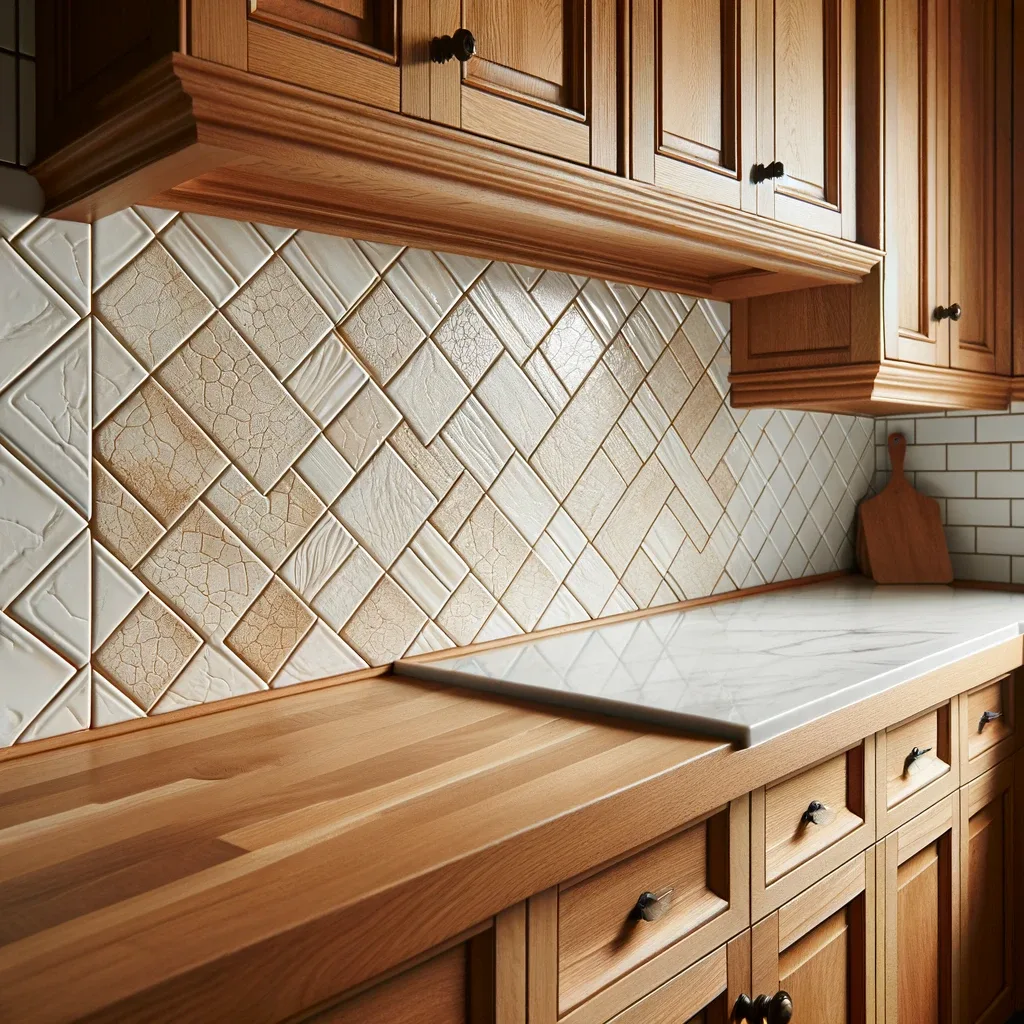 White ceramic tiles set in a diamond pattern create a sense of elegance and openness, working well with the natural grain and hue of honey oak cabinets.
The diamond pattern adds a unique spin to the traditional square tile layout, introducing visual interest without overwhelming the space. This design can make a small kitchen feel larger and brighter.
7. Matte White Hexagon Tile
The contemporary shape of hexagon tiles provides a modern counterpart to the classic appeal of honey oak cabinets.
A matte white finish on these tiles can soften the look while allowing the wood's natural beauty to stand out.
Hexagon tiles also offer a unique opportunity for creative layouts, such as creating a fade or ombré effect with varying shades.
6. Mosaic Glass Tile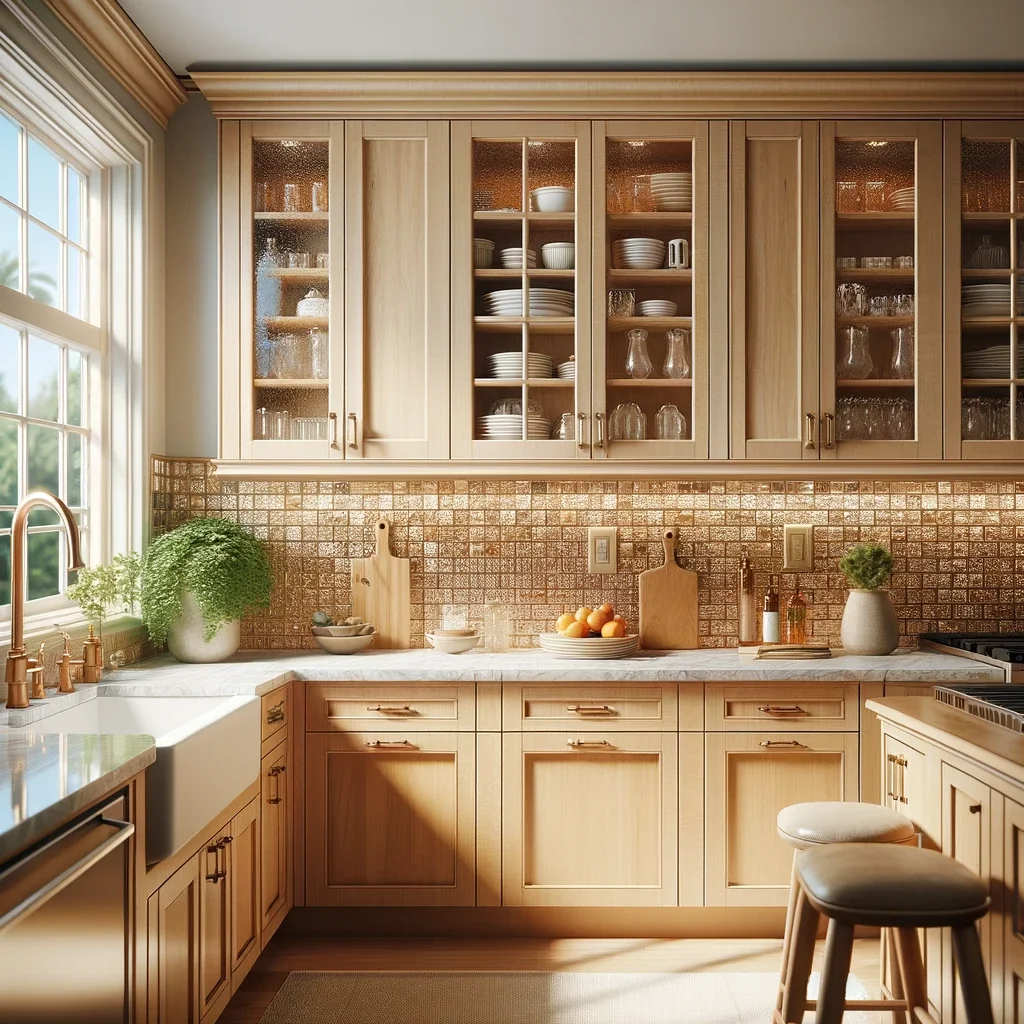 Mosaic glass tiles can introduce a spectrum of colors that pick up the varied tones in honey oak cabinets. The reflective quality of glass can brighten the kitchen and add a layer of depth and texture.
This option is particularly apt for homeowners looking to incorporate a personal touch or a dash of artistry in their kitchen space.
5. Polished Marble in Herringbone Pattern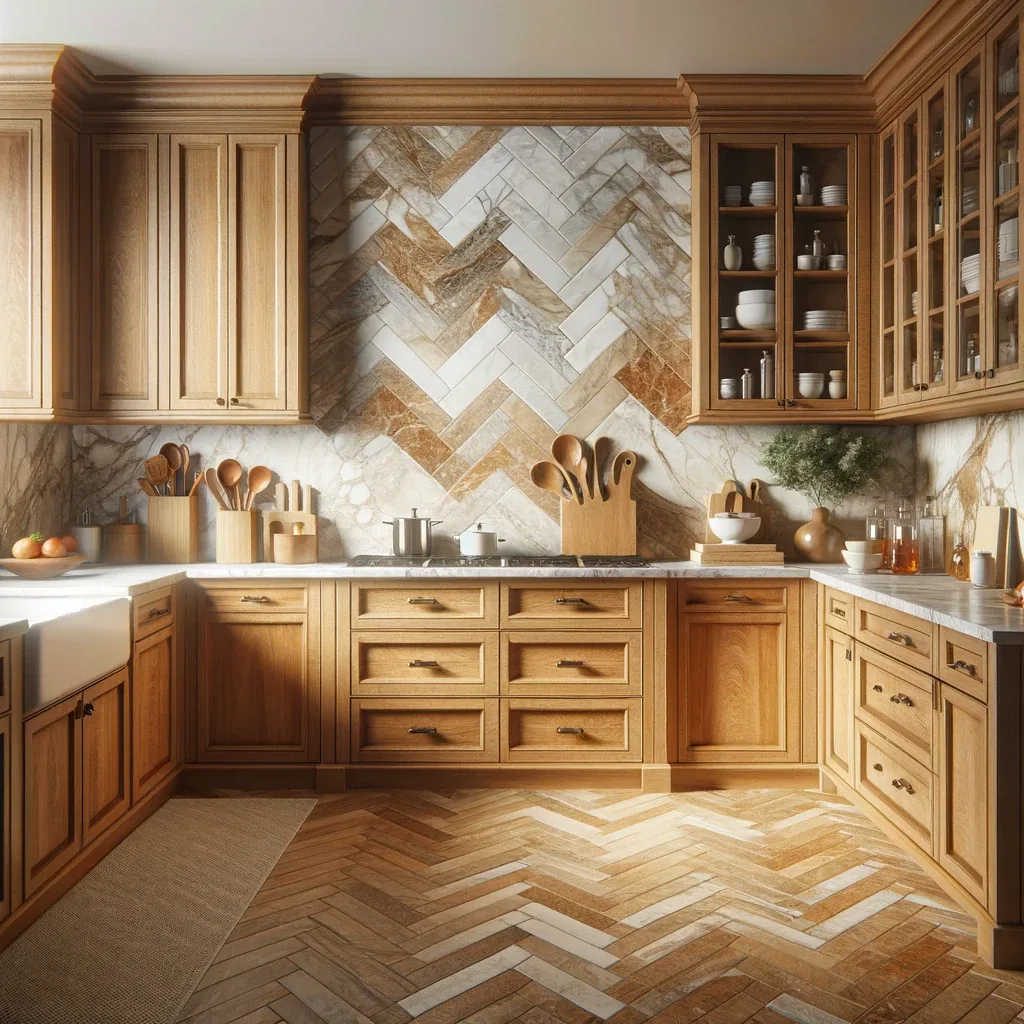 The herringbone pattern adds a sophisticated touch to any kitchen, and when executed in polished marble, it elevates the entire space with a refined texture and shine.
The natural veining of polished marble provides a subtle contrast to the warm honey oak kitchen cabinets, creating an elegant and timeless aesthetic.
It's a particularly good choice for those who want a luxurious feel without overpowering the oak's natural beauty.
Quick tip: make sure to seal polished marble to protect against stains and etching.
4. Rustic Stone Tile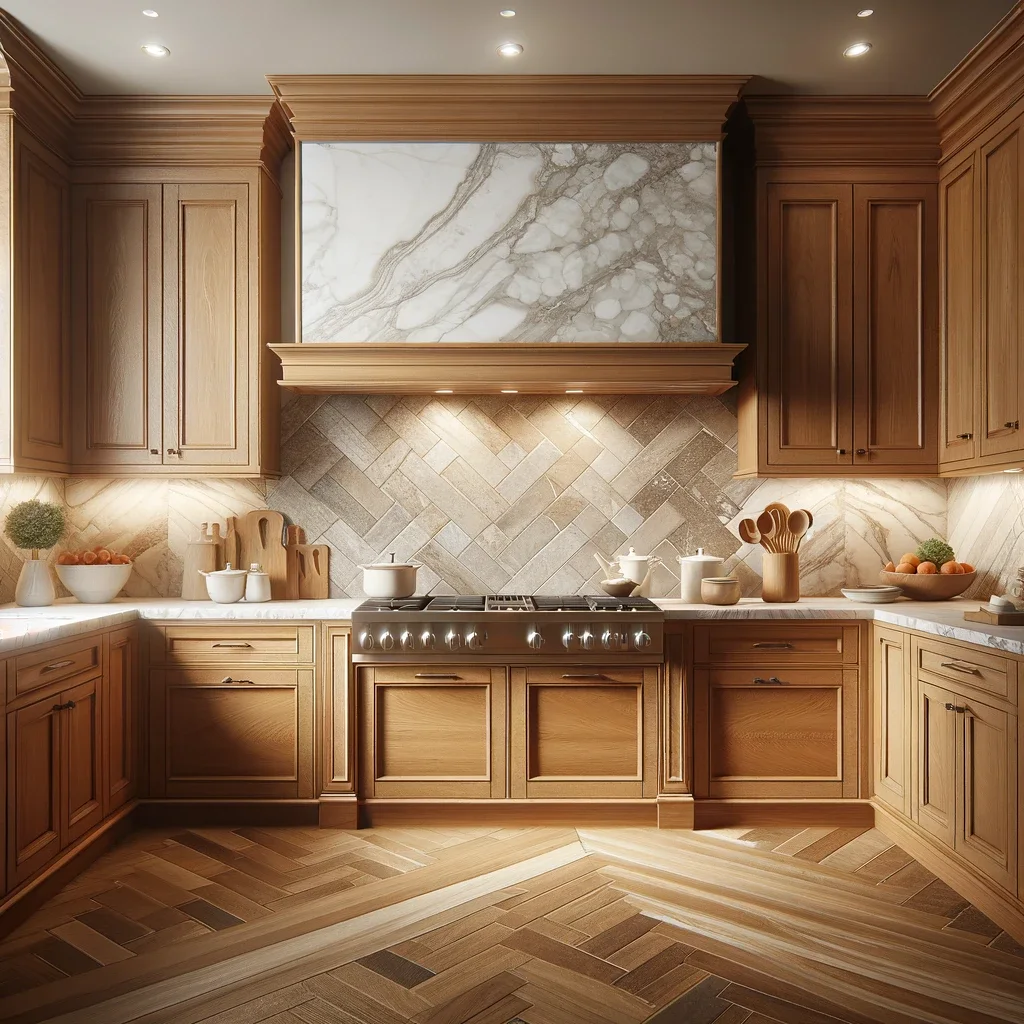 The raw, unrefined beauty of rustic stone tile brings an element of nature into the kitchen. It complements the inherent rustic charm of honey oak cabinets, reinforcing a natural and grounded design language.
The texture of the stone adds depth and character to the kitchen, making it feel cozy and lived-in. Opt for a honed finish for a more subtle look, or a polished finish to add a touch of elegance.
3. Slate Tile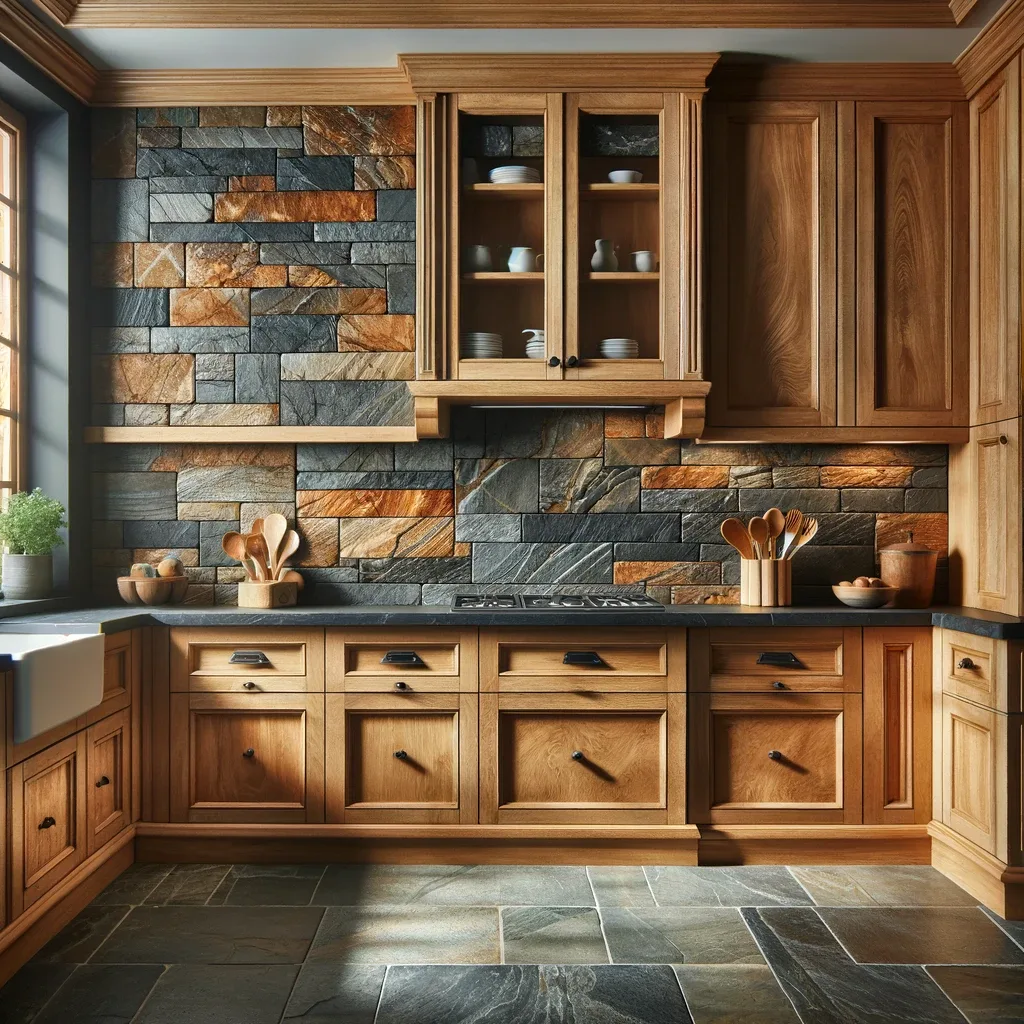 Slate tile's deep hues and rich texture offer a striking contrast to honey oak cabinets, anchoring the space with its earthy presence.
Its natural durability and resistance to stains make it a practical choice for a busy kitchen. The multi-tonal nature of slate can pull together various colors in the kitchen, offering versatility and depth.
Quick tip: Use larger slate tiles for a more modern look or smaller tiles for a traditional feel.
2. Soft Beige Subway Tile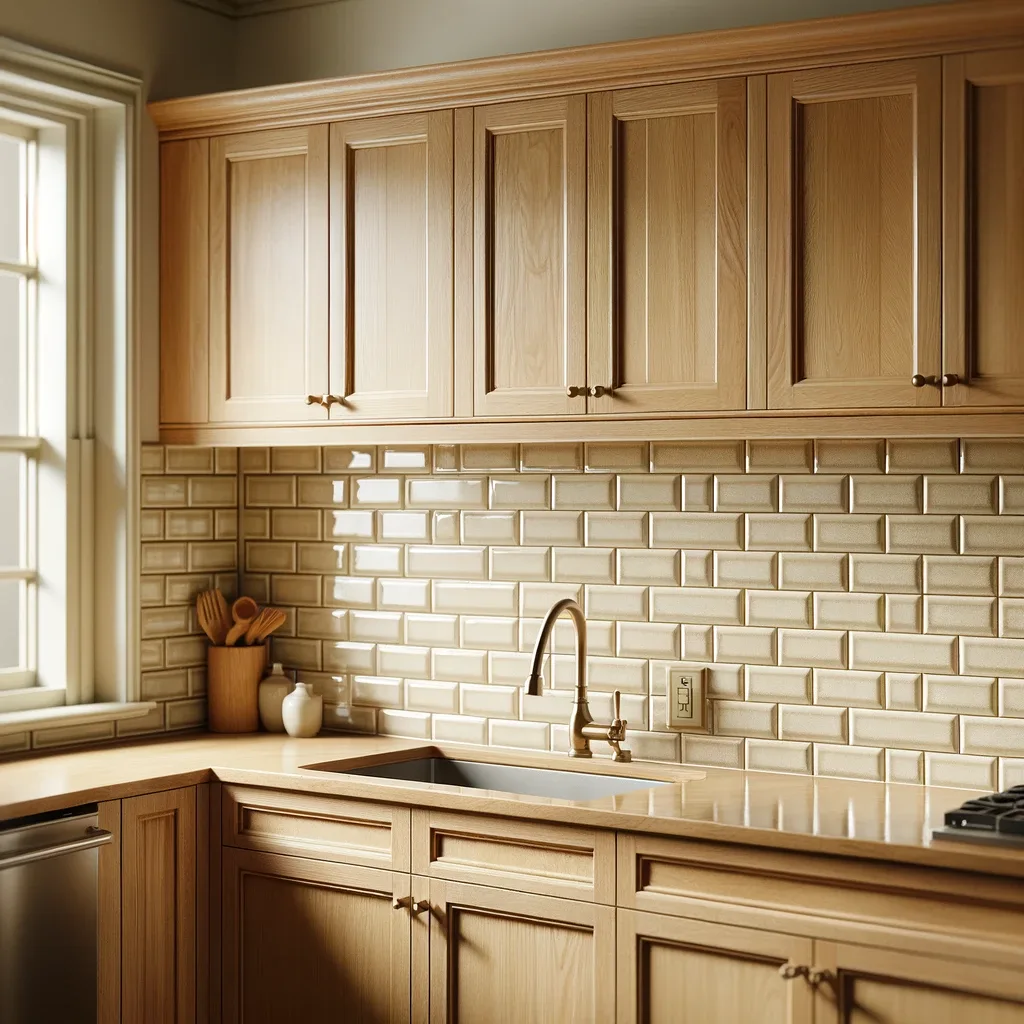 Soft beige subway tiles are the epitome of understated elegance. They complement honey oak cabinets by echoing their warm undertones, creating a cohesive and inviting space.
The classic subway tile shape lends a timeless appeal, ensuring your kitchen never goes out of style. For a seamless look, choose grout in a matching color, or opt for a darker shade to add definition to the tile layout.
1. Terracotta Tile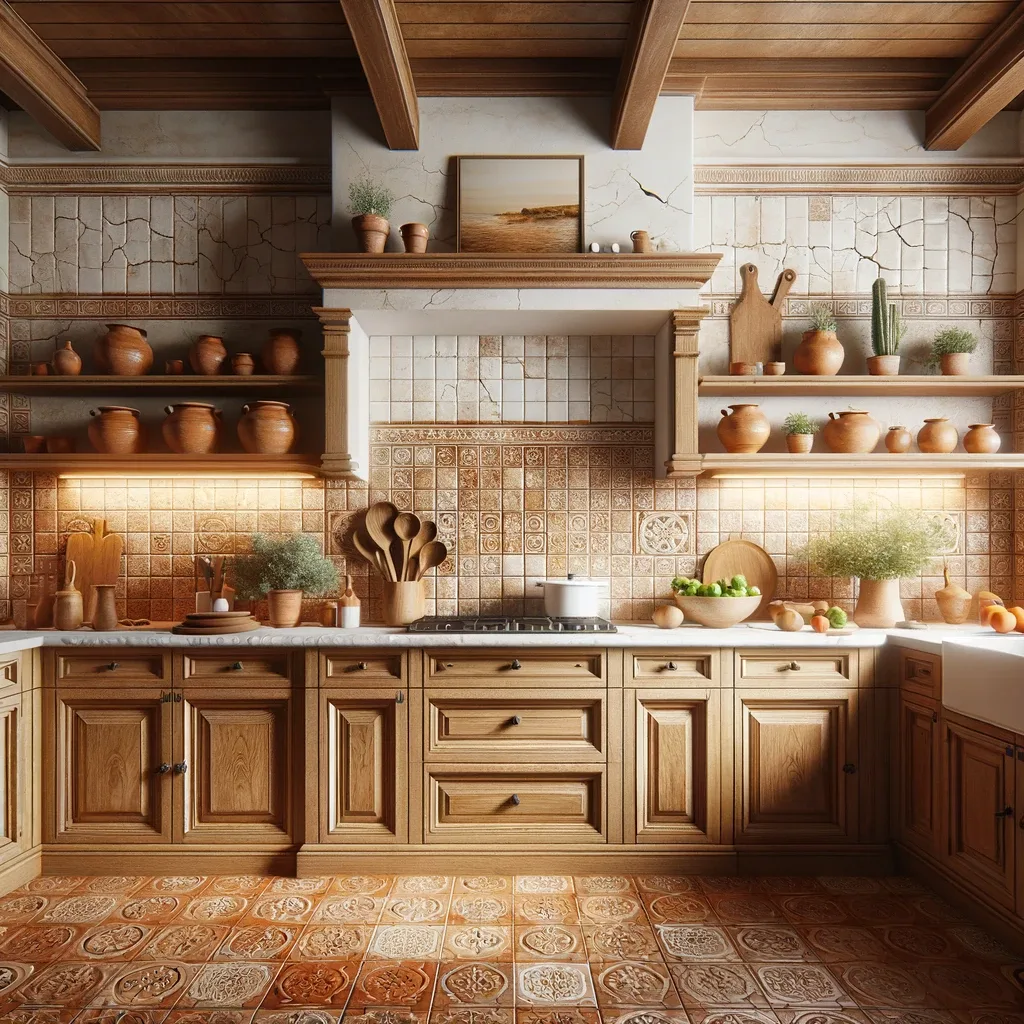 Terracotta tiles with their warm, earthy tones are a natural match for honey oak kitchen cabinets, enhancing the warmth and inviting atmosphere of the kitchen.
Their rustic charm is ideal for creating a cozy, Mediterranean-inspired space. Terracotta's durability and ease of maintenance make it a practical choice for a backsplash.
Consider sealing these tiles to preserve their color and protect against moisture.
Read more: