The farmhouse style, with its natural elements, cozy comfort, and nostalgic charm, has eternally captured the hearts of homeowners and interior designers alike.
Central to this enchanting style is the kitchen – the heart of the farmhouse home.
Yet, many owners struggle to choose the perfect paint colors that complement their kitchen's oak cabinets, creating a harmonious blend of rustic and modern, warm and cool, vibrant and muted.
For a farmhouse kitchen with oak cabinets, consider soft sage green to enhance the wood's rich tones. Creamy white offers a clean backdrop, emphasizing the cabinet's grain, while muted taupe adds a timeless, neutral accent.
Together, these colors accentuate oak's inherent warmth, creating an inviting and classic farmhouse ambiance.
This article will guide you through 18 distinctive paint colors that can uplift your farmhouse kitchen's aura, harmonize with your oak cabinets, and give your kitchen a refreshing transformation.
Note: The color codes below are recommendations. We have tried to match the color code to the walls in the images, but in some cases the colors may vary.
18. Gentle Cream (#F6E8D4)
Our journey begins with the understated allure of Gentle Cream. This soft, off-white hue creates a creamy canvas that subtly brightens your kitchen.
It provides a serene ambience that compliments the oak cabinets, enhancing their warm undertones. This color is particularly useful in spaces that lack natural light.
Its innate ability to bounce light around the room can make your kitchen feel brighter and more inviting.
Additionally, Gentle Cream is versatile enough to blend well with various styles and finishes, making it an ideal choice for any farmhouse kitchen makeover.
Quick tip: Consider pairing this color with dark hardware on your cabinets for a striking contrast.
17. Cool Gray (#8A9597)
Cool Gray adds a modern twist to the farmhouse aesthetic. It's a tranquil color that balances the warm tones of oak with its cool undertones.
This blend creates a unique, contemporary vibe in your kitchen without compromising the rustic appeal of the farmhouse style.
Furthermore, Cool Gray is a flexible color that works great with stainless steel appliances and white countertops.
If you're looking for a neutral yet sophisticated hue to complement your oak cabinets, Cool Gray could be an excellent choice.
16. Light Taupe (#B38B6D)
Light taupe gracefully complements farmhouse oak kitchen cabinets. The subtle warmth of taupe resonates with the rich, natural undertones of oak, creating an effortlessly cohesive look.
This combination celebrates the rustic essence of farmhouse design while maintaining a touch of modern refinement.
Together, light taupe and oak craft a welcoming atmosphere, anchoring the kitchen in both tradition and contemporary style, perfect for heartfelt moments and culinary creativity.
15. Soft Peach (#FFDAB9)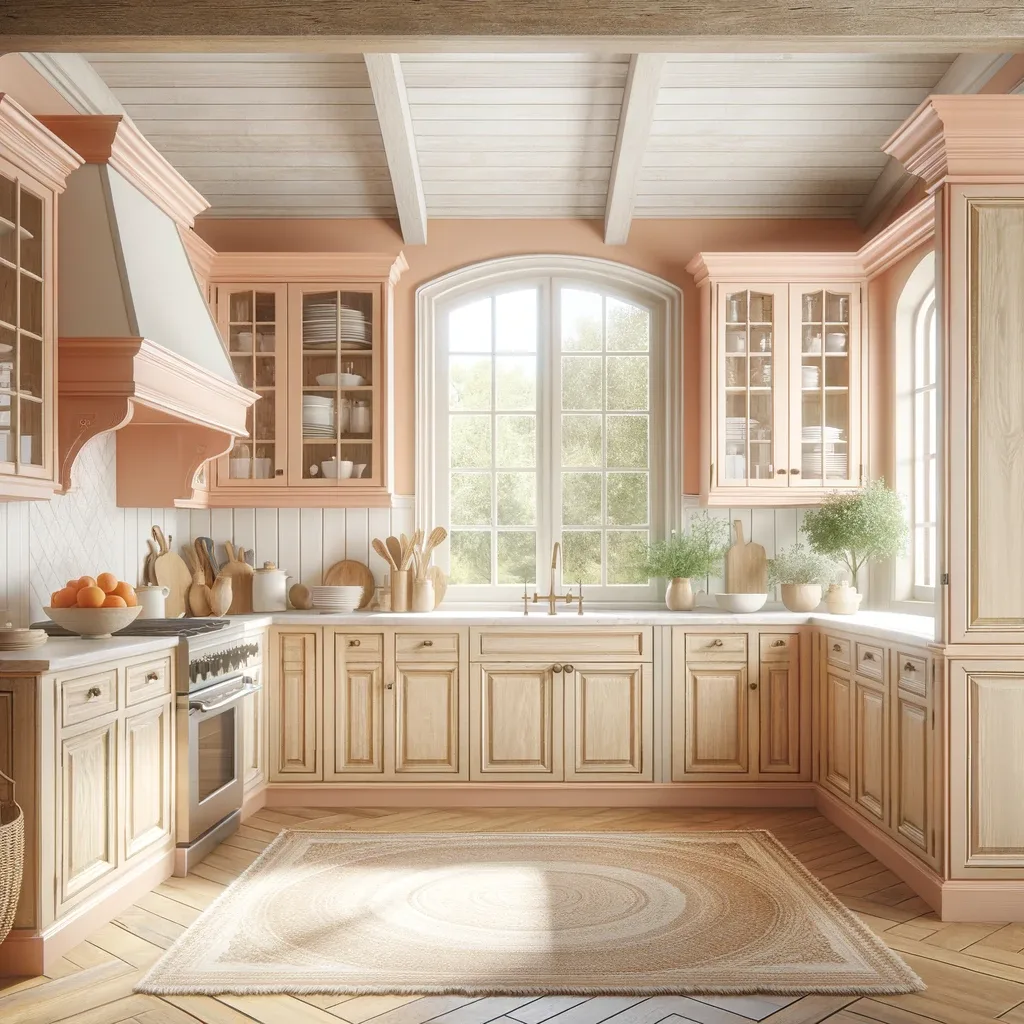 There's something incredibly inviting about a Soft Peach kitchen. This pastel hue adds a splash of color to your kitchen without being overwhelming.
Its warm undertone harmonizes with oak cabinets, bringing a cheerful and cozy ambiance to your farmhouse kitchen.
Soft Peach can create a perfect balance between modern and rustic, working well with both contemporary appliances and traditional kitchen decor.
Additionally, it pairs well with a variety of finishes, from dark granite countertops to white ceramic tiles.
14. Navy Blue (#000080)
Navy Blue, while not a conventional choice, can make a powerful statement in your kitchen.
It provides a deep, rich contrast to the light oak cabinets, making them stand out and adding depth to your kitchen space.
Its intense shade introduces a level of sophistication and modernity to your farmhouse kitchen, while still maintaining a cozy feel.
Navy Blue can serve as a dramatic backdrop for your oak cabinets and is often paired with gold or brass hardware for a touch of luxury.
Quick tip: Use this color sparingly or on an accent wall to prevent it from overpowering the room.
13. Classic Beige (#F5F5DC)
Classic Beige is a timeless color that never goes out of style. Its warm undertones harmonize perfectly with oak cabinets, creating a comfortable, inviting space.
This color is excellent at making a kitchen feel more spacious and bright, enhancing the natural light in the room.
Additionally, Classic Beige pairs well with almost any color, allowing for plenty of flexibility when choosing kitchen accents and decor.
If you prefer a subtle and sophisticated palette, this color could be the one for you.
12. Vibrant Yellow (#FFFF00)
Bring the sunshine into your kitchen with Vibrant Yellow. This lively hue radiates positivity, creating an energetic and welcoming kitchen environment.
It contrasts beautifully with oak cabinets, bringing out their natural grain and warm tones.
Vibrant Yellow works best in kitchens with plenty of natural light, where it can enhance the room's brightness and spaciousness.
If you're looking for a bold yet cheerful color to jazz up your farmhouse kitchen, Vibrant Yellow might be your answer.
11. Light Teal (#20B2AA)
Light Teal is a serene color that brings a touch of coastal charm to your farmhouse kitchen.
The cool undertones of this color complement the warm hues of oak cabinets, creating a balanced and harmonious look.
This color works wonderfully in adding a pop of color without being too overpowering.
Pairing Light Teal with white or cream-colored kitchen accents can create a fresh and airy feel, transforming your kitchen into a tranquil retreat.
10. Dusty Pink (#DCAE96)
Moving into the realm of charming pastels, Dusty Pink introduces a unique, subtle charm to your farmhouse kitchen.
It's a color that perfectly complements the warmth of the oak cabinets, effortlessly highlighting their innate beauty.
The tender pink hue instills a sense of romance and sophistication, adding a personal touch to your cooking space.
This delightful shade of pink pairs exceedingly well with metallic finishes, especially gold or brass accents, resulting in a sophisticated and modern farmhouse look.
Whether you're looking for a delicate pop of color or wish to create a tranquil setting, Dusty Pink might be your ideal choice.
9. Sage Green (#9CBA7F)
The calming attributes of Sage Green make it an extraordinary contender for a farmhouse kitchen paint color.
This muted, earthy hue harmoniously blends with the warm notes of oak cabinets, enhancing their organic beauty.
It adds a layer of rustic elegance to the kitchen, making it a soothing sanctuary for cooking and dining.
Sage Green's understated elegance pairs well with a broad palette of kitchen accents and tones, ensuring its compatibility with your current decor.
To accentuate its natural charm, consider pairing it with wooden textures and other natural elements.
Quick tip: For a cohesive look, consider incorporating Sage Green into your kitchen textiles and accessories.
8. White (#FFFFFF)
A timeless classic, white brings a crisp, clean, and expansive aura to your kitchen.
Its radiant purity lets the oak cabinets take center stage, enhancing their warm tones and intricate grain details.
The light-reflecting properties of white can significantly open up your space, creating an illusion of a larger, more airy kitchen.
Moreover, it acts as a blank canvas, allowing a seamless incorporation of various accents, colors, and styles.
Regardless of your kitchen's size, white is a fail-safe option that ensures a fresh and modern look.
7. Soft Lavender (#E6E6FA)
Introduce a breath of fresh air into your kitchen with Soft Lavender. This gentle, cool-toned color offers a subtle contrast to the warmth of the oak cabinets, balancing the overall look and feel of the space.
Imbued with a tranquil quality, Soft Lavender instills your kitchen with a calming ambiance, making it an ideal place for relaxed cooking and dining.
Whether you pair it with sleek, silver appliances or rustic, wooden kitchen elements, Soft Lavender can transform your space into a farmhouse dream.
6. Warm Terracotta (#E2725B)
If you're after a cozy, sun-drenched Mediterranean feel, Warm Terracotta can deliver.
This rich, earthy color complements the natural tones of oak cabinets beautifully, enhancing the overall warmth of the kitchen.
It has the power to transform your cooking area into a rustic, inviting space, while serving as a stunning backdrop for your cabinetry.
For those who are drawn to warm, cozy hues, Warm Terracotta is an excellent choice to consider.
5. Black (#000000)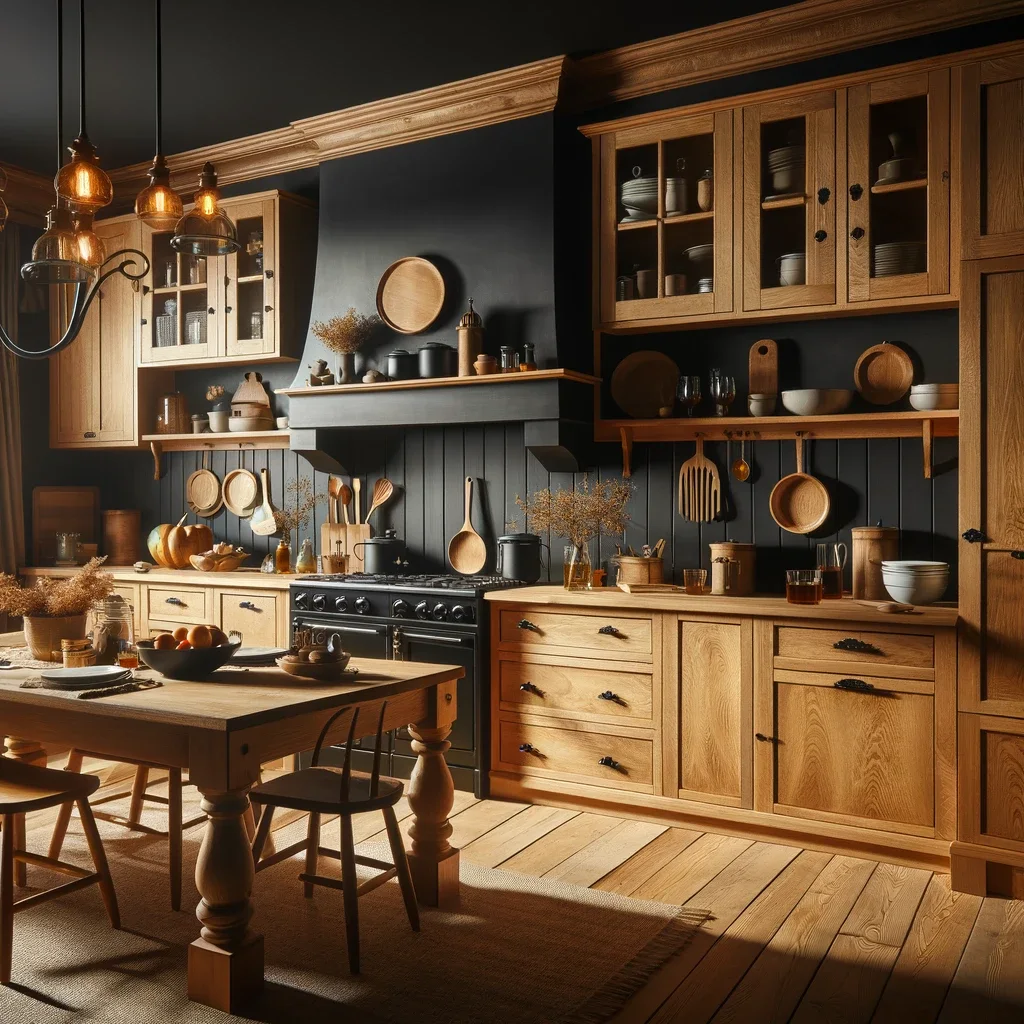 Bold, dramatic, and incredibly stylish, black can make a profound statement in your farmhouse kitchen.
Despite being a daring choice, when used wisely, it creates an exceptional contrast against the oak cabinets, bringing out their natural grain and warmth.
It exudes a modern edge while still preserving the rustic charm of the farmhouse aesthetic.
To avoid making the space feel too dark, consider using black on an accent wall or balance it with lighter tones in your kitchen decor.
4. Cornflower Blue (#6495ED)
Cornflower Blue, reminiscent of blooming summer fields, can bring a lively, yet calming energy to your kitchen.
Its cool undertones subtly contrast the warm oak cabinets, creating an inviting and balanced visual appeal. Its vibrant hue adds a dash of character to your kitchen without being overpowering.
Pair Cornflower Blue with white countertops or a tiled backsplash to create a refreshing and cheerful cooking space.
Quick tip: For an added touch of sophistication, consider pairing Cornflower Blue with brass or gold accents.
3. Toasted Almond (#D2B49C)
Toasted Almond is a warm, neutral color that works in perfect harmony with oak cabinets. It subtly enhances the wood's natural tones, creating a cozy, welcoming atmosphere.
Toasted Almond's versatility allows it to blend seamlessly with a variety of decor styles and colors, making it a practical choice for any kitchen.
Pair it with rustic elements for a complete farmhouse look.
2. Burgundy (#800020)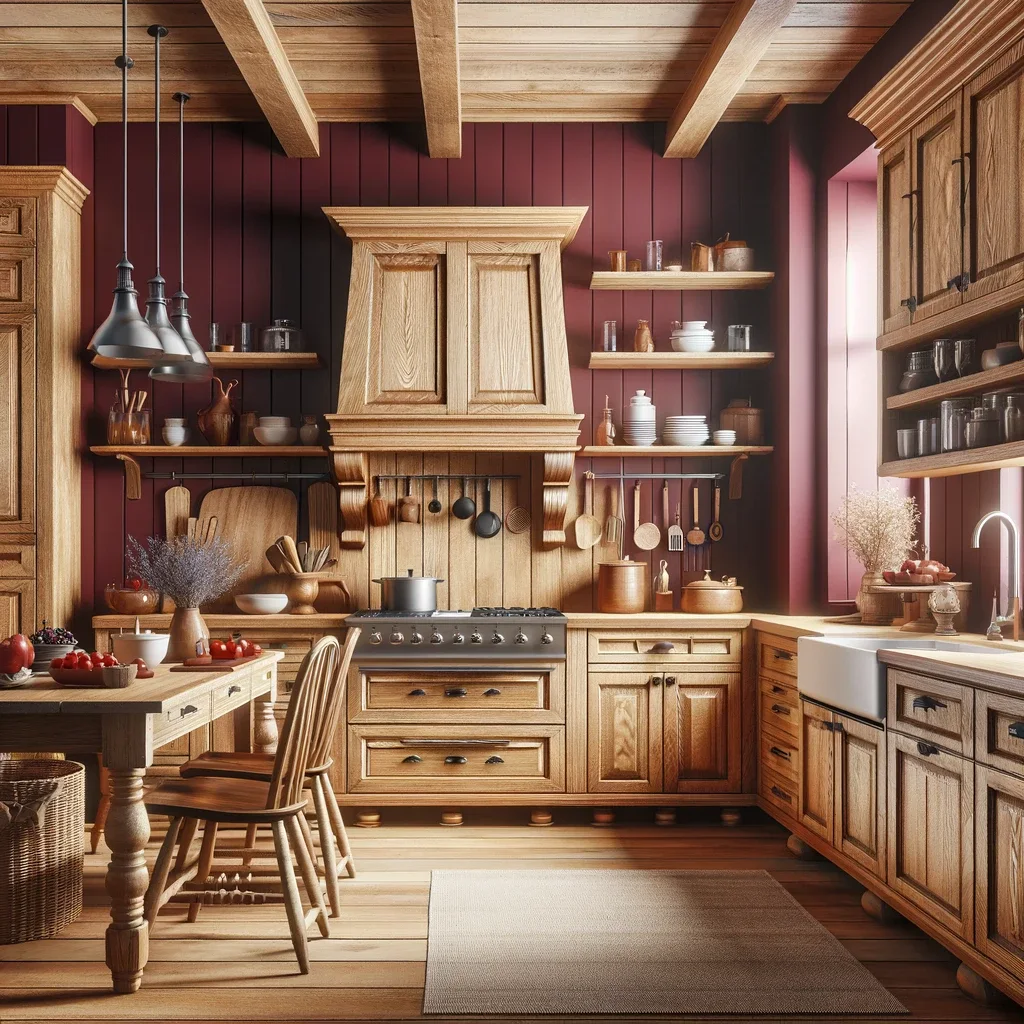 Burgundy is a rich, bold color that can create a striking statement in your farmhouse kitchen. It offers a deep contrast to the oak cabinets, making them pop against its bold backdrop.
This color brings a touch of sophistication and a sense of depth to your kitchen, while its warm undertones tie in with the cozy farmhouse aesthetic.
If you're not afraid of a little drama, burgundy might be the perfect choice for your kitchen.
1. Antique White (#FAEBD7)
Finally, we arrive at Antique White, a color that exudes timeless elegance. This color is a softer, warmer alternative to stark white, providing a creamy background that allows your oak cabinets to shine.
Antique White works beautifully in enhancing the brightness of a space, making your kitchen feel more spacious and airy.
Its versatility also makes it an ideal choice for any farmhouse kitchen, as it can blend seamlessly with different color palettes and decor styles.
Whether you're starting a kitchen makeover or just looking for a subtle refresh, Antique White is a color that can effortlessly enhance the beauty of your oak cabinets.
Read more: Best cabinet colors to transform your farmhouse kitchen