Your kitchen is the heart of your home, where meals are prepared with love, laughter is shared, and memories are created.
So, it's only fitting that it reflects your style and taste, offering both comfort and functionality.
With gray kitchen cabinets, opt for rich dark wood or laminate floors for contrast and warmth. Pale oak or bamboo brings out subtle undertones in the gray, creating a harmonious space.
For a contemporary touch, consider polished concrete or matte-finished tiles. These choices complement gray cabinets, ensuring an elegant and cohesive kitchen environment.
We've compiled a list of 16 exceptional kitchen floor ideas that accentuate the charm of gray cabinets, presenting a perfect blend of style, durability, and convenience.
Let's navigate through these ingenious flooring options that can help transform your kitchen into an elegant culinary haven.
16. Charcoal Porcelain Tiles
Dive into the depths of sophistication with charcoal porcelain tiles. This dark, sultry shade makes an impressive contrast against gray cabinets, creating an atmosphere of modern elegance.
Besides their aesthetic appeal, porcelain tiles are known for their extreme durability and low maintenance.
Resistant to scratches and stains, they're a practical choice for high-traffic kitchen areas.
Just remember that darker shades might show dust and debris more readily, so regular cleaning is recommended.
Quick tip: Consider underfloor heating with porcelain tiles for added comfort during colder seasons.
15. Honey-Hued Oak Flooring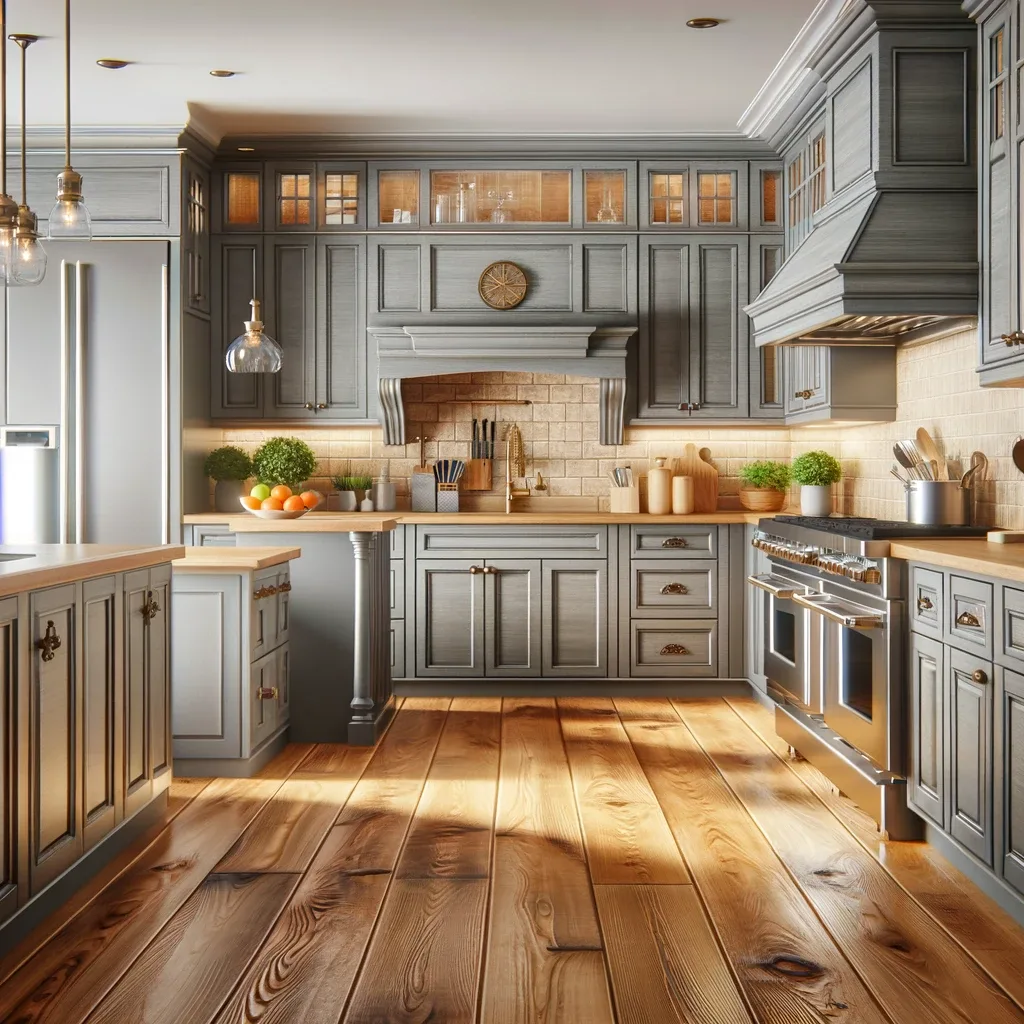 Oak flooring in a warm honey shade can beautifully offset the cool undertones of gray cabinets.
This classic hardwood option offers a comforting, homely appeal that perfectly balances the contemporary feel of gray.
Oak is incredibly hard-wearing and improves with age, making it a long-lasting choice. It's also resistant to fungal and insect attacks.
However, it does require occasional refinishing to maintain its charm.
14. Distinctive Slate
Slate flooring presents a distinctive and stylish choice for kitchens with gray cabinets.
Its natural variance in color, from light gray to dark charcoal, adds an intriguing visual element to your space.
Slate is highly durable, resistant to both stains and water, making it ideal for kitchens.
Its rough texture can provide a non-slip surface but may require regular sealing to prevent chips and scratches.
13. Warm Polished Concrete
Warm polished concrete flooring is a unique and modern choice that complements gray kitchen cabinets by grounding them with an industrial yet warm touch.
Its subtle texture and sheen can add depth to the kitchen space, while its neutral color ensures that it does not compete with the cabinetry.
The simplicity of concrete pairs well with the clean lines of gray cabinets, contributing to a cohesive and chic kitchen design.
12. Chestnut Brown Engineered Wood
Engineered wood in a chestnut brown shade provides a warm and appealing contrast to gray cabinets.
The rich, deep hue of chestnut brown is engaging, adding depth and a cozy ambiance to your kitchen.
Engineered wood offers great stability and is less prone to shrinking or expanding with temperature and humidity changes, unlike traditional hardwood.
It requires minimal maintenance and is an excellent choice for areas with moderate kitchen traffic.
11. Sandstone Beige Laminate Flooring
Create a harmonious yet warm kitchen space with sandstone beige laminate flooring. The beige tone offsets the cool gray cabinets, introducing a pleasant balance into your kitchen.
Laminate flooring is not only cost-effective but also highly durable, withstanding high traffic, stains, and wear. It's easy to install and requires minimal upkeep.
Its only downfall is its susceptibility to water damage, so wipe up spills quickly to ensure longevity.
10. Glossy White Ceramic Tile
Glossy white ceramic tile flooring provides a clean and crisp contrast to gray kitchen cabinets, highlighting their color with its reflective sheen.
The brightness of white tiles can make the gray cabinets stand out, emphasizing their design and finish.
Additionally, the smooth surface of ceramic tiles contributes to a modern and sleek kitchen environment, enhancing the contemporary feel of gray cabinetry.
9. Dusk Blue Vinyl Tiles
For a bold yet harmonious pairing, consider dusk blue vinyl tiles. This shade of blue pairs beautifully with gray cabinets, creating a serene and calming kitchen environment.
Vinyl tiles are a cost-efficient and practical option. They are resistant to common kitchen spills and easy to clean, making them perfect for busy households.
Plus, their comfortable underfoot feel is a bonus during long cooking sessions.
8. Classic Herringbone Patterned Oak Flooring
Bring an element of timeless sophistication into your kitchen with classic herringbone patterned oak flooring.
The design's angular pattern adds visual interest and depth, creating a striking contrast to your gray cabinets.
Oak's natural durability coupled with the distinctive herringbone arrangement combines both form and function.
While it requires the same care and maintenance as any hardwood flooring, the aesthetic appeal of this intricate pattern certainly makes it worth the effort.
7. Onyx Black Stone Tiles
Onyx black stone tiles offer a sense of drama and opulence that pairs stunningly with gray cabinets. The rich black hue, with its natural shimmer, adds a touch of luxury to the space.
Stone tiles are renowned for their durability and resistance to wear.
They do, however, require sealing to prevent moisture absorption and staining, so keep that in mind when considering this stylish option.
6. Luxury Vinyl Plank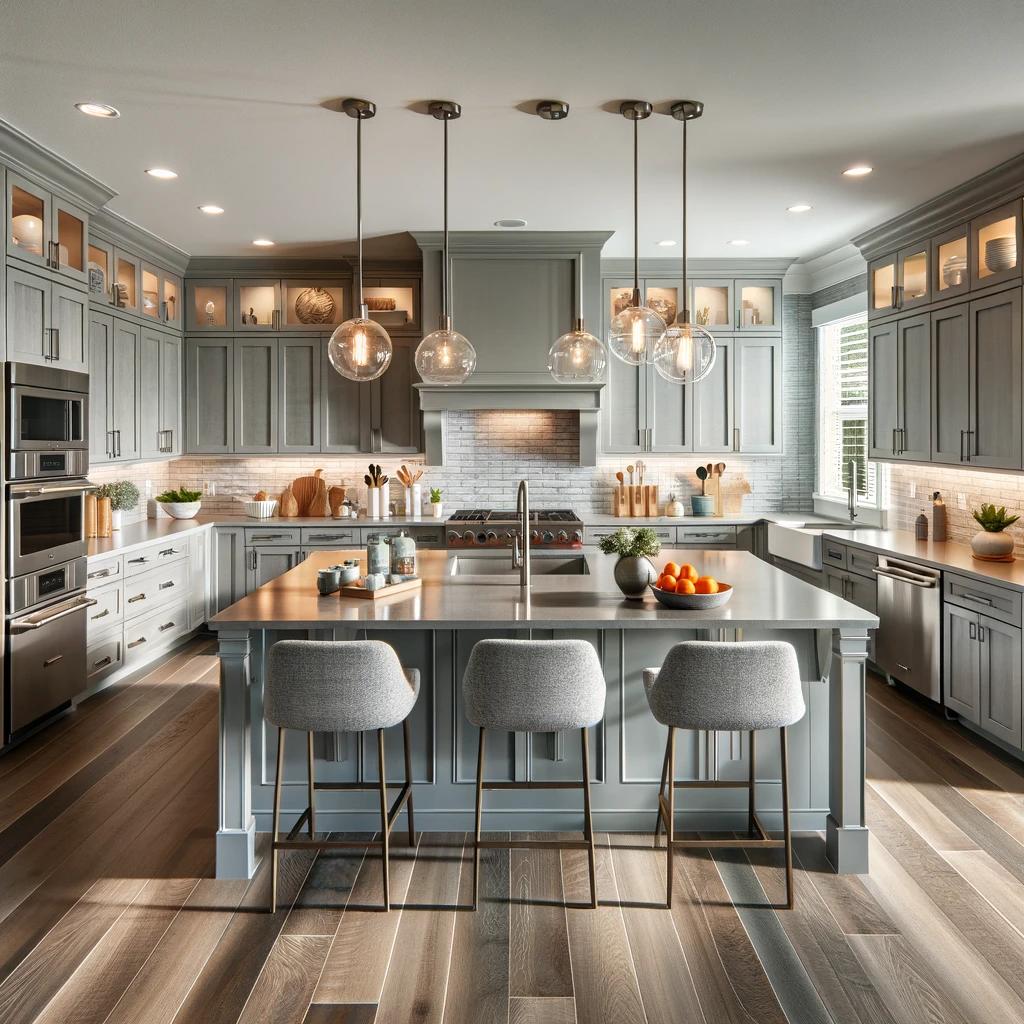 Luxury vinyl plank flooring can mimic the look of natural materials, providing a practical and stylish base that complements gray kitchen cabinets.
It can offer the appearance of hardwood or stone while delivering durability and ease of maintenance.
Its versatility in design allows for a perfect match with gray cabinetry, whether aiming for a contemporary or traditional kitchen aesthetic.
5. Espresso Brown Bamboo Flooring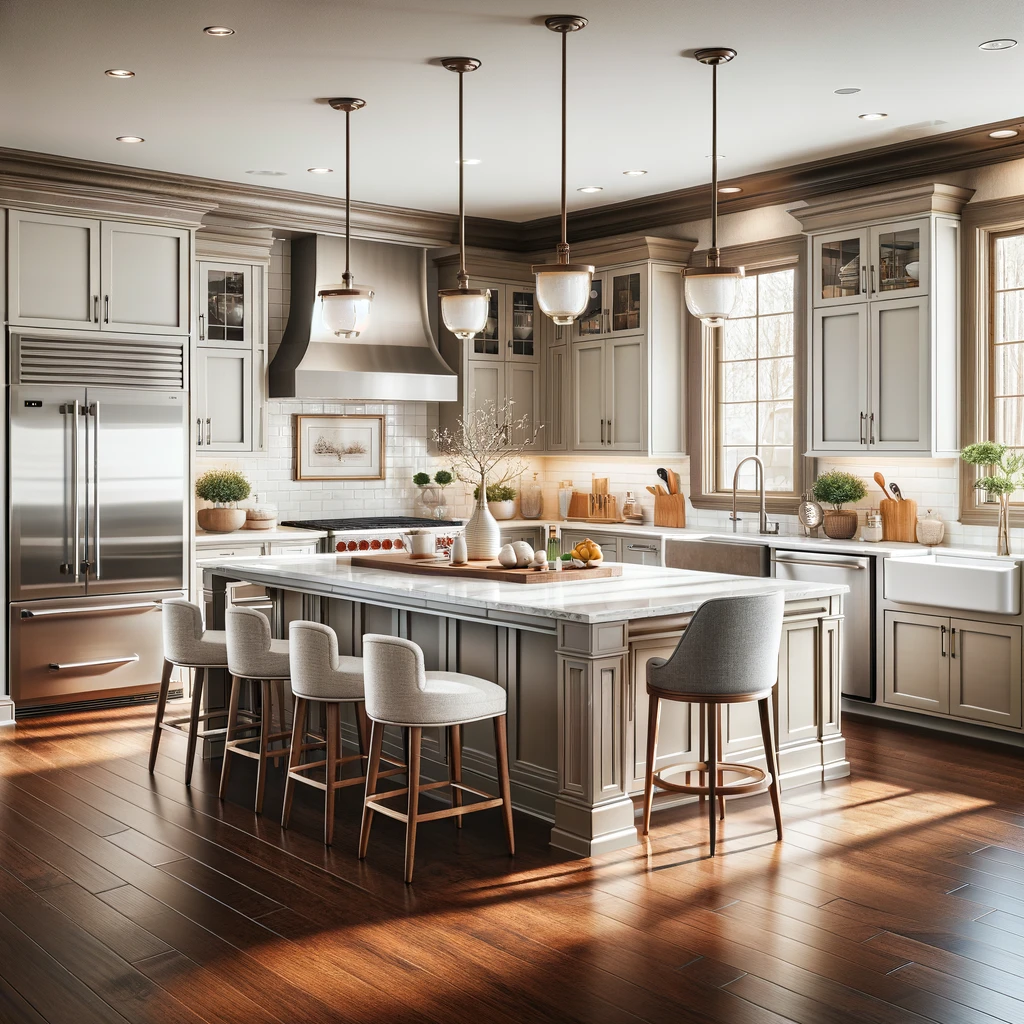 Eco-friendly and visually appealing, espresso brown bamboo flooring adds a touch of sophistication to any kitchen.
This deep, rich shade of brown contrasts elegantly with the coolness of gray cabinets, creating an inviting and modern space.
Bamboo is known for its strength and sustainability, offering a long-lasting and eco-conscious choice for flooring.
While it's resistant to moisture compared to other wood types, it's best to quickly clean up any kitchen spills to maintain its look and longevity.
4. Smoky Quartz Vinyl Plank Flooring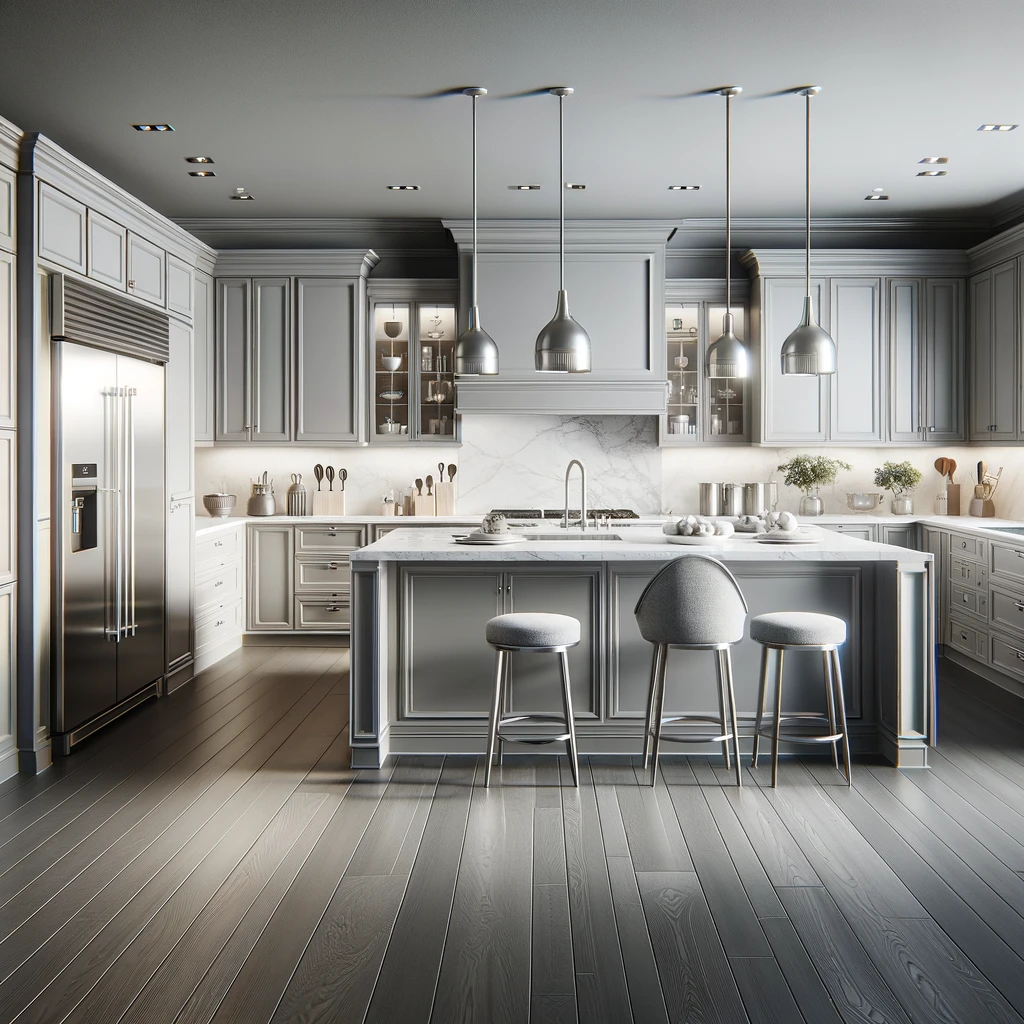 Elevate the elegance of your gray cabinets with smoky quartz vinyl plank flooring. The subtle, smoky hue pairs wonderfully with gray tones, creating a modern and cohesive aesthetic.
Vinyl planks provide the appeal of hardwood but with increased resilience and at a lower cost.
They're easy to clean, resistant to kitchen spills, and provide a soft underfoot, enhancing your comfort during long cooking sessions.
3. White Marble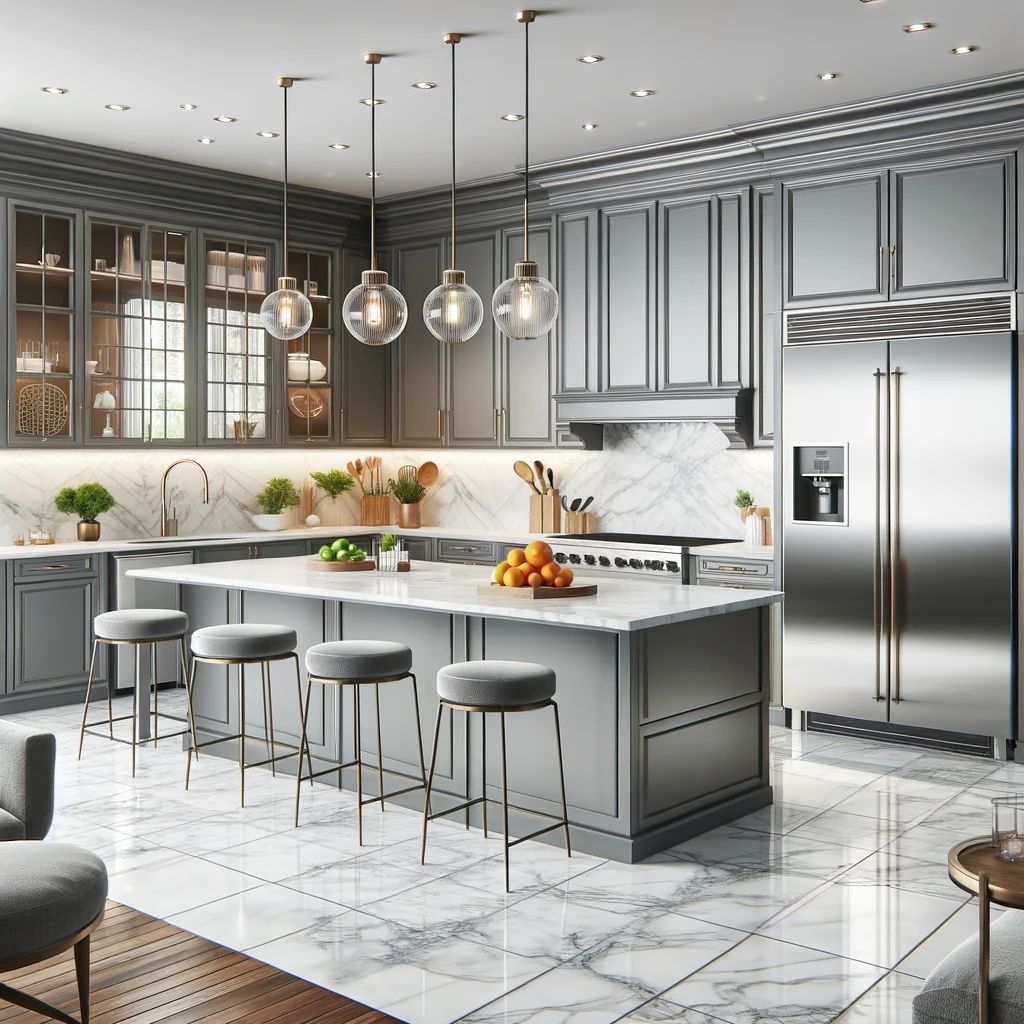 White marble flooring is the epitome of elegance and pairs seamlessly with gray kitchen cabinets for a timeless and sophisticated look.
The subtle veining in the marble can echo the gray tones of the cabinets, creating a cohesive and luxurious feel.
Moreover, the reflective surface of marble can brighten the space and add a sense of openness, which complements the often solid and matte finish of gray cabinetry.
2. Terracotta Tile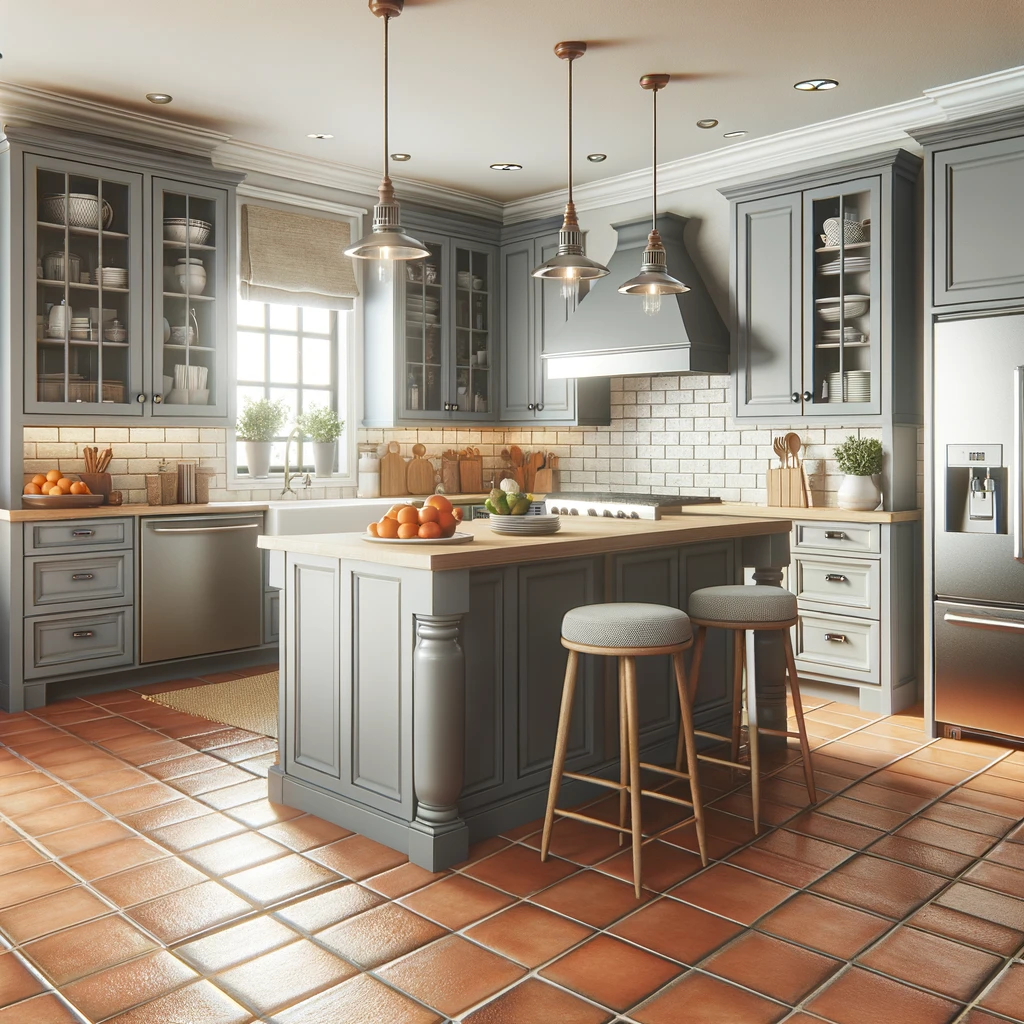 Terracotta tile flooring offers a rich, earthy foundation that pairs beautifully with the cool tones of gray kitchen cabinets.
This combination strikes a pleasing contrast that can warm up the overall aesthetic of the kitchen.
Terracotta tiles also introduce a rustic, handcrafted element that can soften the modernity of gray cabinetry, making the kitchen feel more homely and lived-in.
1. Light Hardwood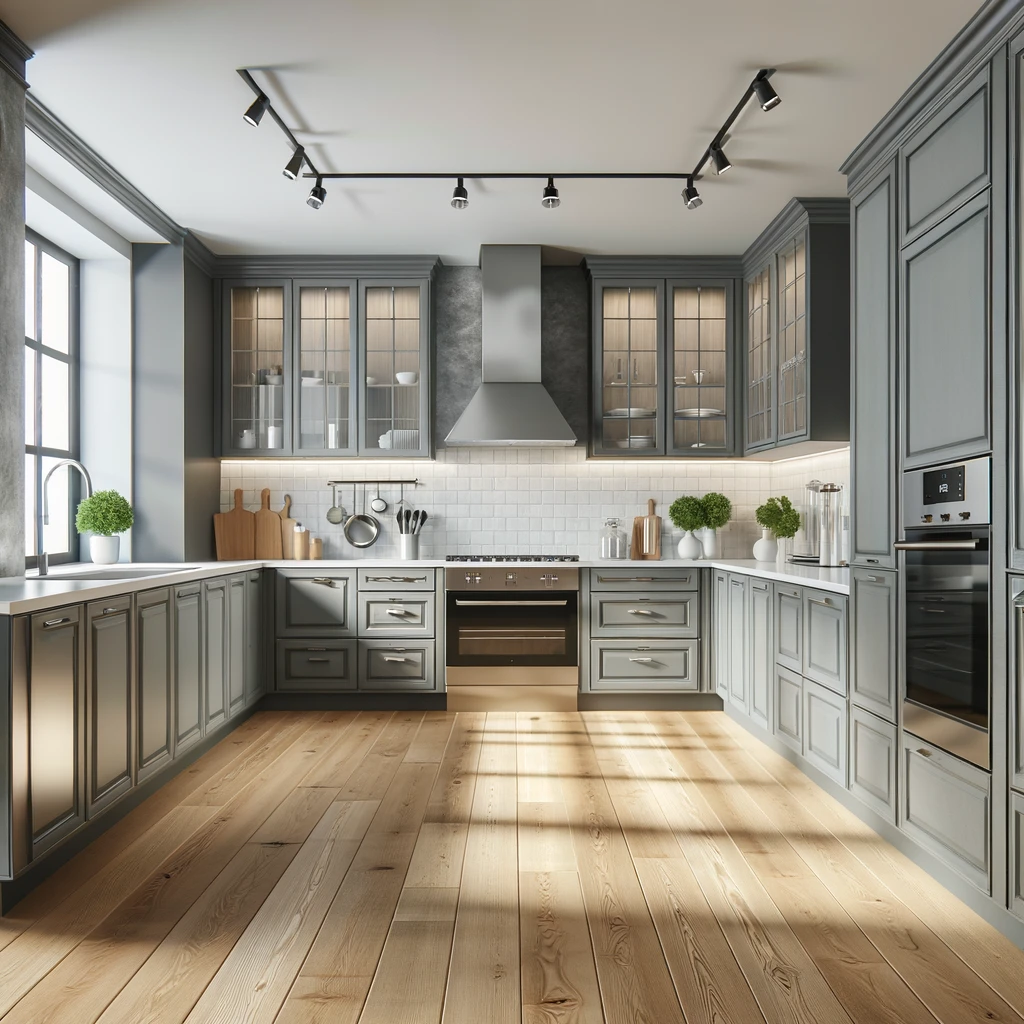 Light hardwood floors are a natural complement to gray kitchen cabinets, providing a balance between warmth and neutrality.
The lighter tones of the wood bring out the subtle hues in gray cabinetry, creating a harmonious and inviting space.
Additionally, the organic grain patterns in the wood add texture and depth, which can enhance the sleek lines of modern gray cabinets or accentuate the classic charm of traditional styles.
Read more: