Your blue couch already commands attention and exudes a sense of tranquility in your living space. The deep hues speak of sophistication, and the plush fabric whispers comfort.
But what could take this piece of furniture to the next level? Throw pillows! They add charm, texture, and personal style to any couch.
Rose Gold offers a luxurious touch that elevates the sofa's appearance. White introduces a fresh, airy contrast, while sage green adds an earthy, serene complement.
Together, these hues enhance the couch's appeal, creating a harmonious and sophisticated setting.
You need to consider patterns, materials, sizes, and, of course, colors.
We've prepared a detailed list of the 21 best throw pillows for blue couches to help you spruce up your sofa and living room décor. Let's dive into this world of plush and color.
Explore our color visualizer tool below, allowing you to experiment with various color options for your space.
Note: The color codes below are recommendations. We have tried to match the color code to the pillows in the images, but in some cases the colors may vary.
21. Classy Gold (#FFD700)
Starting our list with a touch of opulence is gold throw pillows. Its lush velvet fabric enriches the royal demeanor of your blue couch.
Its bold color provides a stunning contrast against the blue backdrop. Velvet is also known for its durability and comfort, making it a suitable choice for homes with kids or pets.
Pair this pillow with minimalist decor for a balanced, elegant look.
Quick Tip: When using bold colors like gold, less is more. Too many gold pillows might overwhelm the space.
20. Calming White (#FFFFFF)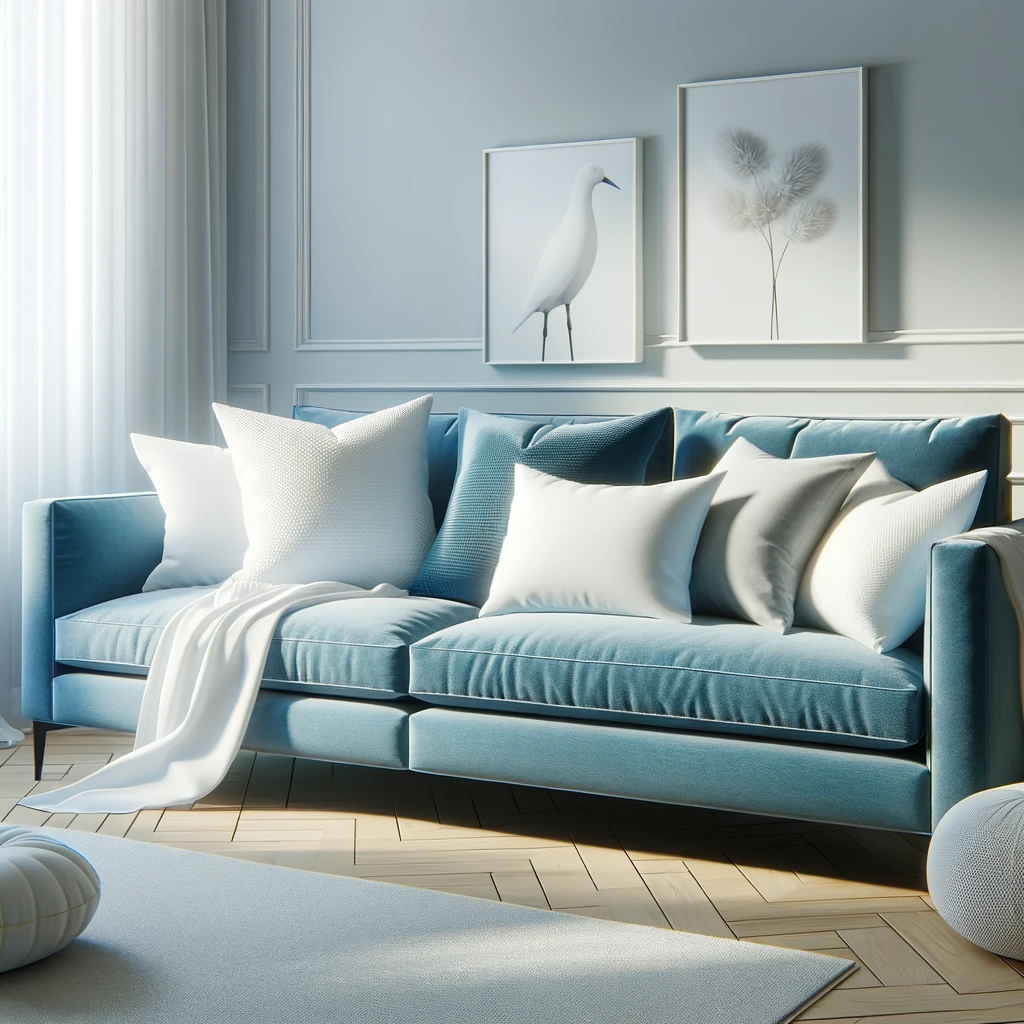 White and blue are a timeless color combination that breathes freshness into any space. White throw pillows are your go-to for a soothing, coastal vibe.
The softness of the cotton material complements the cool blue of your couch, adding a touch of purity and tranquility.
Use these pillows to lighten up a darker blue couch or to create an airy atmosphere.
19. Striking Red (#FF0000)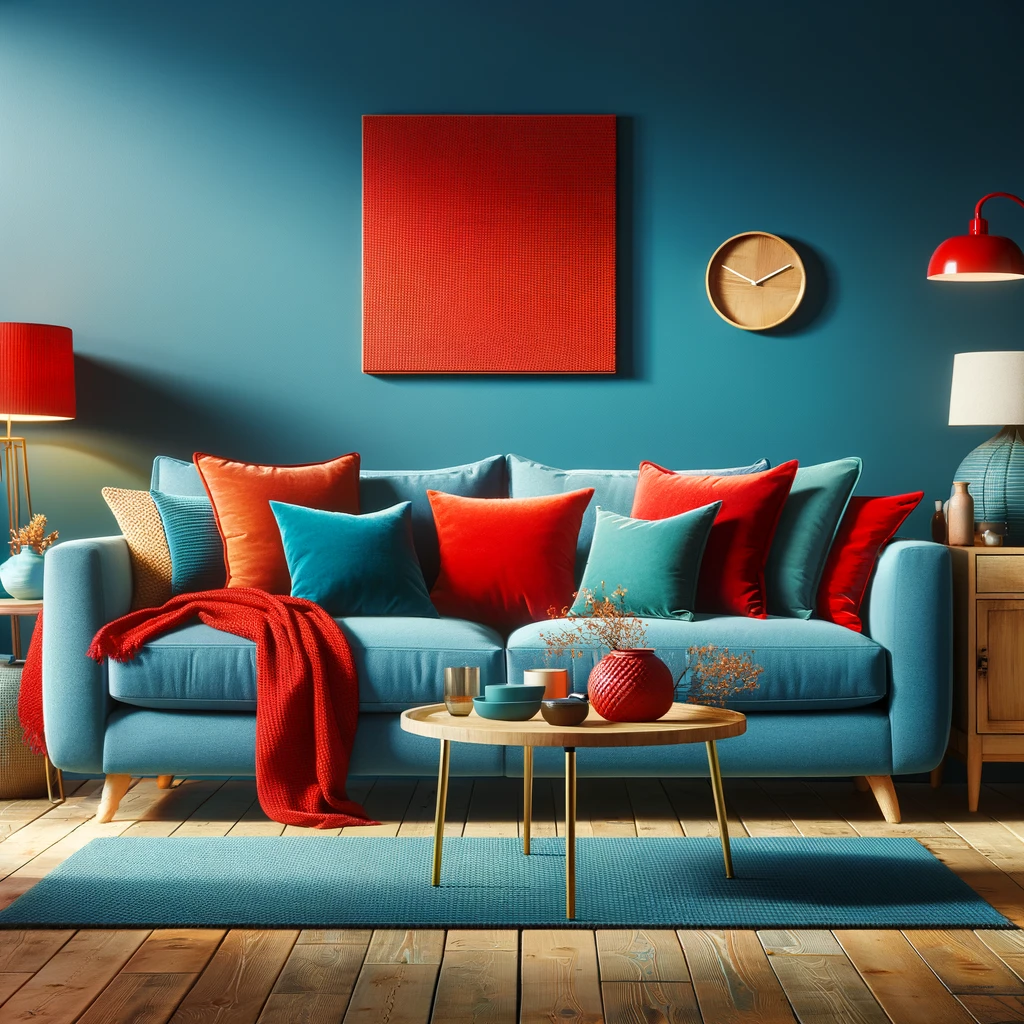 Ignite an exciting contrast on your blue couch with striking red throw pillows.
This cushion is not just a visual delight but also a tactile one, thanks to the soft, textured chenille fabric.
The vibrant red against the serene blue invites an eclectic aesthetic to your living room.
It's a fantastic choice if you're going for a bold, avant-garde style statement. Remember to complement it with subtler accents to maintain balance in the room.
18. Timeless Grey (#808080)
Timeless grey throw pillows promise to be a perfect companion for your blue couch.
The neutral grey hue gracefully complements any shade of blue, while the linen fabric offers a beautiful texture that adds depth to the overall look.
Whether your living room style is minimalist, modern, or classic, this pillow will effortlessly fit in.
Moreover, linen is known for its breathability and durability, thus ticking the box for both aesthetics and functionality.
17. Vibrant Teal (#008080)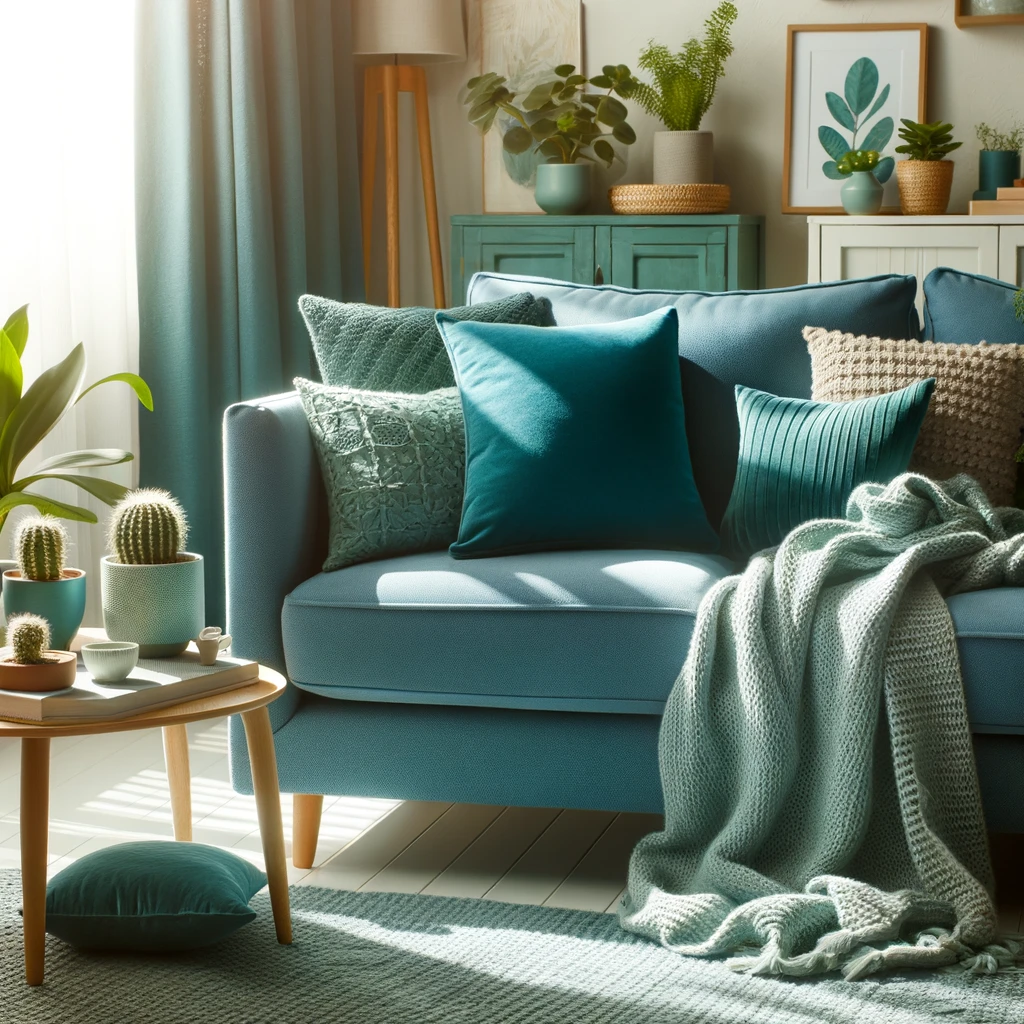 Immerse yourself in a vibrant ocean-inspired setting with teal throw pillows. This cushion mirrors the calming vibes of your blue couch but with an added dose of liveliness.
Its satin fabric lends a touch of luxury and sheen, making your sofa look regal.
The teal color also subtly introduces a monochromatic palette to your décor, perfect for those who love harmonious color schemes.
Pair it with other aquatic hues for an enchanting marine ambiance.
16. Stylish Blush Pink (#FFC0CB)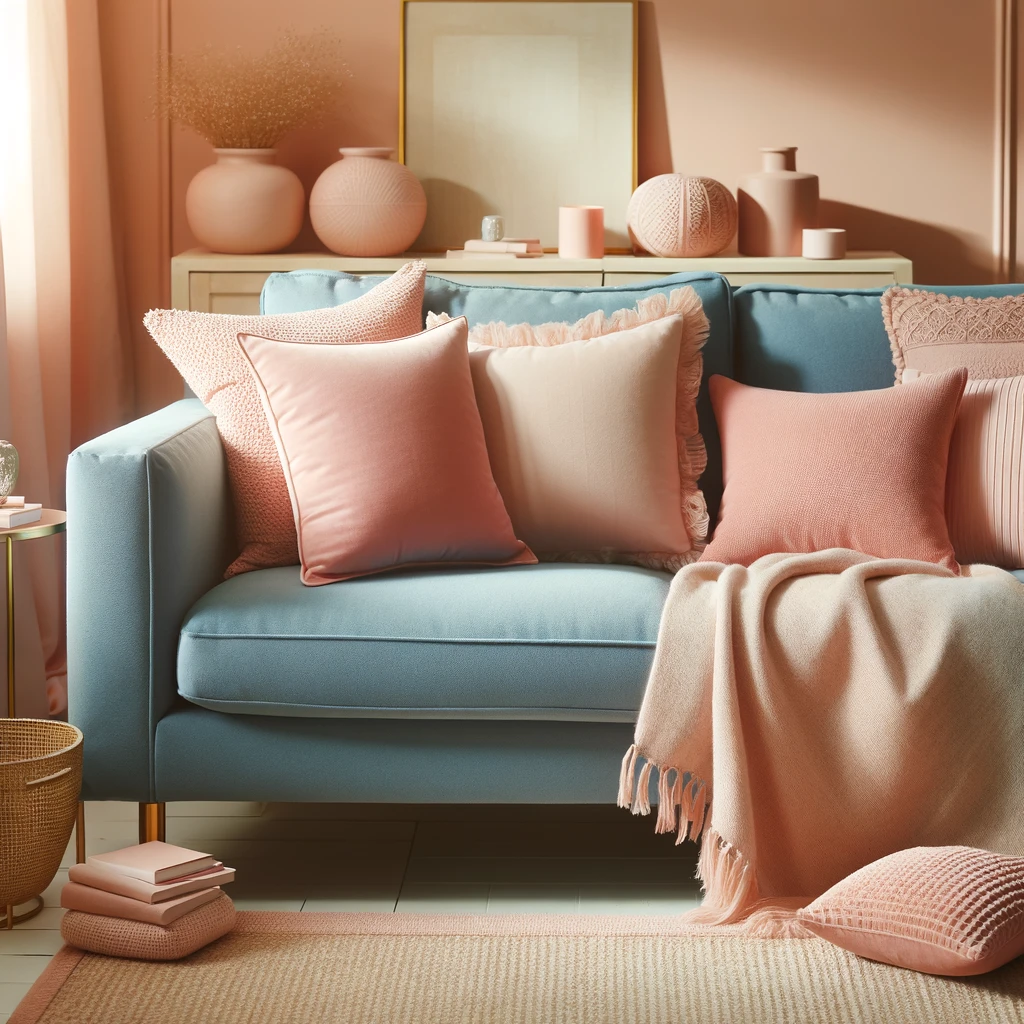 Softness and style come together with stylish blush pink throw pillows.
The elegant blush pink is a delightful contrast to the cool blue of your couch, conjuring up a fresh, modern aesthetic.
Its plush velvet material is incredibly pleasing to the touch, encouraging a relaxing, cozy environment.
The delicate color balance between the blush pink and blue couch allows your space to breathe, evoking a sense of spaciousness and peace.
Quick Tip: You can increase the overall warmth of your room by adding more pink accents, such as rugs or curtains, to match your throw pillow.
15. Sophisticated Black (#000000)
Sophisticated black throw pillows are the perfect pick for those seeking a sleek and modern vibe.
The black hue creates a strong, sophisticated contrast against the blue couch, perfect for minimalist or contemporary designs.
Leather, known for its durability and easy-to-clean nature, makes it a practical choice as well.
A couple of these pillows on your blue couch can amp up the style quotient of your living room in an instant.
14. Refreshing Aqua (#00FFFF)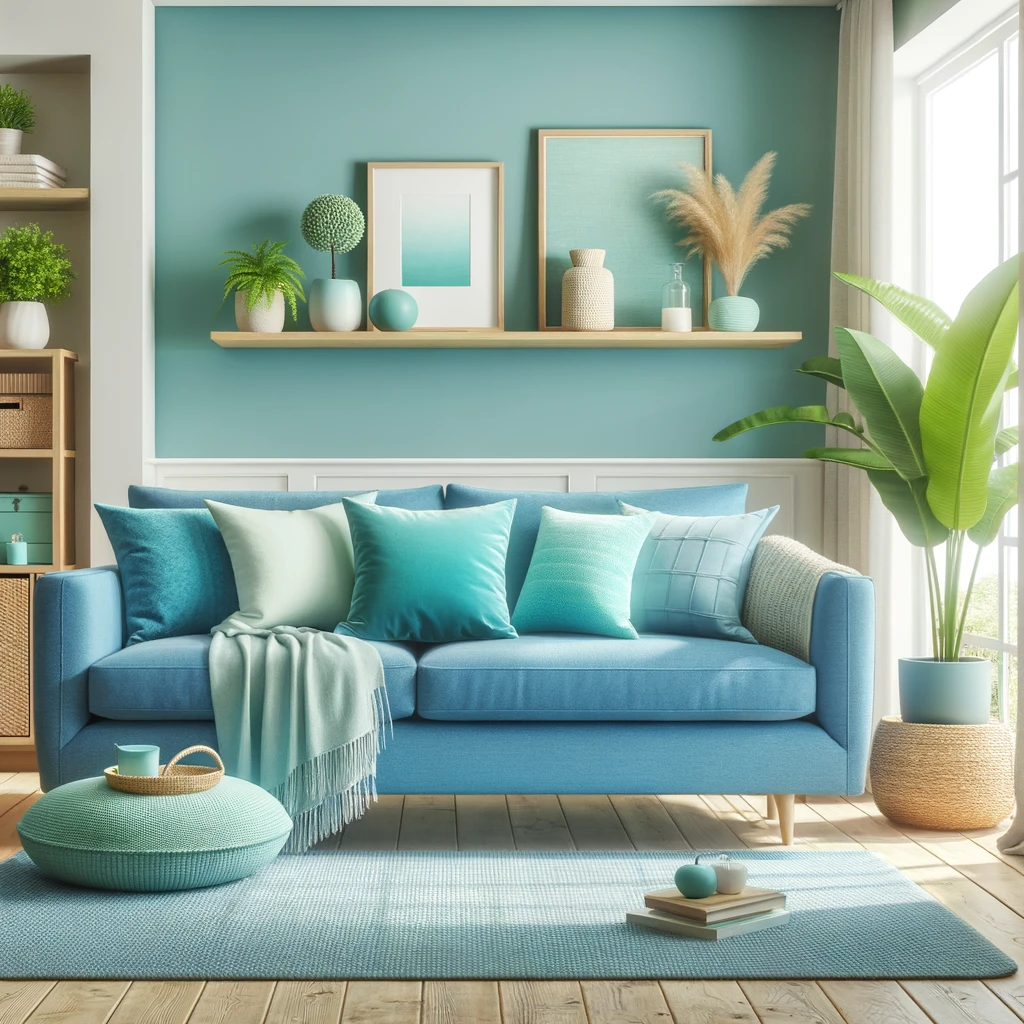 Bring a breath of fresh air to your living room with refreshing aqua throw pillows.
The light, playful aqua color blends wonderfully with your blue couch, invoking images of clear skies and sparkling seas.
The cotton material assures comfort and breathability, perfect for a cozy afternoon nap or a long reading session.
Coupled with other pastel accents, this throw pillow can help create a calm and serene oasis in your home.
13. Invigorating Orange (#FFA500)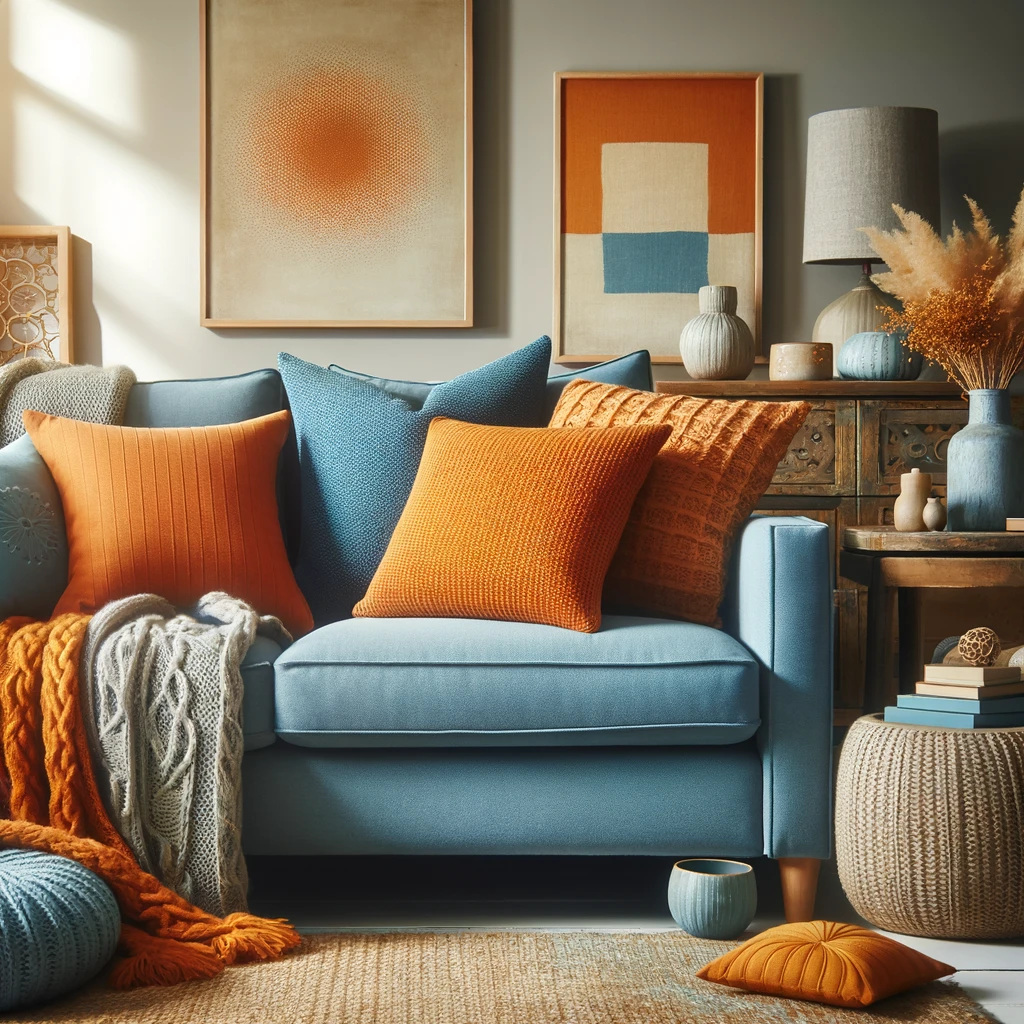 Add a burst of color and energy to your living room with invigorating orange throw pillows.
The vibrant orange creates a striking contrast against the blue couch, adhering to the classic color theory principle of complementary colors.
The silk fabric enhances the luxurious appeal, inviting guests to touch and feel.
This pillow is an excellent option if you're looking to inject some vitality and cheerfulness into your room decor.
12. Elegant Taupe (#483C32)
Add a touch of understated elegance to your blue couch with taupe throw pillows. This neutral shade brings a calming effect while providing a nice contrast to the blue.
The textured wool fabric not only looks sophisticated but also offers a cozy feel, perfect for those cold winter nights.
This throw pillow blends perfectly in a room with earthy tones and natural elements.
11. Radiant Turquoise (#40E0D0)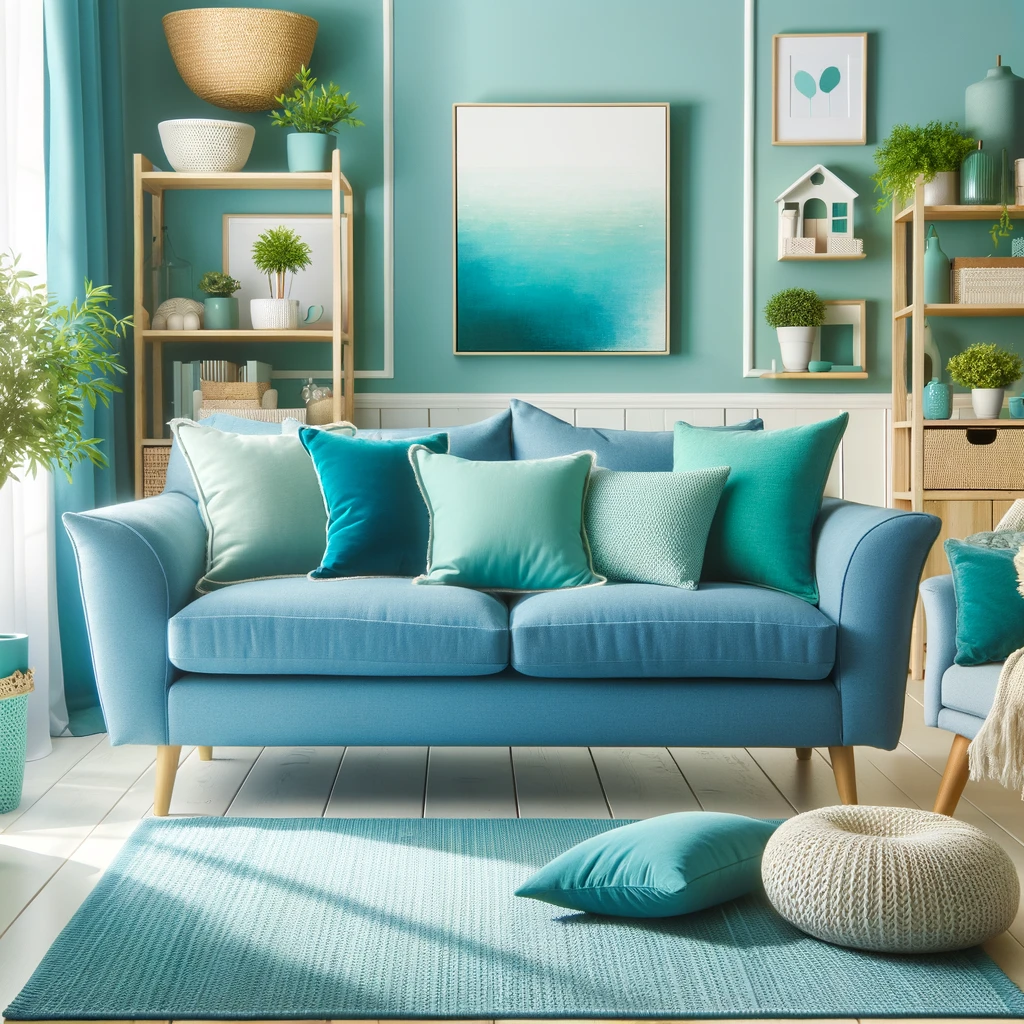 Breathe life into your blue couch with radiant turquoise throw pillows. This cushion brings a sense of tropical luxury to your living space.
The velvet material amplifies the vibrant turquoise hue, creating a stunning aesthetic. This pillow is ideal for those seeking to create a lively yet sophisticated look.
Pair it with gold accents to enhance the luxurious vibe.
10. Nature-Inspired Olive Green (#808000)
Nature-inspired olive green throw pillows offer a unique contrast to your blue couch.
With the earthy olive green color reminiscent of tranquil forests, this pillow adds a refreshing and serene aesthetic to your living space.
The plush and textured chenille fabric provides a delightful tactile experience and promises ultimate comfort.
This pick is especially enticing for nature-lovers wanting to infuse an outdoor feel into their interior design.
9. Sophisticated Lavender (#E6E6FA)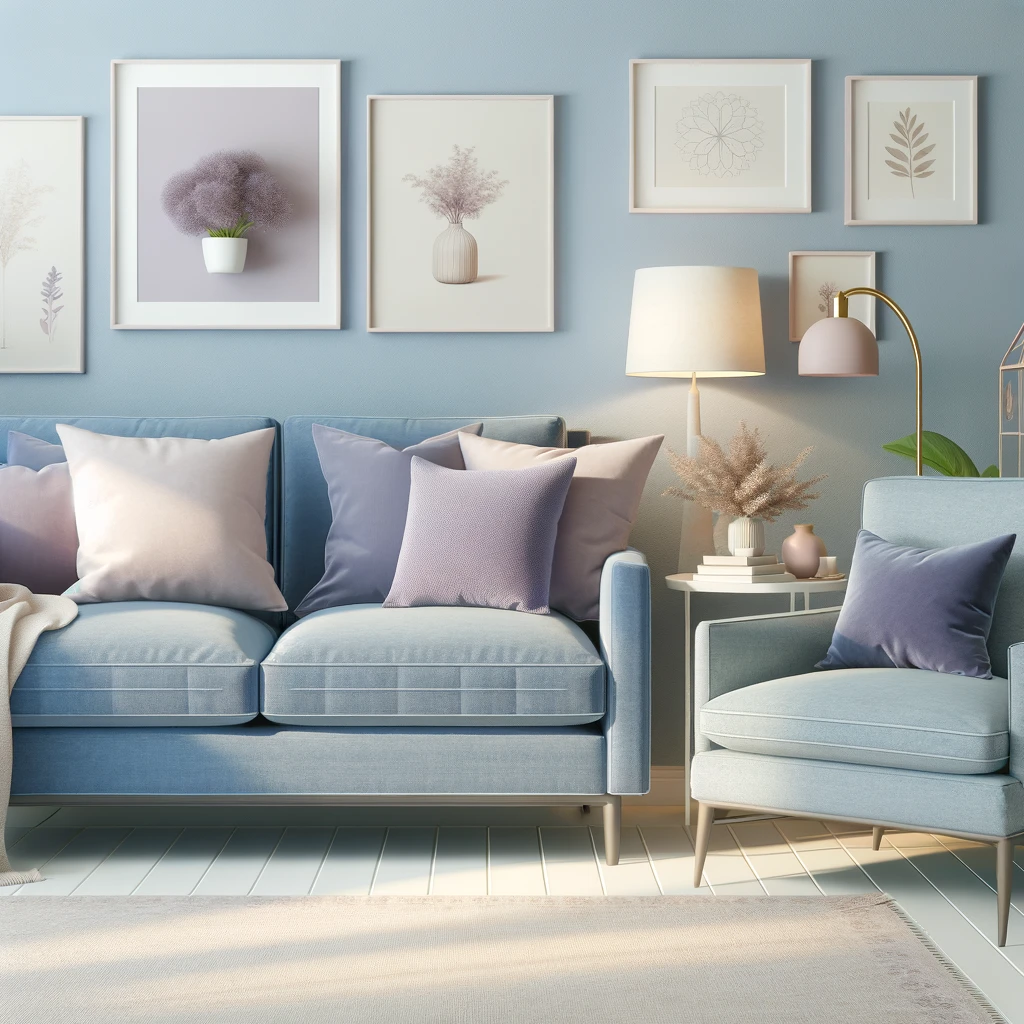 Introduce a sense of chic elegance to your blue couch with sophisticated lavender throw pillows.
The soft, muted lavender color makes a remarkable yet delicate contrast against the blue, helping to cultivate a calm and inviting ambiance.
The luxurious silk fabric further enhances the elegant aesthetic, elevating your couch to new levels of sophistication.
This pillow is an exceptional choice for those pursuing a refined, tranquil design aesthetic in their living room.
8. Minimalist Beige (#F5F5DC)
Add an understated elegance to your blue couch with minimalist beige throw pillows.
The soft beige color subtly contrasts with the blue, bringing a sense of warmth and balance to your decor.
The sleek leather fabric further enhances the modern appeal of this pillow, providing a refined finish to your couch.
Ideal for minimalists, this pillow is both aesthetically pleasing and practical with its durable material.
7. Sunny Yellow (#FFFF00)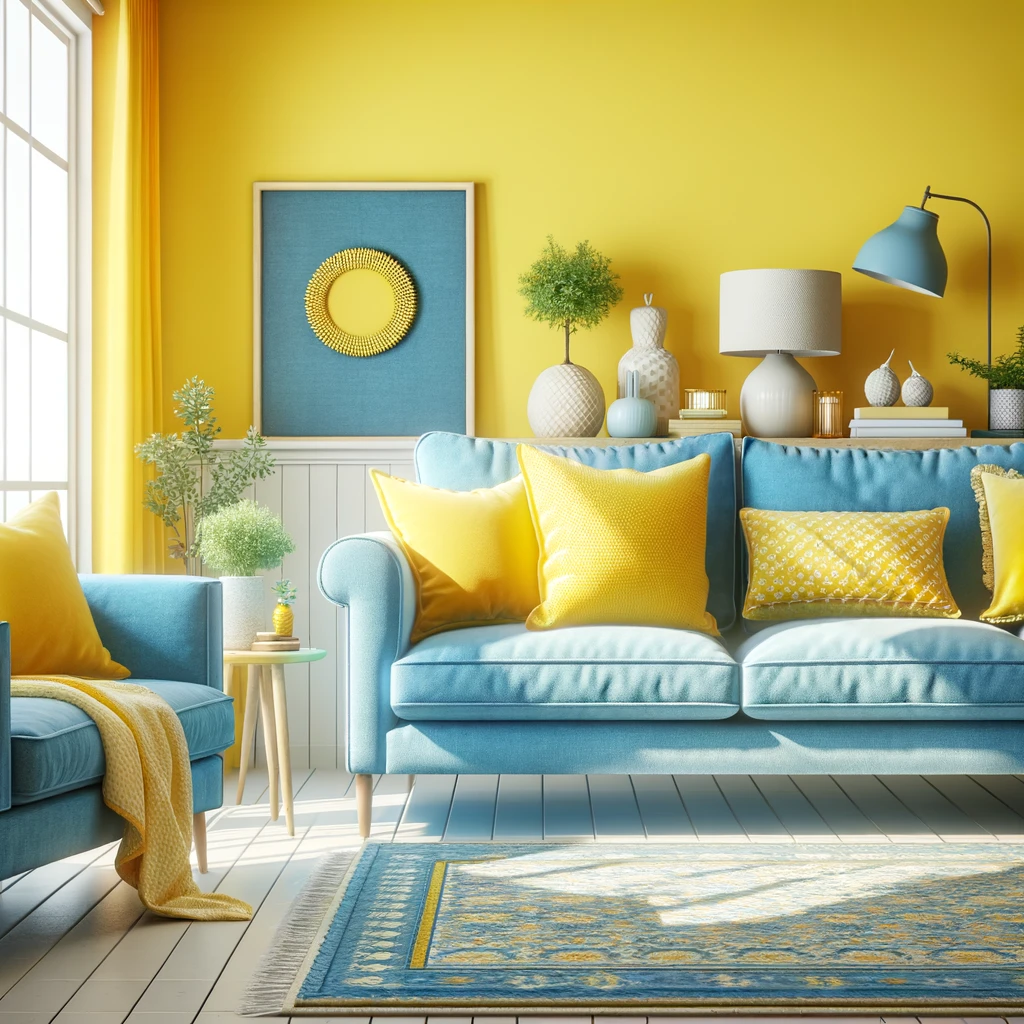 Inject a dash of vibrancy and cheerfulness into your living room with sunny yellow throw pillows.
The bright yellow creates a visually pleasing contrast against the cool blue of your couch, invoking a happy and lively atmosphere.
The lustrous satin fabric further emphasizes the radiant yellow, enhancing the overall aesthetic appeal of your couch.
This choice is perfect for those willing to experiment with a bold, high-contrast color palette.
6. Comforting Cream (#FFFDD0)
For a soft, calming touch, consider comforting cream throw pillows.
Its light cream color works harmoniously with the blue tones of your couch, cultivating a peaceful and inviting aura.
The textured linen fabric not only adds visual interest but also contributes to the durability and longevity of the pillow.
This is a delightful option for those seeking a relaxing, serene aesthetic for their living space.
5. Elegant Emerald (#008000)
Embrace the allure of deep green hues with elegant emerald throw pillows.
This gem-toned cushion provides a unique, bold contrast against your blue couch, creating a rich and luxurious aesthetic.
The soft velvet material further accentuates the vibrancy of the emerald color, offering a plush, inviting feel.
This pillow is perfect for those seeking a striking, jewel-toned look for their living room.
4. Trendy Terracotta (#E2725B)
Introduce a touch of earthy warmth with trendy terracotta throw pillows.
This earth-toned pillow brings a welcoming contrast to the cool blue of your couch, creating a cozy and inviting environment.
The comfortable cotton fabric promises a soft, relaxing feel, while the terracotta color adds a rustic charm.
Ideal for those who love a warm, natural aesthetic, this pillow will make your blue couch truly shine.
Quick Tip: Pair terracotta pillows with greenery for an indoor oasis feel.
3. Chic Charcoal (#36454F)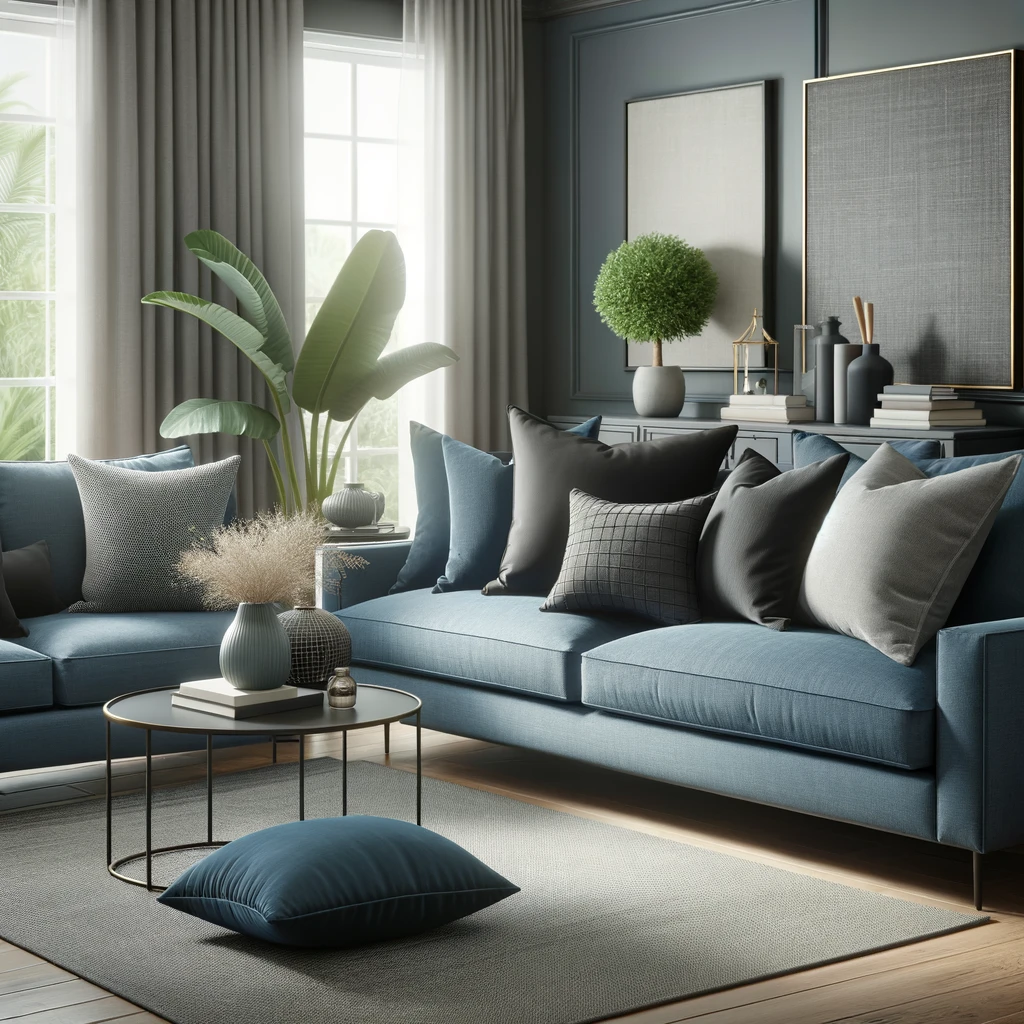 Add a sleek, modern edge to your blue couch with chic charcoal throw pillows.
This pillow offers a sophisticated contrast to the blue couch with its dark charcoal shade.
The smooth leather fabric not only provides a sleek finish but also ensures durability and easy maintenance.
If you're looking to create a refined, contemporary aesthetic, this throw pillow is an excellent choice.
2. Sublime Sage Green (#77815C)
Incorporate a sense of tranquility into your living room with sublime sage green throw pillows.
The soft, muted green blends harmoniously with the cool blue of your couch, creating a soothing and inviting atmosphere.
The textured linen fabric adds an extra layer of interest and ensures durability. This throw pillow is a perfect choice for those who want a calming, nature-inspired color palette.
1. Radiant Rose Gold (#B76E79)
Finally, radiant rose gold throw pillows top our list. This pillow brings a touch of glamour and sophistication to your blue couch.
The soft rose gold color creates a subtle yet beautiful contrast, while the lustrous silk material enhances the luxurious feel.
Perfect for adding a chic, feminine touch to your living room, this throw pillow is the ultimate accent piece for your blue couch.
Read more: