In recent years, the design world has witnessed a profound shift towards minimalism, a style that celebrates simplicity and functionality. Wallpaper designs are no exception to this trend.
Whether adorning the living room or adding character to a home office, the vintage minimalist aesthetic brings a sense of tranquility and nostalgic charm to any space.
Combining the clean lines of minimalism with the timeless appeal of vintage aesthetics, these wallpapers offer a fresh, chic look without overwhelming the senses.
In this article, we're showcasing 23 aesthetic vintage minimalist wallpapers that are bound to elevate your space.
23. Pastel Skies
Starting our list is the 'Pastel Skies,' a wallpaper design that encapsulates a subdued vintage vibe with a pastel-hued sky adorned with whimsically floating clouds.
The muted pastel palette invokes feelings of tranquility and nostalgia, while the minimalist design maintains the integrity of a neat and uncluttered space.
Perfect for lovers of softer vintage tones and minimalism, this wallpaper promises a visually pleasing and serene atmosphere without overpowering the room's existing decor.
22. Sepia Serenity
The 'Sepia Serenity' brings the magic of sepia tones to your living space. This design, synonymous with vintage photography, instills a sense of nostalgia and reminiscence.
It offers a minimalist design with an undulating abstract pattern that adds an interesting texture to your walls while maintaining a clean aesthetic.
If you're seeking a balance between vintage charm and contemporary simplicity, the 'Sepia Serenity' is an excellent choice to consider.
Quick Tip: To enhance this vintage feel, consider adding antique or retro-inspired decor items to your space.
21. Geometric Balance
If you fancy a little geometry in your decor, 'Geometric Balance' is a perfect pick.
This minimalist design uses vintage colors in muted earth tones, creating a wallpaper that is both aesthetically pleasing and intriguing.
The interplay of different geometric shapes and lines adds depth to the overall design without cluttering it, maintaining the minimalist ethos.
This design proves that minimalism doesn't always have to mean overly simple or bland.
Quick Tip: This design pairs well with modern furniture featuring sharp lines and angles.
20. Vintage Botanical
'Vintage Botanical' is a tribute to nature enthusiasts who appreciate the grace of minimalist aesthetics.
It blends botanical illustrations with an aged parchment background, giving it a touch of antiquity.
The minimalist aspect lies in the use of delicate line drawings that beautifully encapsulate nature's essence without overwhelming the viewer.
Its intricate detailing and vintage charm can bring a breath of fresh air to any space.
19. Line Artistry
Minimalism and line art share a deep connection. 'Line Artistry' is a testament to that bond, featuring fluid, continuous line drawings against a rustic, vintage backdrop.
Whether it's a simplistic portrait or an abstract piece, the monochrome line design against a vintage canvas brings a modern twist to your wall decor while retaining a classic vibe.
This wallpaper is sure to appeal to those who admire an artistic touch to simplicity.
18. Retro Dots
Delving into the playful side of the vintage era, 'Retro Dots' magnificently blends fun and simplicity.
This design presents an array of polka dots distributed uniformly against a faded color background, embodying the essence of the retro era while keeping the design minimalist.
This lively yet unpretentious wallpaper adds an effervescent charm to any room, making it a brilliant choice for family living spaces or children's rooms.
With 'Retro Dots,' you can effortlessly bring a dash of joy to your space without sacrificing the minimalist aesthetic.
17. Victorian Minimalism
The 'Victorian Minimalism' wallpaper design tastefully combines the refined elegance of the Victorian era with the simplicity of minimal design.
It features patterns inspired by Victorian motifs, masterfully rendered in a subdued color palette.
This wallpaper emanates a sophisticated air of vintage luxury, while its minimalist design prevents it from being overpowering or excessively ornate.
An excellent choice for those who wish to bring a vintage vibe to a modern minimalist setting.
16. Weathered Textures
The 'Weathered Textures' wallpaper captivates the eye with its timeless appeal.
Drawing inspiration from naturally weathered surfaces, this design showcases a distressed texture over a minimalist canvas.
The vintage character of this wallpaper comes alive through the simulated effects of time and elements, introducing a rustic yet graceful look to your space.
Ideal for those who appreciate the beauty of age and wish to infuse their environment with a minimalist design carrying a vintage undertone.
15. Muted Monochrome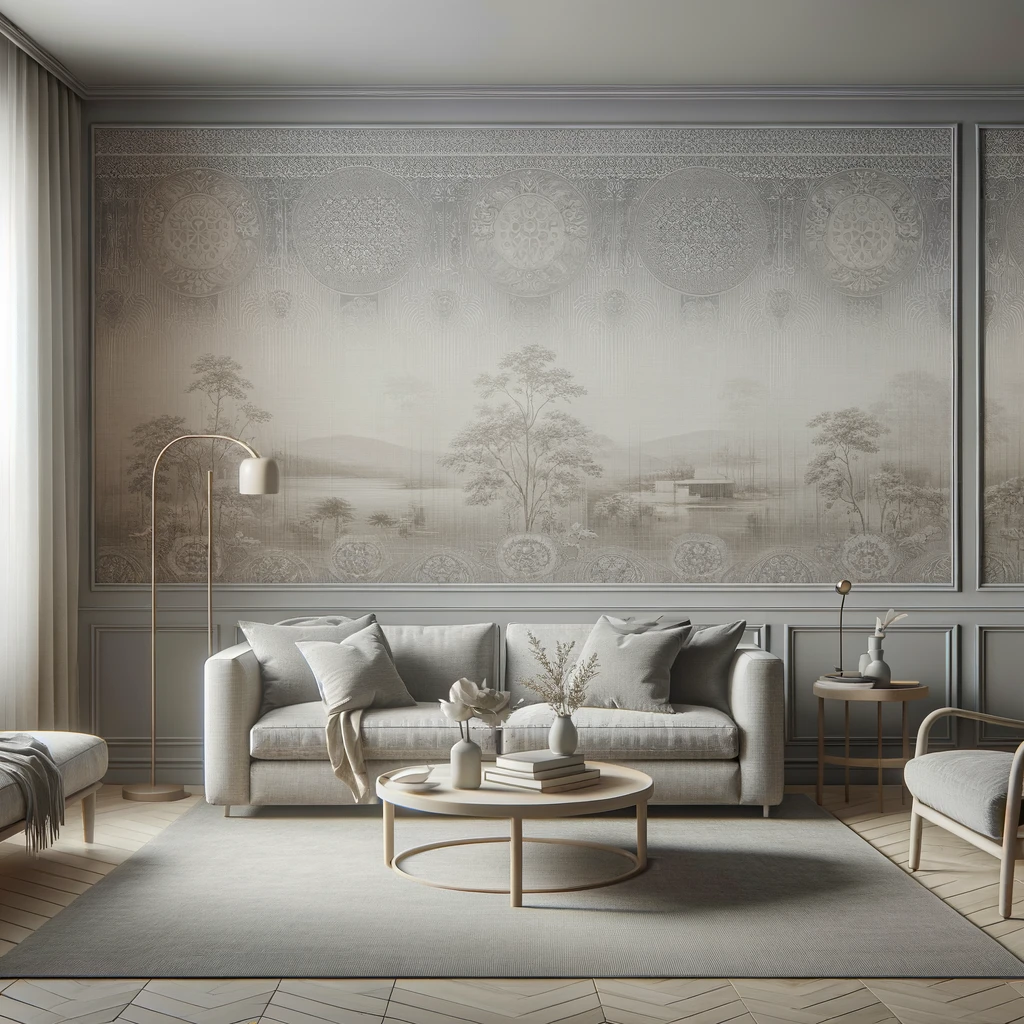 This wallpaper design brings an understated elegance to a typical living room setting. Utilizing a palette of various shades of grey, it features a subtle yet sophisticated pattern.
The design is a perfect blend of contemporary style and minimalism, creating a calming ambiance. Its simplicity is its strength, with a pattern that's neither overpowering nor too plain.
The overall effect is one of tranquil sophistication, making it an ideal backdrop for a modern living room.
14. Linear Horizon
This wallpaper design transforms a typical living room into a space of modern minimalism and open spaciousness.
It features a linear horizon that stretches across the wall, creating a sense of depth and continuity. The limited color palette enhances the sleek, stylish look of the room.
The linear horizon is the focal point, drawing the eye and adding an artistic touch to the living space.
13. Retro Stripes
Taking a leaf from the style book of the 60s and 70s, 'Retro Stripes' is a perfect blend of minimalism and vintage charm.
Featuring alternating stripes of muted pastel colors, the design harks back to the aesthetics of the bygone era while maintaining a sleek, minimalist vibe.
This uncluttered design can infuse a sense of order and rhythm into any space, making it an excellent choice for fans of minimalist retro design.
12. Minimalist Deco
Bringing an understated extravagance to the list is the 'Minimalist Deco' wallpaper. It's an elegant fusion of the flamboyant Art Deco style with the minimalism of modern design trends.
Its geometric shapes, symmetrical patterns, and muted vintage color palette make this wallpaper a treat for the eyes.
The design is striking enough to make a statement, yet restrained enough to respect the minimalist essence.
It's the perfect choice if you're looking to add a touch of retro glamour to your space while keeping it simple and tasteful.
11. Nordic Simplicity
Drawing inspiration from the simplicity of Scandinavian designs, the 'Nordic Simplicity' wallpaper is all about functional minimalism and uncluttered spaces.
It employs light, muted colors with minimal patterns to create an airy and serene atmosphere.
The touch of vintage in this design comes from the subtly weathered texture that quietly suggests a sense of antiquity.
This wallpaper is the embodiment of Nordic minimalism and is ideal for those who wish to create a tranquil, simplified living or workspace.
10. Aged Parchment
'Aged Parchment' is a wallpaper design that resonates with the charm of history while maintaining a clean, modern aesthetic.
This design replicates the look and feel of antique parchment paper, providing an overwhelmingly minimalist design tinged with an aura of age and wisdom.
Its weathered texture and vintage appeal perfectly contrast with the sparse design, giving your space a sense of understated sophistication.
It's the perfect choice for lovers of vintage aesthetics who also appreciate the quiet calm of minimalism.
9. Watercolor Waves
'Watercolor Waves' is a perfect example of how a vintage aesthetic can beautifully complement minimalism.
This design uses the delicate and subtle gradients of vintage watercolor palettes to create a soothing wave pattern.
It's a simple design, yet it has a dynamic quality, thanks to the natural, flowing shapes.
If you're looking for a wallpaper that can bring a sense of calm and movement to your space without cluttering it, this is a fantastic choice.
8. Vintage Vogue
'Vintage Vogue' is a minimalist wallpaper design that echoes the style of vintage fashion magazines.
The design is primarily monochromatic, featuring line art illustrations reminiscent of the mid-century fashion era.
The minimalist touch is evident in the clean lines and the ample use of white space.
If you're a fashion enthusiast with a penchant for minimalism and vintage aesthetics, this design could be your perfect match.
7. Timeless Terrazzo
'Timeless Terrazzo' revisits the vintage appeal of terrazzo flooring patterns while maintaining a modern minimalist approach.
This wallpaper design offers a muted palette, featuring flecks and chips against a simple background to mimic the charming irregularity of terrazzo.
It introduces an element of texture and subtle variety to your space without straying from the minimalist ethos.
Perfect for those seeking a unique blend of old-world charm and contemporary minimalism.
6. Oriental Elegance
'Oriental Elegance' marries the sophisticated subtlety of Asian aesthetics with a minimalist approach.
The wallpaper design employs vintage-inspired colors and delicate patterns that echo traditional oriental motifs.
Its minimalist appeal lies in the restraint and balance of the design, creating a serene and harmonious atmosphere.
This wallpaper is an ideal pick for those seeking to incorporate an exotic, vintage touch to their minimalist space.
5. Artistic Ink Blots
A nod to the Rorschach inkblot tests of the past, 'Artistic Ink Blots' offers a vintage appeal in a genuinely unique way.
It presents abstract ink blot patterns against a minimal background, giving your space a sense of vintage mystique.
The wallpaper design is not only visually intriguing but also serves as a great conversation starter.
It's an excellent choice for those who appreciate the allure of abstract art in a minimalist setting.
4. Pebble Path
'Pebble Path' transports you to the nostalgic era of cobblestone streets and rustic charm.
The wallpaper features a minimalist design of irregular stones, invoking a vintage feel with its muted, earthy tones.
This design adds an interesting texture and depth to your space while staying true to minimalist principles.
It's a beautiful choice for those wanting to infuse a dash of rustic, vintage character into their minimal decor.
3. Rustic Woodgrain
The 'Rustic Woodgrain' wallpaper provides a warm, vintage ambiance to your space with its realistic depiction of weathered wood.
The minimalist design focuses on the organic lines and natural imperfections of the wood grain, lending an earthy and homely feel to your walls.
This wallpaper is an excellent choice for those who admire the timeless beauty of nature and wish to maintain a minimalist aesthetic in their space.
2. Monochrome Mosaic
'Monochrome Mosaic' brings a geometric charm to your space with its minimalist design inspired by mosaic art.
The vintage grayscale palette contributes to its old-world appeal, while the clean lines and simple shapes keep the look fresh and modern.
This wallpaper is a stunning choice for those who want to merge geometric intrigue with a minimalist vintage style.
1. Faded Florals
'Faded Florals' is a subtle, minimalist wallpaper design that beautifully combines a love for nature and vintage aesthetics.
It showcases delicate floral illustrations against a faded, parchment-like background.
The design is kept sparse and simple, allowing the vintage tones and the beauty of the botanical elements to take center stage.
It's an excellent wallpaper for those seeking a soft, natural touch in their minimalist design scheme.