Your bedroom is more than just a place to sleep. It's your sanctuary, your private space where you recharge, dream, and sometimes, work.
The color palette you choose for your bedroom can influence your mood, energy levels, and overall satisfaction with your personal space.
When you have dark furniture, the choice of wall color becomes even more important as the wrong shade can make the room feel cramped and gloomy.
For rooms with dark bedroom furniture, soft pastel shades like lavender and pale blue create a serene contrast. A creamy beige or light gray wall offers a sophisticated backdrop, allowing the furniture to stand out.
These hues elevate the room's ambiance, balancing the depth of dark wood or black finishes with airy, inviting tones.
This comprehensive guide will walk you through 14 stunning wall colors that perfectly complement dark bedroom furniture, creating a harmonious and appealing ambiance.
Note: The color codes below are recommendations. We have tried to match the color code to the walls in the images, but in some cases the colors may vary.
14. Soft White (#FAF9F6)
Soft white walls create a crisp, clean background that highlights the elegance of dark bedroom furniture. This contrast not only brings out the rich tones of the furniture but also makes the room appear more spacious and airy.
Soft white is incredibly versatile, allowing for a wide range of decorative styles, from contemporary to classic. It's a great choice for those who like to change their decor frequently, as it complements virtually any color scheme.
13. Light Gray (#D3D3D3)
Light gray walls offer a chic, contemporary backdrop that pairs beautifully with dark furniture. This color balances the boldness of dark pieces, softening the overall look of the room.
It's a perfect choice for creating a tranquil and sophisticated bedroom environment. Light gray also works well with metallic accents and vibrant pops of color, providing flexibility in accessorizing.
12. Beige (#F5F5DC)
Beige walls bring a warm, cozy feel to a bedroom with dark furniture. The natural earthiness of beige complements dark wood tones, enhancing the richness of the furniture.
This color is ideal for creating a comforting and inviting space. For added texture and visual interest, incorporate different shades of beige and brown in the room's decor.
11. Pale Blue (#AFDCEC)
Pale blue walls in a bedroom with dark furniture evoke a sense of calm and serenity. The coolness of the blue contrasts harmoniously with the warmth of dark woods, creating a balanced and restful environment.
This color works particularly well in rooms with natural light, where it can change subtly throughout the day. Pale blue is also great for coastal or beach-themed decor.
10. Sage Green (#9CAE9B)
Sage green walls introduce a soothing, natural element to a bedroom, harmonizing perfectly with dark furniture. This earthy tone evokes a sense of calm and relaxation, ideal for a restful bedroom.
It pairs exceptionally well with organic textures and natural fibers, enhancing the room's connection to the outdoors.
For a cohesive look, incorporate elements like wooden accents or plants, which complement the sage green and create a balanced, nature-inspired retreat.
9. Dusty Rose (#D6A6B9)
Dusty rose walls add a soft, romantic flair to a bedroom with dark furniture. This muted pink hue provides a subtle contrast, warming up the space and adding a touch of elegance.
Dusty rose is versatile, blending well with both vintage and modern decor.
To accentuate its charm, pair it with complementary colors like soft greys or creamy whites, and consider adding plush textiles to enhance the cozy, inviting atmosphere.
8. Lavender (#E6E6FA)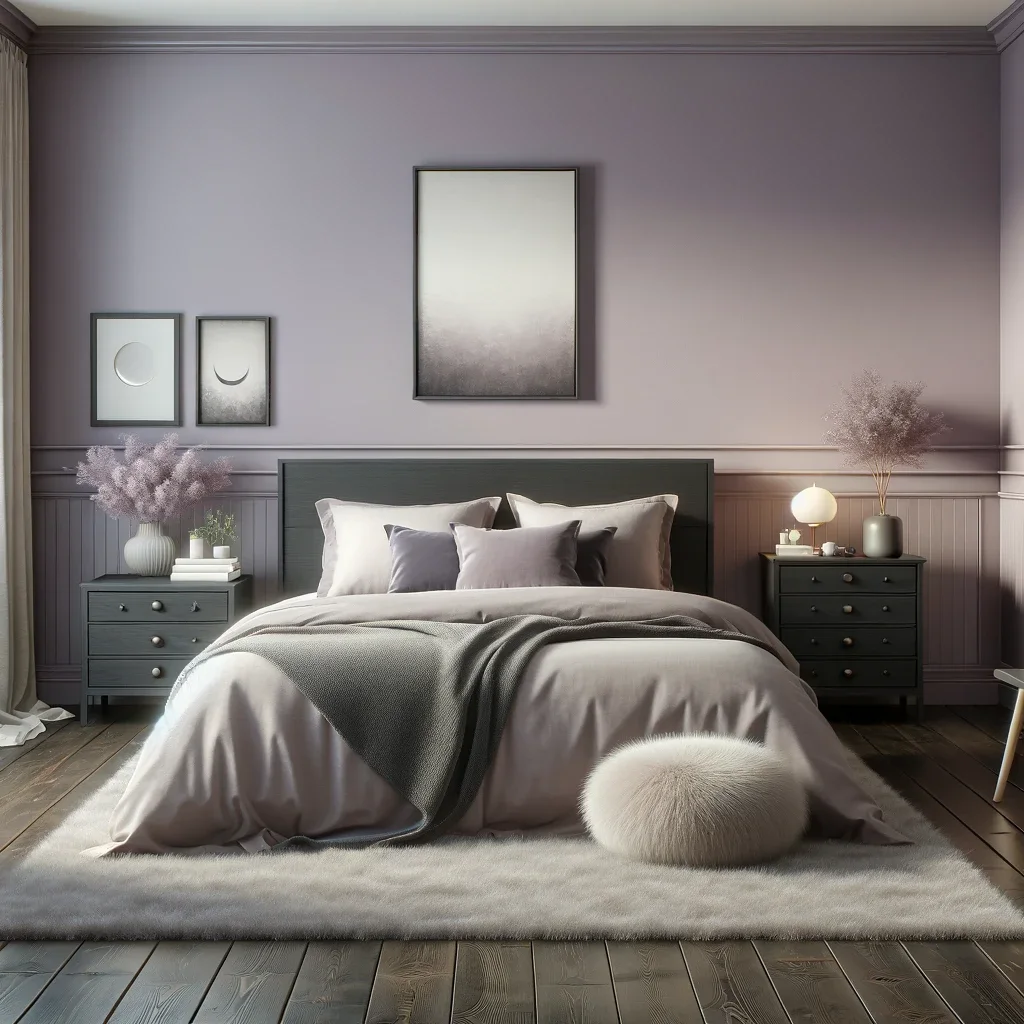 Lavender walls in a bedroom with dark furniture create a tranquil and slightly whimsical ambiance. This gentle purple shade is known for its calming properties, making it a great choice for a peaceful sleeping space.
Lavender pairs beautifully with light neutrals or deeper purples for a layered look. To add depth, mix in textures like velvet or silk, and consider silver or crystal accents for a touch of luxury.
7. Muted Coral (#D1A3A4)
Muted coral walls bring warmth and subtle vibrancy to a bedroom with dark furniture. This understated version of coral keeps the room feeling light and fresh while providing a cozy backdrop.
It's an excellent choice for those wanting a hint of color without overwhelming the space. Pair with natural textures and white or cream accents for a balanced, beach-inspired look.
Muted coral also works well with greenery, adding a lively, organic touch.
6. Warm Taupe (#8B6F47)
Warm taupe walls offer a sophisticated and inviting backdrop for dark bedroom furniture. This versatile neutral blends seamlessly with various decor styles, from contemporary to rustic.
It enhances the richness of dark wood or black furniture, creating a cozy yet elegant atmosphere.
For a harmonious look, incorporate various shades of taupe and brown in textiles and accessories, and consider using metallic accents for a touch of glamour.
5. Sky Blue (#87CEEB)
Sky blue walls in a bedroom with dark furniture evoke a feeling of openness and serenity, reminiscent of a clear day's sky.
This light, refreshing color contrasts beautifully with dark tones, bringing balance and a sense of spaciousness to the room.
Sky blue works well with both traditional and modern decor, and it pairs beautifully with white or light grey accents for a crisp, clean look. For an added coastal vibe, incorporate sea-inspired elements like driftwood or seashell decor.
4. Soft Yellow (#FDFD96)
Soft yellow walls infuse a bedroom with warmth and cheerfulness, creating a sunny ambiance that complements dark furniture. This light and inviting hue adds energy to the room without being overpowering.
It's particularly effective in rooms with limited natural light, as it brightens the space. Pair with white or cream for a crisp, fresh look, and consider adding blue accents for a classic, charming contrast.
3. Pewter (#B0C4DE)
Pewter walls provide a sophisticated and modern backdrop for dark bedroom furniture. This deep grey shade offers a contemporary edge, enhancing the room's elegance.
Pewter is a great choice for those who prefer a more muted, neutral palette but still want some depth and character.
It pairs well with metallic accents, like silver or gold, and can be softened with white or pastel textiles for a balanced look.
2. Cream (#FFFDD0)
Cream walls offer a soft, warm alternative to white, creating a cozy and inviting bedroom environment. This neutral shade pairs beautifully with dark furniture, highlighting its richness without competing for attention.
Cream walls are versatile, working well with various decor styles and accent colors. To add dimension, incorporate different shades of cream and beige in the room's textiles and accessories.
1. Mint Green (#98FF98)
Mint green walls bring a refreshing and rejuvenating feel to a bedroom with dark furniture. This light, airy color adds a touch of playfulness and is ideal for creating a relaxing oasis.
Mint green pairs well with white or light grey, enhancing the room's freshness. For a cohesive look, add elements in similar cool tones or introduce contrasting warm accents for a vibrant, dynamic space.
Mint green is also great for incorporating botanical themes, with plants and floral prints complementing the color beautifully.
Read more: