Creating a perfect farmhouse kitchen requires an eye for aesthetics and a balance of earthy tones and vibrant hues.
The kitchen, being the heart of a home, should exude warmth and comfort. The right wall color can contribute significantly to the overall ambiance and theme.
While farmhouse kitchen designs traditionally lean toward neutral palettes, modern interpretations allow a splash of creativity with more vibrant colors.
For a quintessential farmhouse kitchen, cream provides a classic, inviting base. Sage green introduces a touch of rustic charm, harmonizing with nature-inspired elements.
French Gray is a versatile choice, exuding understated elegance while complementing traditional farmhouse decors. These shades craft a cozy, timeless atmosphere integral to farmhouse aesthetics.
In this guide, we will traverse the spectrum from calm pastels to rich shades, outlining the 15 best farmhouse kitchen wall colors.
Each color selection comes with its unique color code for easy identification and implementation.
Explore our color visualizer tool below, allowing you to experiment with various color options for your space.
Note: The color codes below are recommendations. We have tried to match the color code to the walls in the images, but in some cases the colors may vary.
15. Warm Cream (#F3DAB6)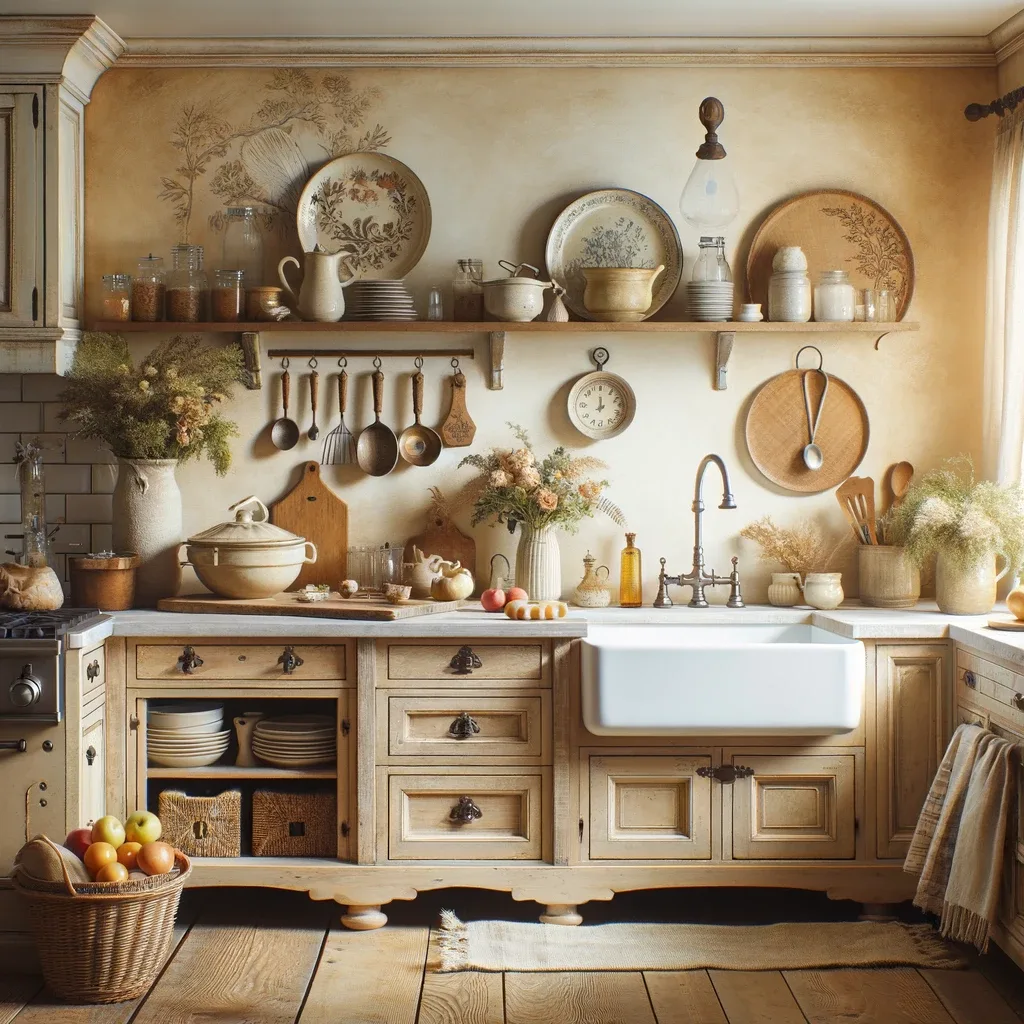 A classic choice, warm cream, brings a cozy, inviting feel to your farmhouse kitchen.
It pairs well with a wide variety of accent colors and surfaces, including wooden countertops and white cabinets.
Its natural warmth makes the kitchen a welcoming place, encouraging convivial moments around a hearty meal.
A light cream color can also give your space a larger, more open feel – an ideal pick for smaller kitchens.
Quick Tip: Pair warm cream walls with earth-toned accessories for a consistent farmhouse look.
14. Sage Green (#77815C)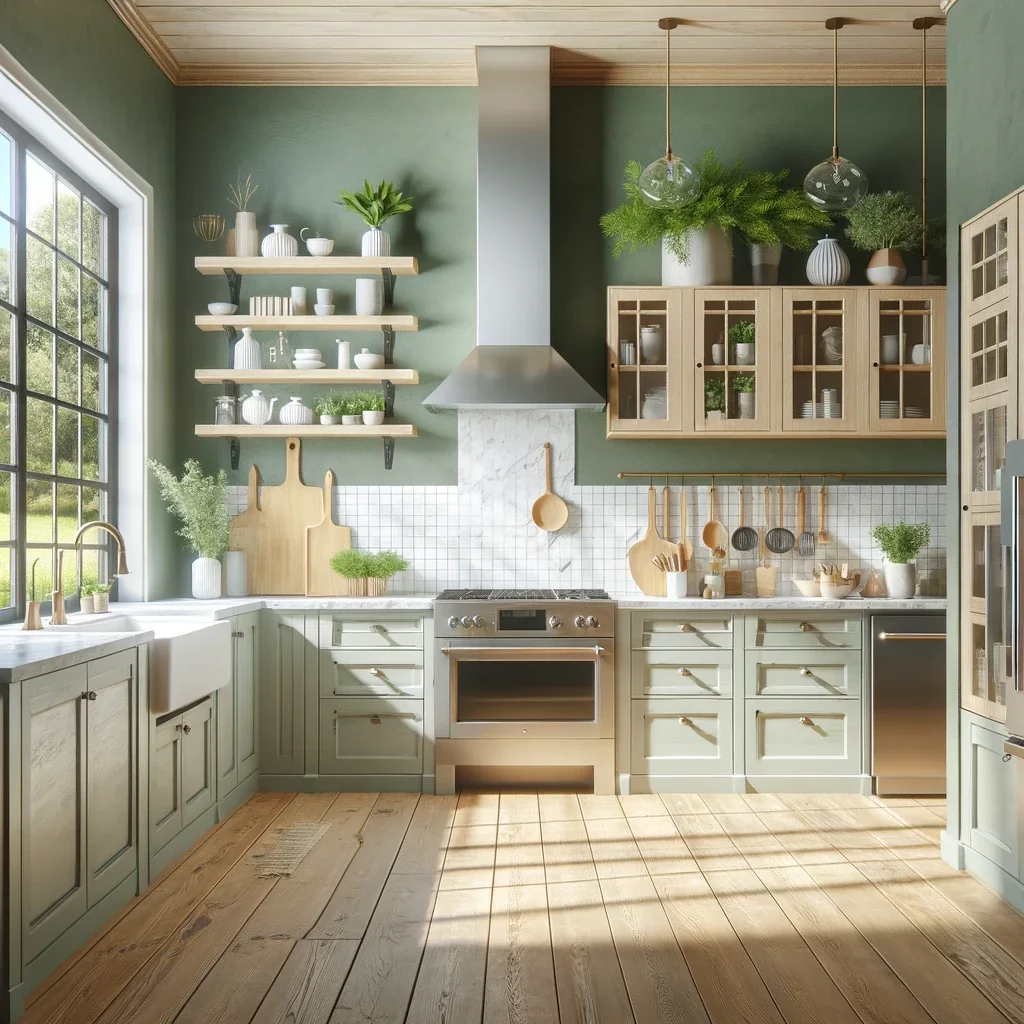 Sage Green is a timeless, organic hue that embodies the spirit of the outdoors.
Its subtle green undertones evoke a calming feel that perfectly suits a busy kitchen environment.
This color works beautifully with natural elements, such as wooden beams and stone countertops, to create a rustic yet modern look.
Sage Green also pairs nicely with copper or brass kitchen accessories, enhancing their earthy appeal.
13. Sky Blue (#87CEEB)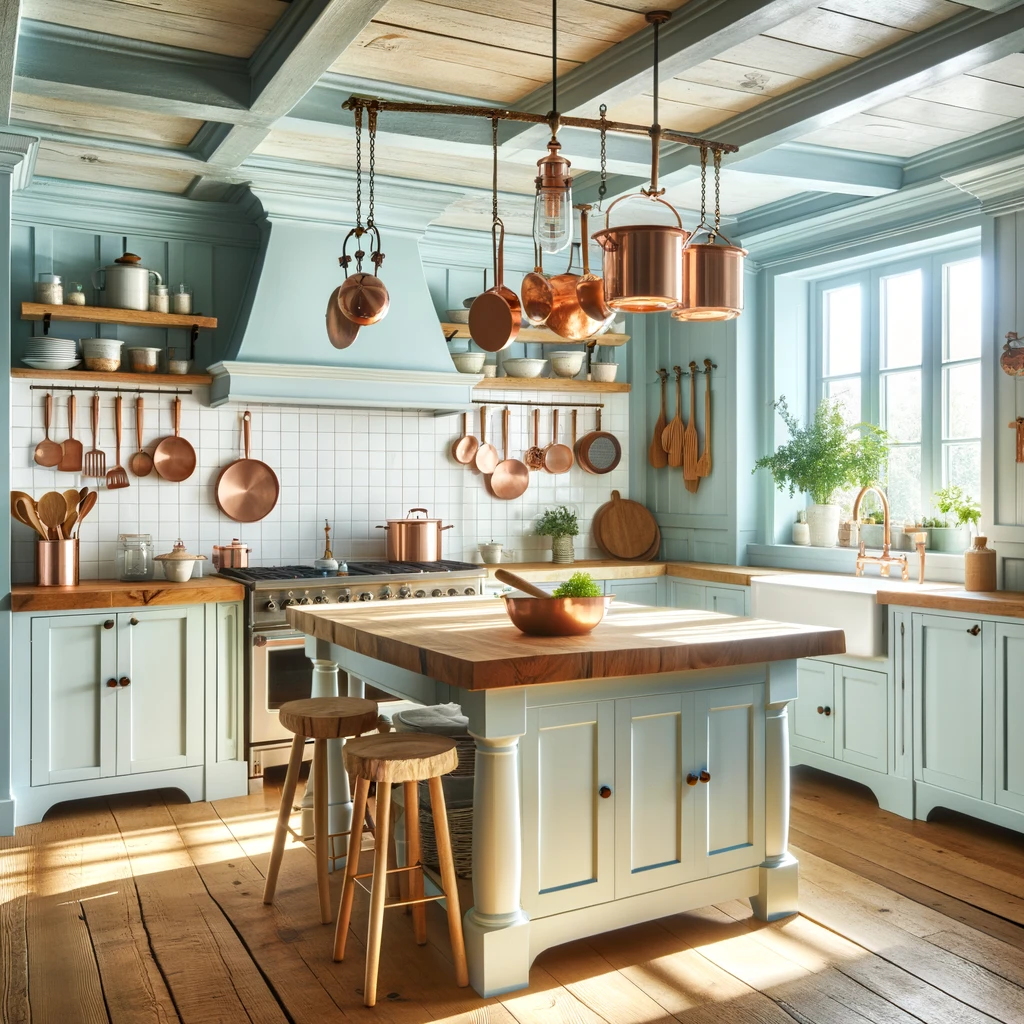 Sky blue is the embodiment of a tranquil countryside sky, offering a cool and serene touch to your farmhouse kitchen.
This vibrant yet soothing hue imparts an airy feeling to your kitchen, creating an illusion of more space.
Particularly beneficial for smaller kitchen areas, sky blue can dramatically transform your space into a place of calm and inspiration.
The cool tone pairs wonderfully with warmer elements such as wooden cabinets or butcher-block countertops.
For a harmonious kitchen palette, combine sky blue walls with white or cream accessories.
12. Elegant Taupe (#483C32)
Elegant taupe, a charming blend of gray's coolness and brown's warmth, infuses sophistication into your farmhouse kitchen.
This versatile hue serves as a neutral backdrop, gracefully tying together both light and dark kitchen accessories and accents.
Taupe excellently highlights the texture of wooden surfaces, making them stand out beautifully.
It offers the perfect canvas for showcasing metallic accents and natural elements, giving your kitchen a harmonious and upscale touch.
11. Dusty Rose (#DCAE96)
Imbue your farmhouse kitchen with a hint of romantic charm using dusty rose. This soft, muted pink shade adds a unique sense of warmth and comfort to your cooking space.
Its calming undertones lend a touch of femininity without overwhelming the overall rustic farmhouse appeal.
Dusty rose pairs exquisitely with natural wood finishes and white cabinets, offering a cozy yet chic design option that's sure to leave a lasting impression.
10. Crisp White (#FFFFFF)
The timeless appeal of crisp white can never be underestimated in a farmhouse kitchen design.
This classic shade offers a clean, fresh look that can make your kitchen feel more spacious and bright.
It provides a blank canvas, setting off the rustic elements such as wooden accessories, vintage pieces, and pops of color beautifully.
The flexibility of a white backdrop also allows for easy decor updates, making it a future-proof choice for your farmhouse kitchen.
Quick Tip: Incorporate vintage accessories or antique pieces for a more authentic farmhouse look with a white backdrop.
9. Smoky Gray (#8A8C84)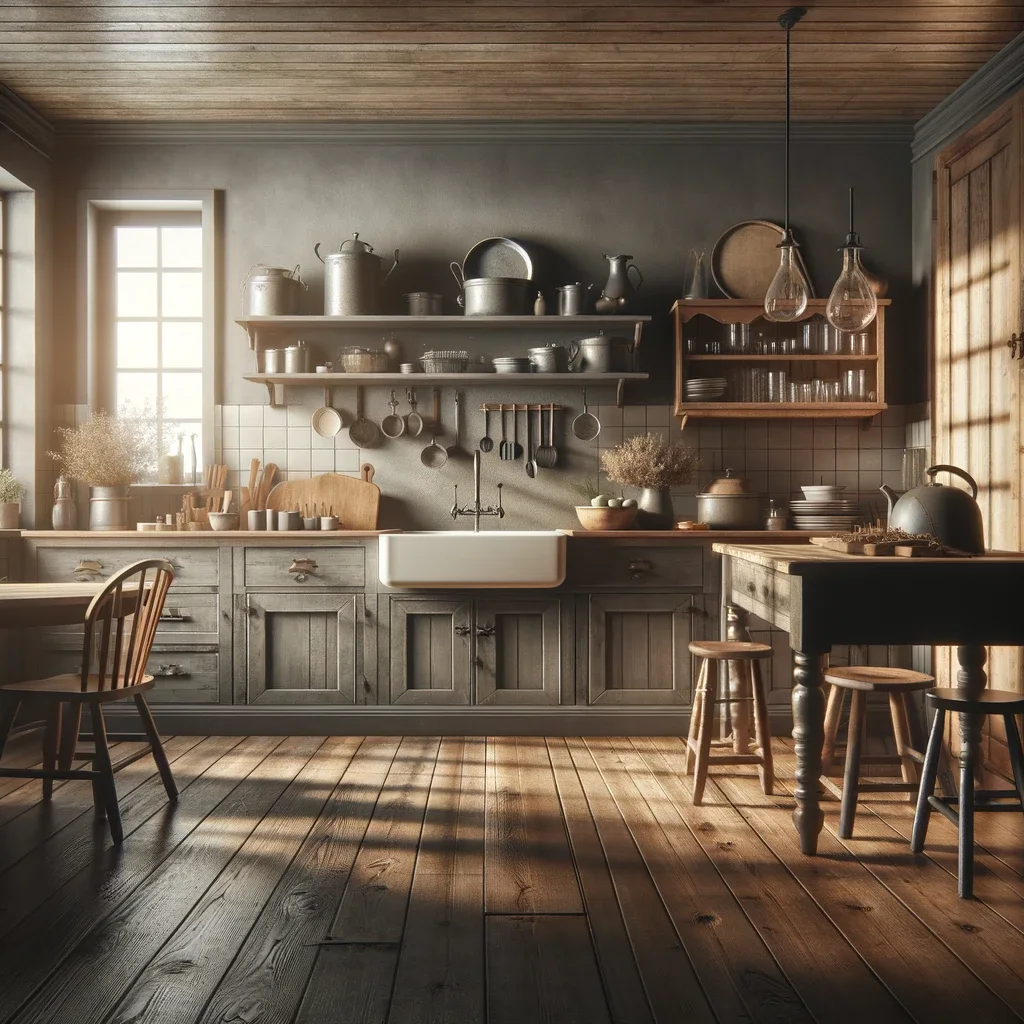 For a more modern twist to the farmhouse kitchen, consider smoky gray. This versatile shade strikes a perfect balance between classic and contemporary design.
It's deep enough to add drama yet neutral enough to blend well with a wide array of accent colors.
Smoky gray walls, when paired with white cabinets and wooden elements, give your kitchen an air of sophisticated rustic charm.
8. Earthy Ochre (#CC7722)
Earthy ochre is a warm, comforting color that adds a rustic touch to your farmhouse kitchen. It effortlessly captures the charm of countryside living, bringing a sense of nature indoors.
This earthy hue pairs beautifully with wooden surfaces and darker accents, creating a cozy, welcoming environment.
Earthy ochre speaks volumes about a love for nature and organic materials, making it a perfect choice for a genuine farmhouse kitchen.
7. Soft Peach (#FFE5B4)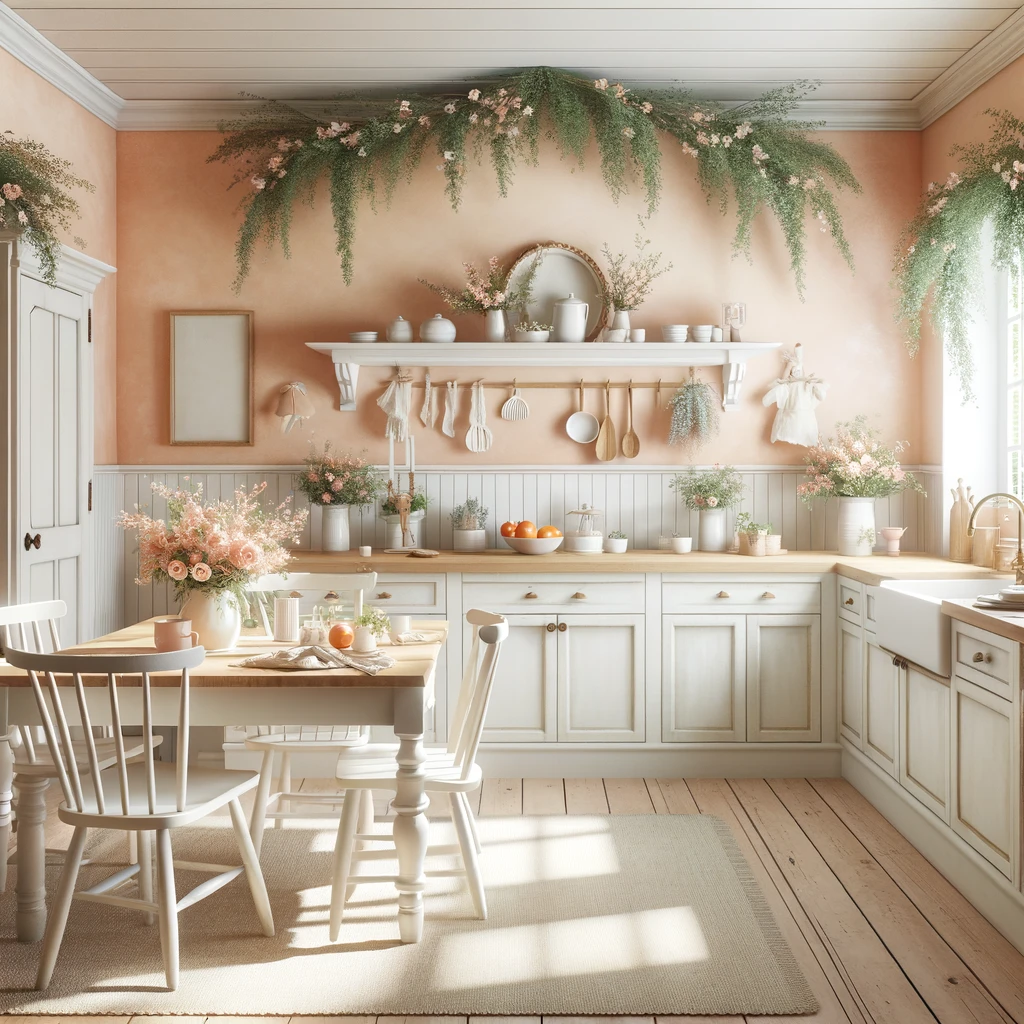 Introduce a subtle touch of warmth and cheer with soft peach. This delicate hue gives a light, airy feeling to your farmhouse kitchen, creating a welcoming atmosphere.
Its understated vibrancy enhances natural light, making your kitchen appear brighter and more spacious.
Pair soft peach with natural wood finishes and white or cream accents for a classic, homey look that breathes comfort and charm.
6. Pistachio Green (#93C572)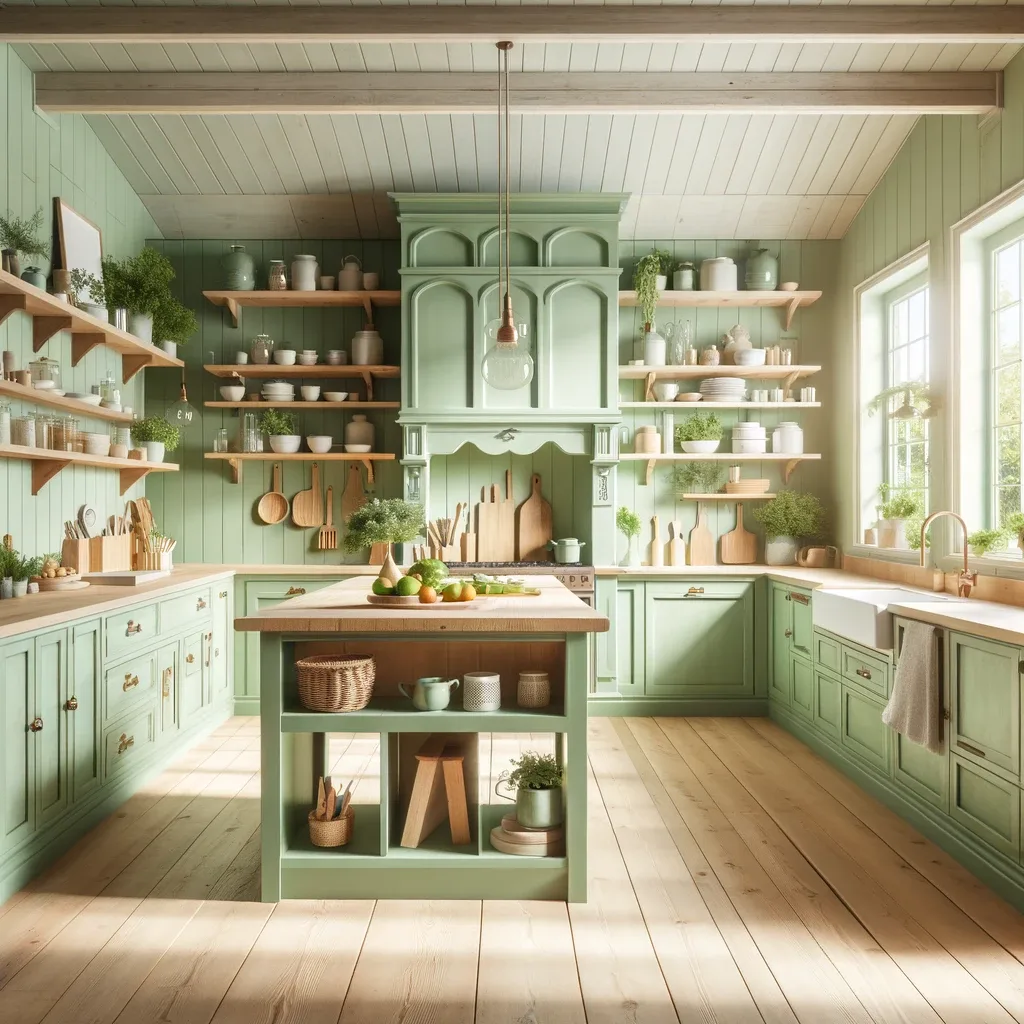 An unusual yet captivating choice, pistachio green injects a vibrant, earthy vibe into your farmhouse kitchen.
This fresh, natural hue is a reminder of budding leaves and verdant countryside fields, infusing your kitchen with a touch of spring all year round.
Pistachio green works wonderfully with natural wood and white accents, offering a refreshing twist to the traditional farmhouse color palette.
5. Stoneware Beige (#967117)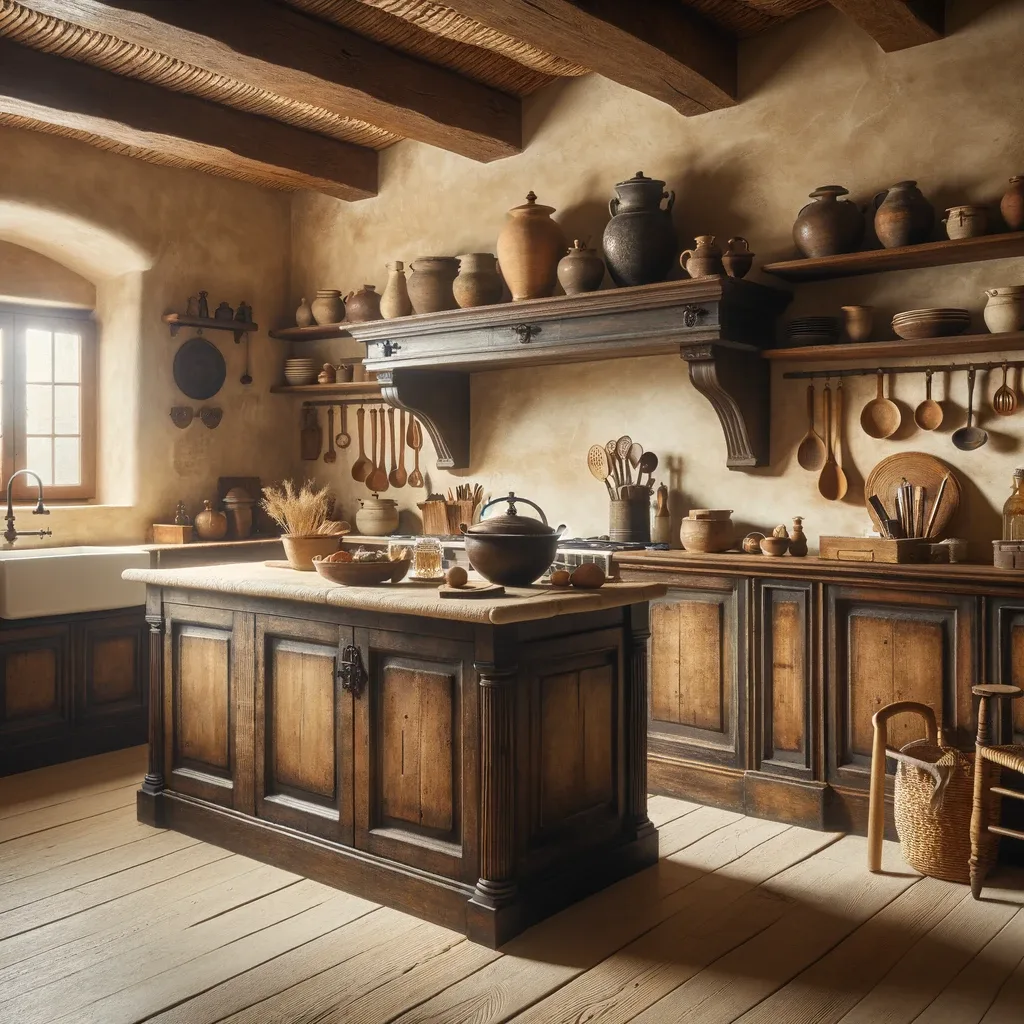 Stoneware beige is a neutral, warm hue that evokes a sense of comfort and familiarity – perfect for a farmhouse kitchen.
This shade, inspired by traditional pottery, adds an authentic rustic touch.
It pairs well with a variety of textures and colors, from stark white cabinetry to wooden countertops and stainless steel appliances.
Stoneware beige is a dependable choice for those seeking a cozy, versatile kitchen backdrop.
4. Midnight Blue (#003366)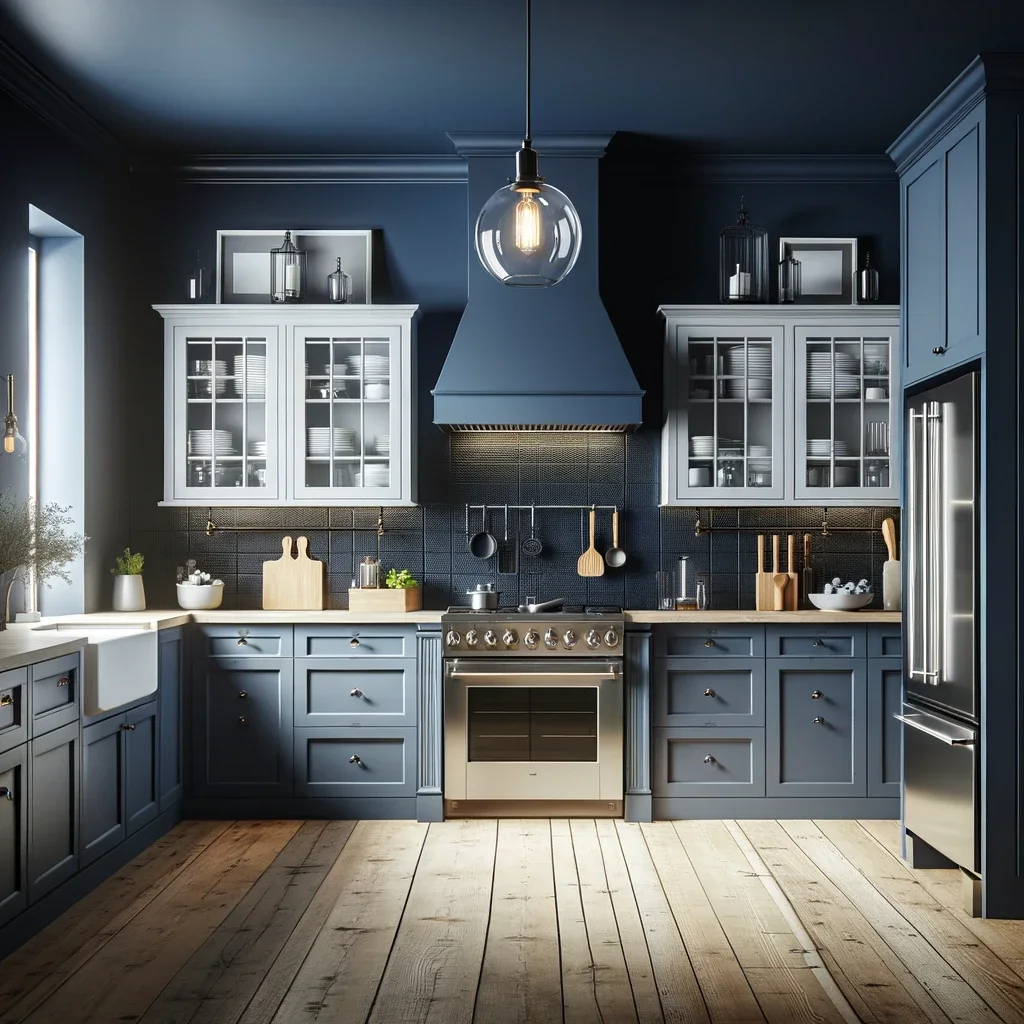 For a statement-making farmhouse kitchen, midnight blue is the color to opt for.
This deep, intense hue introduces an element of luxury and sophistication, creating a stunning contrast with lighter elements in your kitchen.
Even though it's a bold choice, midnight blue can effortlessly blend with lighter shades like whites and creams.
It could be applied to a feature wall or cabinets for a compelling, dramatic impact that speaks volumes about your unique aesthetic sense.
3. Cozy Caramel (#A06540)
Cozy caramel is a rich, warm color reminiscent of sweet home-cooked meals, making it an exceptional choice for a farmhouse kitchen.
This inviting hue exudes a comforting aura, setting the stage for a friendly, welcoming kitchen atmosphere.
Caramel's natural affinity with organic materials such as wood and stone enhances their rustic charm.
Complemented by lighter shades or metallic accents, cozy caramel provides a harmonious balance, creating an inviting cooking and dining space.
2. Lavender (#E6E6FA)
Lavender offers an unconventional approach to the farmhouse kitchen palette. This gentle, soothing hue injects a layer of calm and femininity into the kitchen.
Its muted purple tone provides a delightful contrast to both white and dark accents, creating a lovely balance between rustic allure and modern elegance.
Choosing lavender is a venture into the unusual, ensuring your farmhouse kitchen is a charming, tranquil retreat.
1. Chic French Gray (#BDBDC6)
If you're after a blend of rustic charm with a contemporary touch, chic French gray is the perfect choice.
This sophisticated, muted color is incredibly adaptable, marrying well with a broad spectrum of colors and textures.
It offers a peaceful backdrop that enhances the beauty of rustic wooden elements, metallic highlights, or bold color pops.
Opt for French gray if you aim for a serene, elegant, and subtly modern farmhouse kitchen.
Read more: Best cabinet colors for farmhouse kitchens